Breaking news: (SS News - Washington, DC): Four Sesame Street characters were caught last night at the Bureau of Labor Statistics hacking into the BLS computers to manipulate the latest employment data. Police released the names of the alleged four hackers as Big Bird, Elmo, Cookie Monster and the Count.
According to a statement by well known numbers manipulator The Count, "Big Bird made me do the dirty trick since he was worried about getting fired."
The police were ready to call in the FBI until it was discovered that the break-in was not illegal since the suspects are only puppets and federal criminal statutes only apply to humans. Therefore the police had to release the four suspects with only a warning.
Surveillance camera photos caught two of the suspects red handed:

A mug shot of one of the suspects was released by the police:

The plot thickens as famous investigative journalists Kermit the Frog and Miss Piggy have revealed that a secret source called "Deep Bird" has informed them that the same cast of characters from Sesame Street were also involved in the recent incidents of manipulation of polling data.
More details will be released as this story develops.
5:41 PM PT: Overheard at Romney HQ today (snark):
Campaign manager: "I wish the press would take Governor Romney more seriously."
Reply: "Would you take someone seriously who fired a puppet on TV?"
6:17 PM PT: Hillary Clinton has rescued Big Bird: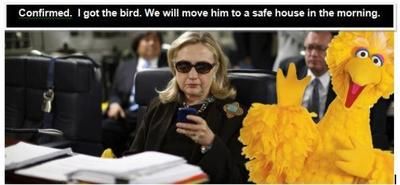 7:08 PM PT: Story is developing as threats against Big Bird grow. The Secret Service had to be called in to protect Big Bird.