I knocked on fifty doors for President Obama today.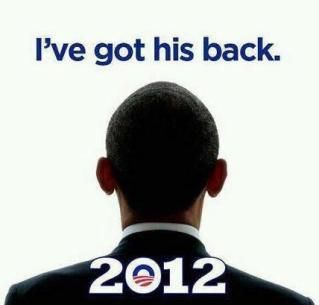 And because, as LeftHandedMan put it so brilliantly earlier today, I want to bury not just Rmoney, but the entire GOP next month.
That awesome rant fired me up! So I did the easiest thing – put on my sneakers, packed up my stuff, and drove to our local HQ to put my feet where my enthusiasm was.
Canvassing? I did. And YES YOU CAN.
Here's how.
First: Get your supplies. You will need a bag to carry your literature, your clipboard, your pens and (later in the fall, depending on where you live) your sweater and flashlight. I bought a recycled rubber bag at Staples that I love. It has a deep inside pocket for the big stuff (and my cell phone, umbrella and car keys) and a nifty outside pocket for my literature. Don't carry anything you don't need – you'll be doing a lot of walking.
Second: Get your comfortable shoes. I LOL'd when a trio of McCain supporters showed up in our driveway in October 2008. Besides being dumb (um – did they not notice the pair of large Obama yard signs?) and besides being in a trio (a waste of resources – at most, canvass in pairs), this trio included a young woman who was wearing a short skirt and high heels. To canvass? Seriously? My Mom shoo'ed them off (with a few choice words), but not before I realized that McCain's campaign was hopeless if his volunteers were canvassing houses with Obama signs in the front yard while wearing high heels.
Note: No Romney people have showed up at our house this year . . . on the other hand, we have (a) my Mom (who spent 30 years as a second grade teacher and cannot stand him) and (b) a German shepherd. 'Nuff said.
Third: Go to your local HQ for training. There, you will meet other novices (and some pros) who will literally walk you through the process and inspire you. The campaign workers are awesome; if you can, bring along some fruit or other snacks for them. The campaign workers will give you your canvass sheets and a script. The sheets will have likely Democratic voters on them (you will NOT be assigned to knock on the doors of Republicans – trust me!).
Fourth: OKAY, now you are actually canvassing. You will put all your canvass sheets on your clipboard. (You will be given a map of your area – which will allow you to put your canvass sheets in order. Do this. It saves time.) The sheets will have boxes on them that you will check after each house or apartment you visit.
Fifth: You will drive or take public transportation to the neighborhood you will be canvassing. And then you will get out of your car, or walk from the metro or bus and you will start ringing doorbells and knocking on doors. If the people have a storm door, you will open it to knock or ring, and then close it and wait for them to answer, because you do not want to be in their personal space when they open the door.
Sixth: Take along a personal story. I canvass with my niece, Kate, in my heart. One of the reasons I will be canvassing this fall is that I am so grateful for the health care bill – a bill that means that my niece, Kate, who was diagnosed with juvenile diabetes at age 16 months and would never be eligible for any health care coverage, will now (thanks to the bill) be able to stay on her parents' plan until she is 26 – by which time, she cannot be denied coverage.
Be friendly! Pat dogs, compliment children, ask about the football game. Make a connection. Remind people through your demeanor that we are all in this together.
(Example: "Love those greyhounds!" to a woman out walking her dogs. She said, "Thanks! Are you canvassing?" "Yes," I said. "Who for?," she asked. "Our President," I said. "Thank you!," she said. I then handed her a flyer and a Pledge to Vote card.)
NO EXCUSES
I have no time. I cannot spend an entire day canvassing.
You do have time; and you will not be spending an entire day canvassing (unless you want to). You will be assigned to a shift that will take about two hours, plus thirty minutes at the beginning to pick up your sheets/map/script and find your destination and another thirty minutes to return your sheets to HQ.
I don't want to knock on the door of Republicans!
You will not be knocking on the doors of Republicans. Your HQ has already done phone banking to determine likely voters for your candidate. Four weeks out, the goal is turn-out-the-vote. You will not be knocking on random doors; you will be knocking on the doors of people who have already expressed interest in voting for President Obama. If you do run into someone who is obnoxious, just thank him or her for his or her time and go to the next house. Make a note on your sheet so that no one else will visit the house. Stay classy, move on, and don't worry about it.
What if they ask a question I can't answer?
They most likely will not. I knocked on perhaps 1,000 doors before the 2008 election. No one asked a technical policy question. And if they do, you'll have your cheat sheet with you. And if the answer isn't there, ask if you could have the questioner's telephone number and promise to get back to her. Then do it.
There may be moments of sheet joy. There may be a few ugly moments.
But you will have done your part. Can we do it? Hell, yes we can!
________
Great volunteer links h/t ParkRanger
Great canvassing in bad weather tips from bwren. Thank you!