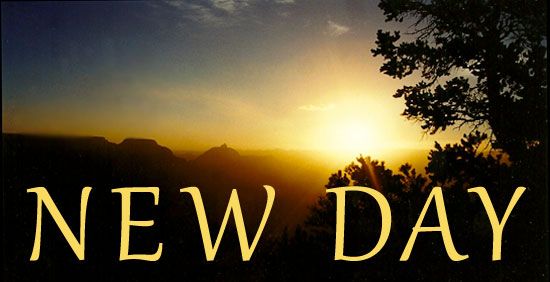 Every day is a new day and with that, a new opportunity.
EVERYONE is welcome and please join us each morning at 7:30 AM PACIFIC
to tell us what you're working on, share your show & tell, vent, whatever you want...
...this is an open thread. Nothing is off topic.
What was the worst traveling experience you ever had?

omg. Can I tell you about mine?

I was in NYC on a buying trip for a major clothing retailer. We were out to dinner on a Thursday night with one of our top vendors. Great place, great food, great time, near Broadway. Well, I got back to the Waldorf and about 1.5 hours after the meal I started to not feel so well. I thought I had food poisoning. I'll spare you the details, they WERE NOT pretty and all that time I was trying not to disturb my roommate's sleep.

I woke up the next morning feeling even more terrible. Now I realize it was the flu but then I just thought it would pass. I went into the market and had trouble sitting up through my first appointment. I realized I couldn't finish the day. I went back to the Waldorf front desk and said that I needed to be let back into my room, that I was very ill and had to lay down until it was time to take a cab to JFK that late afternoon. I was a regular there and the front desk gave me the key I turned in earlier. I always worked a full day on Fridays and caught a 6PM-ish flight which landed around 9PM-ish on the west coast. Long, long day.

I went to my room and was so relieved to lay my head down. It was pounding and I was sweating. I had absolutely no strength. I picked up the landline phone (this was way before cellphones) and called my assistant. I had her cancel the rest of the appointments for that day.

Strangely, the phone rang. Our corporate travel assistant miraculously tried to find me at the Waldorf knowing that I had likely checked out. They never called me, ever. She said that because of the American Airlines strike they were getting reports of our buyers standing in check-in lines for hours and not being able to get home that morning. She wanted to prevent that scenario for me. So she said if I could get myself in a cab for Newark I could take the company plane home. It happened to be out there with one of our VPs. With all the details I headed downstairs to make this happen. I would have passed out at JFK, I could hardly hold my head up.

At the Waldorf underground taxi stand I told the bellman that I needed to get to Newark STAT. He bolted off after the cab that just left. He chased it down and banged on the trunk. The cab stopped and backed up. It happened all so fast. Why did he bolt away from the DIVA telling him her situation and not just hail a new cab??? I still had that look of "um, I didn't finish my sentence..." and he explained that it would take too long for a New Jersey cab to come to New York and NYC cabs won't go to Jersey. So the cab he pounded on was from New Jersey and had just dropped off a passenger. It was fortuitous that that cab was there at that time.

I usually had good experiences with cab drivers, all nice guys. This one was a saint. I told him I was sick and had time issues. He sped and talked to me the whole way, gently. We arrived in time. I was dreading the airport experience but this was the only time in my life I've experienced a private jet. It saved my life, to be maudlin. The taxi parked only a few feet from the plane. The lovely cab driver opened my door, helped me to sit up and crutched walked me into the plane. He brought in my luggage and I handed him cash with a shaky hand. Nice, nice man. I was so grateful. The pilot guided me through the small plane and put me in a lush, fully reclining seat.

The flight attendant gave me a blanket and kept an eye on me. I rested quietly while all the other buyers took their seats. No one wanted to sit near me... lol. We were all there on time but then we waited and waited. I didn't care, I was so glad to lay quietly for the next 5 hours. Finally, a commotion of someone boarding. It was the VP. The only reclining seat open was facing me. She sat down and was freaked out to see that I was sick. The flight attendant was moving swiftly by us with the shopping bags of the VP's haul that day to stow away. That's a good story about this VP's closet which was originally a bedroom. But I digress. Anyway, she called to some of the men (who would normally melt and do anything she asked, she was stunningly beautiful and powerful in the company) on board to change places with her. They flatly refused. I normally would have been so embarrassed but at this time I so felt like shit that I didn't care. I only cared that I didn't have to move.

I drifted in and out of pass out for the next 5 hours. We made a stop in DC to pick up some more people and then headed to Seattle. Before I fell asleep again I watched the VP take off her Ralph Lauren Black Label shoes and gently place each in a velvet bag to stow. She put on slippers. I didn't know this was ever an option. Like a heathen, I kept my shoes on and she had to stare at the grated leather soles the whole trip. Normally, I would correct this as I've done my entire life trying to fit into higher social classes but that evening I didn't give a shit. Don't anyone make me move or sit up. Thanks.

I refused dinner but 3 hours later I had a few bits of crackers, all without sitting up. It was a sad, sad scene to behold. Poor VP.

The flight was smooth. I've never had a more comfortable seat on a flight since. We landed in Seattle and my travel people had a commercial flight set up there to take me to San Diego where I was living at the time. Amazingly, I was feeling much better and was able to go through the airport gauntlet.

I got home, finally, after my worst commute ever from a job at the end of a day.

All in all, many lucky things happened that day to "save my life." It was terrible being that sick and having to travel, trans-con.

What was the worst traveling experience you ever had?




I'm listening.

~~~
Latest Updates on Kossack Regional Meet-Up News Below the Fold
:: COMMUNITY BUILDING UPDATES ::
Let's build communities!

Every region needs a meat-space community like SFKossacks.
We take care of each other in real life.
I urge YOU to take the lead and organize one in your region.
Please tell us about it if you do and we're here for advice.
~
THINK GLOBALLY, ACT LOCALLY

:: Current Diaries in Planning Mode ::
ALERT!

BALTIMORE IS CURRENTLY ORGANIZING DEBATE WATCH PARTIES: See this diary, Next Baltimore Kossack meetup by sreeizzle2012.

To join Maryland Kos send sreeizzle2012 a Kosmail.


:: Regions Organizing! ::
NEW GROUPS IN THE PROCESS OF ORGANIZING:

Portland, Oregon Area: Kosmail: Horace Boothroyd III to be included in the group.

Cleveland and Northeast Ohio Area: Kosmail: GenXangster

~~~
These are the groups that have started since * NEW DAY * began. Please Kosmail navajo if you have started a group before that.
NEW GROUPS LIST:

• California Central Valley Kossacks - Organizer: tgypsy

• New England Kossacks - Organizer: Clytemnestra

• Houston Area Kossacks - Organizer: Chrislove

• Kossacks in India - Organizer: chandu

• CenTex Kossacks - Organizer: papa monzano
Current diary: Meet-up Planning Take 1

• Central Ohio Kossacks - Organizer: VetGrl

~~~
ESTABLISHED GROUPS LIST: (List will grow as we discover them)

• SFKossacks Founded by navajo, Formed: May 2, 2005, More than 80 members

• Maryland Kos Founded by timmyc, Formed: Feb 23, 2011, More than 54 members

• New York City Founded by Eddie C, More than 58 members

• Baja Arizona Kossacks Founded by buddabelly, Formed: Feb. 13. 2011, 90 members

• Three Star Kossacks Founded by maryKK, Formed: Apr 8, 2011, 46 members

• Nashville KosKats Founded by ZenTrainer, Formed: Jan 30, 2012, 28 members

• Virginia Kos Founded by JamieG from Md, Formed: May 3, 2011, 67 members

• Kos Georgia Founded by pat208, Formed: Feb 13, 2011, 18 members

~~~
:: Events Currently on the Books for ALL Kossacks ::
We are San Francisco Bay Area residents concerned about the fading away of the American Dream. Inspired by Van Jones's "Rebuild the Dream" campaign, we organize to bring people together to work toward getting our economy back on track and restore the American Dream.




Wednesday, October 10th

Save Our State Rally

MC: Cindy Chavez ~ Executive Director, Working Partnerships USA


Speakers: Ash Kalra ~ San José City Council, District 2
Shawn Bagley ~ Regional Director, CA Democratic Party
Jennifer Thomas ~ Vice President, San José Teachers' Association
Scott Myers-Lipton ~ Sociology Professor, SJSU
Craig Dunkerley ~ California Clean Money Campaign

TIME: 6:00pm to 7:30 PM
LOCATION: San José City Hall Plaza
200 E. Santa Clara Street
San José, California

ORGANIZER: Dream Menders - RSVP at: Dream Menders on Facebook or Eventbrite

Latest Diary: Dream Menders: Save Our State by Glen the Plumber
Join DKos Dream Menders Group founded by Glen the Plumber

~~~
Thursday, October 11th

SFKossacks watch the Vice Presidential Debate Party

TIME: 5:00 PM Pacific
LOCATION: Lusty's house
San Jose, Cambrian area (address will be given to RSVPs by Kosmail)

ORGANIZER: Lusty - Send a Kosmail to RSVP.

Potluck Style
RSVPs:
1. Lusty [Pizza]
2. madhaus
3. Glen the Plumber
4. remembrance and TLO™
5.
6.

~~~

DailyKos readers who live and/or work in New England
(Connecticut, Maine, Massachusetts, New Hampshire, Rhode Island, and Vermont)

Saturday, October 13th

New England Meet-Up

TIME: 1:00 - 4:00 PM
LOCATION: Margaritas Mexican Restaurant
775 Lafayette Road
Portsmouth, New Hampshire



ORGANIZERS: Common Sense Mainer and Bill in Portland Maine - Send Common Sense Mainer an email at cuckolds04103@gmail.com to RSVP. (He prefers his email listed.)

RSVPs:
1. Common Sense Mainer
2. Bill in Portland Maine
3. Clytemnestra
4. polisigh
5. Brillig
6. Mik
7. K1
8. K2
9. Simple
10. fennster
11. commonmass
12. GreenMountainBoy02
13. Sadiesue
14. rick deville
15. bouidi08
16. bjedward
17. mayim
18. Debbie in ME
19. Thestral
20. Ed Tracey
21. parsonbeach
22. Mr. parsonbeach
23. vacationland
24. sfbob

25. sfbob's friend
26. loreleiHi
27. cailin ard
28. Jim Wilson
29. Angela Quattrano
30. Angela's boyfriend
31. nhox42
32. Anothermassachusettsliberal
33. Jillian
34. knautical knots
35. Linda

Maybes:
1. kestrel9000
2. paulitics
3. moody loner
4. mommyp00ka
5. jarbyus
6. DamselleFly
7. BobBlueMass
8. radical simplicity
9. Not the Username I Wanted
10. lurker
11. annieli
12. DowneastDem
13. gracielove

Latest diary about this event: New England Kossacks Meet up.

~~~



Saturday, October 13th

Houston Area Meet-Up

TIME: 1:00 PM
LOCATION: La Mexicana Restaurant
1018 Fairview Street
Montrose



ORGANIZER: Chrislove - Send a Kosmail to RSVP.

RSVPs:
1. Chrislove
2. cosette
3. Delilah
4. disconnect the dots
5. GrannyOPhilly
6. GrannyOPhilly husband
7. jkojak67 (maybe)
8. krwheaton
9. Libby Shaw
10. miscanthus


11. Mosquito Pilot
12. nomandates
13. OrganizedCrime
14. PDiddie
15. PDiddie wife
16. suesue
17 Texdude50
18. Texdude50 partner
19. txscorp
20.


Latest diary on this event: Houston Area Kossacks: Meet-up scheduled for Saturday, October 13!

~~~
Saturday, October 13th

Baltimore to Washington Area Meet-Up

TIME: TBD
LOCATION: Union Station
Washington DC



ORGANIZER: JamieG from Md - Kosmail to RSVP

RSVPs:
1. JamieG from Md
2. JamieG from Md's husband
3. Diana in NoVa
4. VexingEyes
5. webgenie
6. JanetT in Md
7. JTinDC
8. sreeizzle2012
9. it really is that important
10. Trs
11. captainlaser
12. billlaurelMD
13. mollyd
14. JR
15. LeoDaLion
16. Hastur
17. ConfusedSkyes
18. cpinva


19. JG in MD
20. Chris Bowers
21. louisev
22. mimi
23. agrenadier
24. yellowdog
25. AnswerGuy
26. Malachite
27. randomfacts
28. IndieGuy
29. oxley

Maybes:
TheOtherMaven
Axmill
TeacherKen
Deep Harm
a gilas girl
restondem
shademar
Something the dog said
BDA in VA
tamandua


Latest diary on this event: Virginia Kos, Maryland Kos (and DC Kossacks too)
~~~
Friday, October 19th

SFKossack Red Carpet Rollout for Dave in Northridge

TIME: 1:00 PM
LOCATION: Yank Sing
Rincon Center, 101 Spear St., San Francisco



ORGANIZER: navajo - Send a Kosmail to RSVP.

RSVP LIST:
1. Dave in Northridge
2. navajo
3. Lorikeet
4. Steveningen
5. jpmassar
6. kimoconnor
7. norm
8. MrNavajo
9. remembrance
10. Glen the Plumber

11. Dharmasyd
12. boatsie
13. side pocket
14. FogCityJohn
15. Kamakhya
16. Frugal Granny
17. madhaus (maybe)
18. enhydra lutris
19. Shockwave (maybe)
20.
~~~
Monday, October 22nd

DAILY KOS HQ: SFKossacks watch the final Presidential Debate Party

TIME: 5:00 PM Pacific
LOCATION: Daily Kos Office
Berkeley (address will be given to RSVPs by Kosmail)
5 min. walk from Ashby BART

ORGANIZERS: Markos and navajo - Send a Kosmail to RSVP.

RSVP LIST:
1. Markos
2. Susan Gardner
3. Kaili Joy Gray
4. Faith Gardner
5. Will Rockafellow
6. Meteor Blades
7. navajo
8. citisven
9. Glen the Plumber
10. jotter
11. kimoconnor
12. jpmassar
13. norm
14. precinct1233
15. Ebby
16. lineatus
17. ceebee7
18. Dharmasyd
19. madhaus
20. [anonymous]
21. [anonymous]
22. remembrance (maybe)
23. paradise50 (maybe)
24. Jeff in CA
25. Kamakhya
26. side pocket
27. Mary Rickles


28. mwk
29. boatsie
30. shanikka
31. shanikka's DAH
32. mber
33. Cathie
34. The Awful Truth
35. Lorikeet
36. dksbook
37. mr. dksbook
38. The dksbook's SIL
39. Pluto (maybe)
40. cooper888
41. GotMooned
42. Raven Brooks
43. Navi Ganancial
44. Melissa
45. means are the ends
46. Isara
47. Isara's partner
48. AoT
49. freewayblogger
50. Shockwave
51. Shockwave's guest
52. wiljago
53. Fe Bongolan
54. G2geek

~~~
Saturday, November 10th
Northern California Central Valley Kossacks Potluck Lunch

TIME: Noon
LOCATION: Kestrel's home in Sacramento
There will also be a pre-meet up birding adventure at Yolo Bypass Wildlife Area.

ORGANIZERS: tgypsy and Kestrel - Send tygypsy a Kosmail to RSVP.

RSVPs:
1. tygypsy
2. Kestrel
3. Sally Cat
4. Mr. Cat
5. mrsgoo

Latest diary: CV Kossacks: Post-Election Meet Up
~~~

DailyKos readers who live and/or work in New England
(Connecticut, Maine, Massachusetts, New Hampshire, Rhode Island, and Vermont)




Sunday, November 11th
New England Kossacks MEET-UP

TIME: 1:30pm - 4:30pm
LOCATION: The People's Pub
24 Federal St
Greenfield, MA 01301
(413) 773-0333

ORGANIZER: Send Clytemnestra a Kosmail to RSVP.

We will be collecting donations for the Native American Netroots project Okiciyap at this Meet Up.

RSVPs:
1. Clytemnestra
2. Remembering Jello

Maybes:
1. annieli

Latest diary: New England Kossacks - November Meet Up
~~~
Send navajo a kosmail if you post a diary about an event so we can update our round-up.
Okay. Floor's open.
Tell us what you are doing on this NEW DAY?