Thanks for stopping by.
You may recall that both President Obama and Mitt Romney mentioned 'Clean Coal' in the debates.
Romney V. Obama
Romney of course wants to dereg coal, he wants to shove massive austerity down our throats, wants to get rid of all programs to promote green energy and jobs.
With millions unemployed, we need jobs now, and you can be sure that it won't be Romney that would provide more jobs.

Regulations Work
Thankfully, the EPA under Obama has passed rules that should make us all healthier, and for sure this is worth supporting.
According to one report on the rally, Litigation is ongoing over whether the federal smog-reduction proposal should be implemented. Recently kossack Ivy Main wrote about the relationship between the new EPA rules and the state of the whiny coal industry.

Tue Sep 25, 2012 at 12:18 PM FNT
Is the EPA killing coal?+*
Coal industry executives, their friends at Fox News, and politicians trolling for votes in coal country are up in arms about what they are calling "the war on coal." The "war" consists of EPA regulations affecting both the oldest coal-burning electric generation plants and ones not yet built. Under the first set of rules, the aging dinosaurs in the coal fleet—those grandfathered in under the original Clean Air Act in the 1970s--will finally have to meet modern-day pollution standards for mercury and smog-forming chemicals, so they kill fewer people. These plants have all outlived their 30-year design life, and many of them are 60 years old or more. They aren't worth retrofitting, so they are closing down.

If that seems like too slim a provocation for rebellion, look at the war's other front: another EPA rule that pretty much outlaws construction of anything but those "clean coal" plants that grab carbon dioxide right out of the smokestack and shove it underground. Given that those plants are thus far only creatures of myth and longing, it's fair to say the EPA carbon rule would stop a new coal plant.

And yet, the EPA rule has absolutely nothing to do with why no one is building coal plants in America.
For me it was great to hear that new coal plants will probably not be built. Not sure if the "Clean Coal" is being touted by the President includes new plants but the corporations that own old coal plants are fighting for their survival with everything they've got. Its safe to safe that they are dumping huge amounts of money into elections to help insure they get to keep their deadly advantages.

EPA Applauded
The EPA has its critics, and often among them are environmental groups. So I was pleasantly surprised at the vigorous applause afforded Obama's EPA by members of diverse groups at a rally at the capitol building in Santa Fe, NM last week.

Our growing energy awareness
Some time ago we took part of our life savings and put solar grid tie with battery backup on our old antique house in the Texas Hill Country outside Austin. My wife, Jakkalbessie, wrote her very first diary on Dailykos about our experiences. It was the right thing to do, offset our carbon footprint, took advantage of Obama's green tax bennies, and helped my youngest brother's startup efforts to boot.
Over the 30 plus years we lived in worked in Austin we supported moves toward conservation, getting out of the nuke, stopping the ill thought out trash burner power plant.
Since retiring from teaching HS in inner city Austin we also live parttime in Santa Fe, NM in a tiny little condo. (Its the perfect size for two people who my 92 year old father in law call his 'gypsy children.' When we are not spending three months in our tent in doing the backpacker budget traveler wildlife photography thing in southern Africa, or off in our camper watching wolves in Yellowstone, or using up freebie tickets from airline credit cards and hanging out in Costa Rica, we experience a life's dream come true -- rest and exercise and have fun in old Santa Fe.)
But one of the things we discovered that that little old dream condo costs a great deal to heat, even though by US standards it is tiny.
We were used to high electric bills in Austin in summer, but high utility bills here for this little place was puzzling. Its 500 square feet and has electric convection wall heat, but we have been surprised that even with keeping the thermostat at 65 in winter our bills seem quite high. Why?
WildEarth Guardians in Santa Fe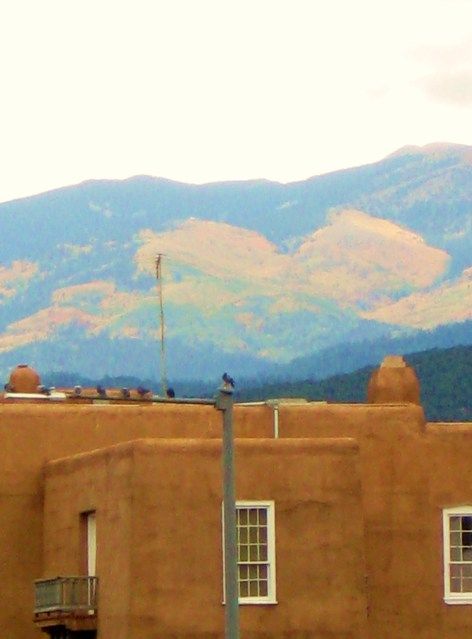 While volunteering staffing a table for WildEarth Guardians at the Dia del Muerte Celebration in Santa Fe we had the pleasure of meeting a WildEarth Guardians contract activist named Rebecca Sobel.
Between times volunteering alongside Rebecca signing up people attending the traditionally festive march, helping with face paint, distributing 'killer coal' signs, solar panel sandwich boards, she educated us about PNM's outrageous rate increases. These huge increases came with no improvements in service. PNM, the for profit electric utility in New Mexico, and its high paid CEO have a too cozy relationship with the Republican Governor of New Mexico.
Finally Rebecca gave us a sobering rundown about the deaths caused by the dirty coal plant. Here's the EPA stats quoted by WildEarth Guardians:

• The power plant annually contributes to 33 premature deaths, 600 asthma attacks, 31 asthma-
related emergency room visits, and other health impacts, at an estimated cost of more than

$254,000,000.
OMG! $254,000,000. And here I am complaining about my bill.
Later Rebecca invited us to join her for actions at the New Mexico public utility commission and another time outside the Lensic the night of Bill McKibben's 350.org speech. (Rebecca had been active in the Pacific Northwest prior to moving to Santa Fe, and she introduced us to the amazing Bill McKibben just before his stirring speech.)
Rebecca then suggested we dress up to stand arm in arm in convict suits and face masks with pictures of the Governor and the CEO on our faces in order to dramatize that relationship and get attendees to sign petitions urging the Governor to "Power Past Coal.' We love costumes, so we said okay. Turned out to be fun to watch peoples reaction and hear there comments about coal and PNM.
Bill painted a dire picture of climate change and where we stand, but also pointed to how much people around the world had accomplished in terms of raising awareness of the challenges.
As the months have gone by we began to learn about coal fired power plants in New Mexico, and what we learned was not very pretty.
I have a history of allergy /respiratory challenges so I was sorry to learn how many people actually die from the dirty coal plants and how many others, including children, are hospitalized as well:
Facts to have at your fingertips
1. PNM's San Juan Generating Station consumes between 8-9 billion gallons of clean water every year, or
roughly 16,000-18,000 gallons per minute.

2. A 2012 analysis by Dr. George D. Thurston, a Professor of Environmental Health at the New York
University School of Medicine, finds that over the last five years adverse health impacts from pollution at the San Juan coal plant have cost the public up to $240 million. This is due to the coal-fired power plant operating without the pollution controls necessary to significantly cut nitrogen oxide emissions as required by EPA.
Dr. Thurston notes that his analysis likely underestimates health impacts and costs givenemissions from PNM's San Juan coal-fired power plant likely affect communities beyond the area.

3. According to a New Mexico Department of Health survey, nearly 1 in 5 public middle school students and 1 in 4 public high school students in the state report doctor diagnosis of asthma as some point.

4. Dr. Thurston's study finds that fine particulate matter from San Juan smokestack emissions is associated with increased risk of heart attacks, asthma attacks, pneumonia, bronchitis, hospital admissions, and premature death. Infants, children, elderly, and people with respiratory and cardiac disease suffer most.
Before learning of this I had only heard the real estate rah rah touting Santa Fe's clean air--little did I know that I was contributing to those deaths by the electricity produced by dirty coal which we then use to heat our condo . Meh.

Flood the Roundhouse
Fast forward to this past week when we joined around
300 other people of all ages from around New Mexico in a rally at the beautiful New Mexico state capitol building the Roundhouse.
This group of people, from an infant and pre-k kids to senior citizens, college students to solar entrepreneurs was one of the most ethnically diverse I have ever seen in many years of public activism. Adding to the diversity was a energetic group of college students from the Armand Hammer United World College of the American West .
Here's some press coverage about the rally.
Rally opposes coal-fired power plan
SANTA FE — About 150 people converged Wednesday evening on the state Capitol to claim a partial victory in their campaign to phase out coal-fired boilers at the San Juan Generating Station.

A Sierra Club organizer, an array of college students and the CEO of a solar company were among those who said Republican Gov. Susana Martinez's administration was moving toward the side of conservationists, based on a proposal it made this week.

Martinez's Environment Department proposed a settlement plan to retire the smaller two of four units at the San Juan station in the Four Corners area, then replace them with natural gas or other non-coal generation technology.

"The governor has gotten the message and she has taken a step," said Dr. Mike McCally of Physicians for Social Responsibility.

McCally, of Santa Fe, said New Mexico's environment and the public's health would best be served by mothballing all the coal-fired boilers, repowering the state with "clean energy" and improving the Four Corners economy by wiping away the smog and health risks.

Organizers of the rally delivered more than 3,000 petition signatures to Martinez's office asking for an end to coal burning at the San Juan plant, which is run by PNM, New Mexico's largest utility.

Martinez was not at the Capitol when the groups arrived. Her spokesman did not respond to a request for comment.

Shrayas Jatkar, organizing representative for the Sierra Club in New Mexico, said Martinez had made a minor concession with the settlement proposal to retire the smaller boilers by the end of 2017.
But her administration also proposed what Jatkar called "weak controls" on the two larger units that cause most of the plant's coal pollution.
"We have tried to work with the state to develop a plan that meets the safeguards of the Clean Air Act and saves money," Jatkar said. "Unfortunately, the state has instead made a premature announcement that does not fully address how we can clean up our air and reduce risks for ratepayers."
An Inspiring Rally
Please follow below the mystical Kos squiggle for a look at some snapshots I took with descriptions of our experiences at the rally provided by Jakkalbessie, my lovely wife and travel partner of 40 plus years.
Namaste.
While we waited outside the Roundhouse a group took a petition inside:
... a coalition of local groups are going to deliver a petition calling on New Mexico to transition away from coal power to renewable energy sources. The groups include the New Chapter of Physicians for Social Responsibility, New Mexico Interfaith Power & Light, Organizers in the Land of Enchantment (OLE), Sierra Club, 350.org New Mexico, and New Energy Economy.
http://www.sfreporter.com/...
Our job was to provide support for them and to share information and hope. The rally turned out to be quite inspiring and very hopeful indeed. And make some noise, of course!

This speaker was one the most applauded at the rally.
She talked about the health problems caused by dirty coal in the four corners area which is home to the Navajo Nation.
If you are interested in learning more, check out this organization called Dine Citizens Against Ruining our Environment (Dine CARE) that has been active in working for new solutions.
Welcome to Diné CARE

Diné CARE is located on the Navajo Nation and is a non-profit organization that works with many Navajo communities affected by energy and environmental issues. Since the late 1980s, community people have stood up and demanded for environmental protection and sustainable development practices, bringing systemic changes in tribal politics and making the grassroots voices evident in the realm of energy development.

The website provides updates, news, alerts, and a host of information pertaining to the energy issues affecting the Navajo Nation.
Would also like to share this post found in
Censored News
while researching this diary:
Aug 11, 2012 – Dine' Andy Dann Coal fired power industry makes Navajos sick

Testimony August 9, 2012
Nenanezad Chapter House, Navajo Land

My name is Andy Dann, Kinya annii ado I am born for Cheshei, Tacheeni ei da shi cheiis, Tabahaa ei da shi Naalii. I was born in Howell Mesa, AZ. I lived Farmington NM for the pass twenty years and raised with my wife and my 6 children.

I would like to recommend that the millions of dollars that is proposed to be used for the BART would be better use to plan, design and transition the San Juan Power Plant to a renewable energy and natural gas power plant.

We need to act now to ensure that we have an improved air quality and our water is abundant and clean to drink for our future generations. The haze impairs our cultural resource by have dirty particulates in the atmosphere at early dawn is unhealthy to breathe.

I have observed how the coal industry has impacted my people for over 60 years.

Prior to 1961, we Navajo people living on the reservation had the highest mortality rates in the United States.

I use to work for San Juan Generating Station and I began to get swollen arms, legs, breathing problems and could not sleep due to the pain. I sought out my own traditional ceremonies and was told by a medicine woman that the air I was breathing at work was the problem. I also went to the hospital and the doctors stated that there was nothing wrong with me.

One day, I decided to quit the job and the pain continued and endured it for two years after my decision to resign from this dirty industry. I have eye witness accounts of how the plant is not managed in a safe way. I saw with my own eyes how the water is wastefully used to clean the fly ash units.

I urge the NM Environment Department to support a third option, that is to transition to renewable energy power plants and retrain the current workers.

We can have both clean energy and clean healthy jobs for all people if you listen to common sense.

Thank you

Andy Dann

#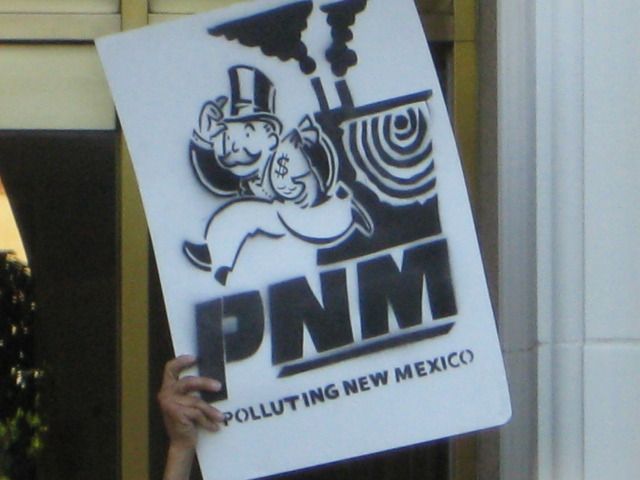 This was one of the many signs displayed that included mention of PNM, whose critics make the following claims:
SANTA FE, N.M. (AP) - Five nonprofit groups say Public Service Company of New Mexico has raised rates, is making a healthy profit, and is paying executives increased compensation while rate payers are struggling.

The groups include the Sierra Club and the San Juan Citizens Alliance.

The nonprofits' report looks at PNM's rate revenues, profits and executive compensations from 2008 to 2012.

The report also pointed out that PNM's chief executive officer, Pat Vincent-Collawn, doubled her pay in 2010.

According to PNM Vincent-Collawn made $551,635 in 2010.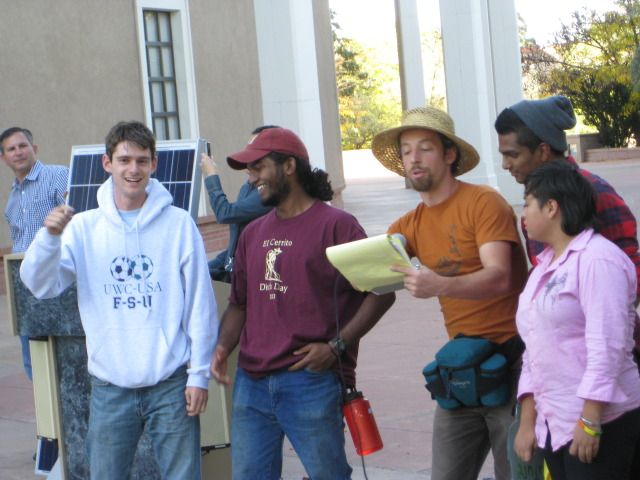 Students from the United World College of the West in Las Vegas, NM, leading us in a chant about getting rid of coal. They came with some very clever signs, and a great deal of enthusiasm.
Solar Jobs Now
One of the most supported of the 350.org led cheers had to do with jobs, especially among the students in the crowd.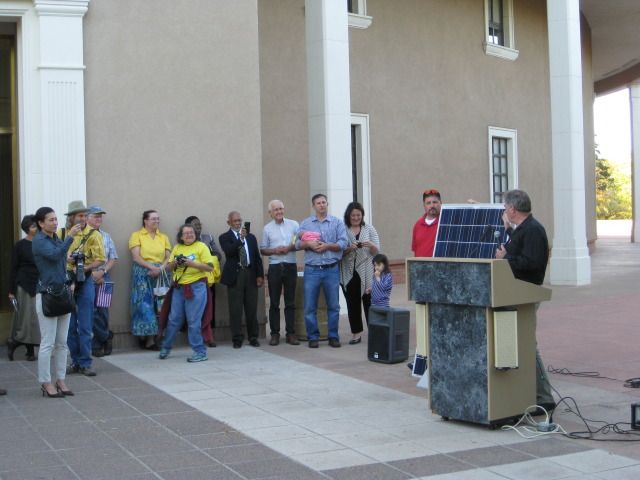 Chuck McCune of McCune Solar Works got up and spoke about the solar panel plant in Albuquerque that had closed by that he and his wife had now purchased. They have taken over the former Schott plant and hope to continue making panels in New Mexico. He talked about what the potential for solar was in New Mexico with over 300 days of sunshine on average a year. They had one of their solar panels on display and answered questions at the end of the rally.
He joined others in calling for the New Mexico Roundhouse to become an example of solar applications in New Mexico.
Green Jobs Needed in New Mexico.
This year New Mexico has earned the distinction of being the poorest state in the nation.
New Mexico needs jobs and hope. Stat.
Dr. Mike McCally of the Physicians for Social Responsibility spoke of the health issues that stem from the pollution caused by the dirty coal fired power plant. His speech was upbeat and optimistic for the future.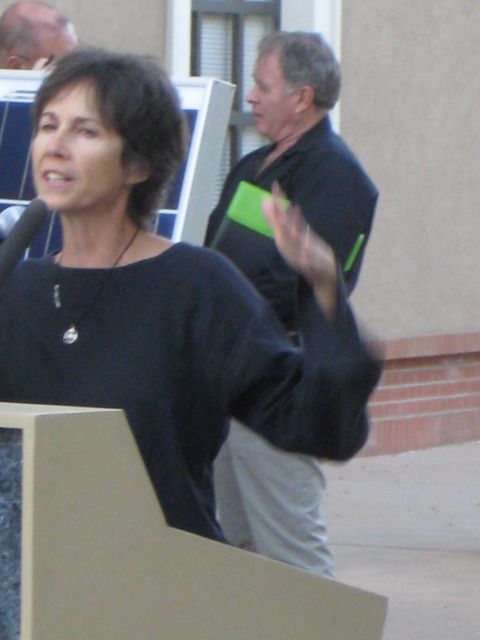 Another inspiring speaker was a minister! So great to get her perspective instead of the wingnut preachers we hear so much from in the msm.
Sorry that can't remember which group she represented.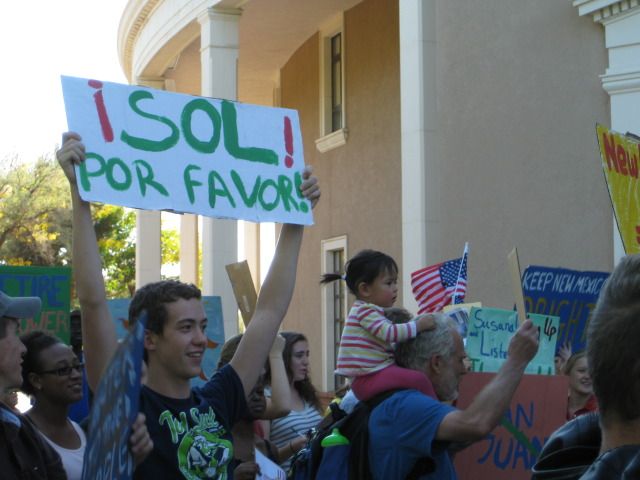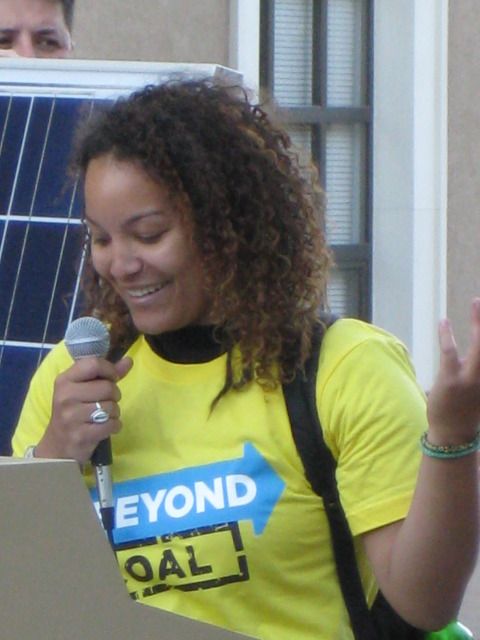 One of the last speakers was a young lady from Santa Fe we had heard at the celebration the night Bill McKibben spoke. She introduced herself as a mother of two and a college student. She spoke of the need to move away from coal, the younger generation, and their hopes for the future.
A lady standing next to us, said "yes, seven generations." As with most of the speakers, they were very upbeat and positive about getting change to happen.
###
This action by groups in New Mexico could be important for people all across the country.
That dirty air blows all over don't you know. :)
Again, thanks for stopping by and commenting.
2:43 PM PT: Thanks to kossack FischFry for providing info about the EPA rule on coal plants. Check it out here: http://www.dailykos.com/...
3:22 PM PT: Would you like to see a climate question in the next debate? Here is a suggested choice on the google poll from the League of Conservation Voters: Energy
Description
59,702 votes on 109 questions from 5,886 people
Please vote on this question...
"What actions will you take to address climate change and reduce greenhouse gas emissions?"
Fran Steidle, Deltona, Florida View responses (13) Post a response
Share ▼ -- http://www.google.com/...