The latest Pew Research Poll, conducted between Oct 4 and Oct 7, shows Mitt Romney leading President Obama by 4%, 49% to 45%, a 12% improvement from their previous poll, where President Obama led by 8%, 51% to 43%. Yesterday, Nate Silver found and average post-debate poll debate bounce for Romney of just under 3%.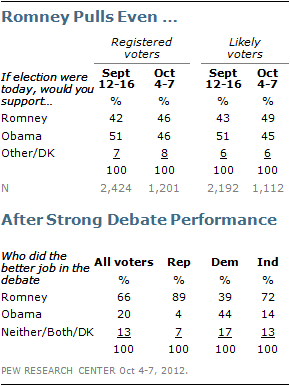 This Pew Poll of 1,511 adults found 1,201 registered voters, and 1,112 likely voters.
The more troubling finding is a large enthusiasm advantage among Republicans, including a higher percentage who say they are extremely likely to vote. Another discouraging finding, was President Obama's personal favorability rating fell six percent, and Romney closing his previous 18% gap with women voters. An "enthusiasm gap" in likely voting, has been found in previous polls, and commented on by Chuck Todd this weekend, pointing us to a area we need to work on.

More generally, the poll finds Romney's supporters far more engaged in the campaign than they were in September. Fully 82% say they have given a lot of thought to the election, up from 73% in September. The new survey finds that Romney supporters hold a 15-point advantage over Obama backers on this key engagement measure. Supporters on both sides were about even in September.

In the presidential horserace, Romney has made sizable gains over the past month among women voters, white non-Hispanics and those younger than 50. Currently, women are evenly divided (47% Obama, 47% Romney). Last month, Obama led Romney by 18 points (56% to 38%) among women likely voters.

Gak! This is depressing. One possible hope is that this poll captured the mood immediately after the debate, which may have tempered somewhat by the weekend according to an analysis this afternoon by kos. But, we definitely have work to do on raising Democratic voters likelihoods of voting.
3:17 PM PT: What a roller coaster of a day in polling. A new post debate poll from the University of Denver shows President Barack Obama with a 4% lead of Mitt Romney, even though a majority think Romney won the debate.

Obama held onto his small lead among likely voters in Colorado with 47 percent of the vote after the first debate. But Romney is just four points behind with 43 percent. Five percent said they are still undecided and another four percent said they are voting for someone else.

"Two important lessons from the polls are, first, there are very few undecided voters left in Colorado, and second, Gov. Romney has improved his position to win them over in the closing days of the race," said University of Denver political scientist Dr. Peter Hanson in a statement. ...

According to Nielsen ratings, 67.2 million Americans tuned in to last week's debate. Most voters did not actually change their opinions after watching the debate. For the most part, the debate only strengthened voters' beliefs. ... Five percent of viewers actually changed their mind after the debate.

3:32 PM PT: Blumenthal's analysis of the combined poll averages was
summed by this chart.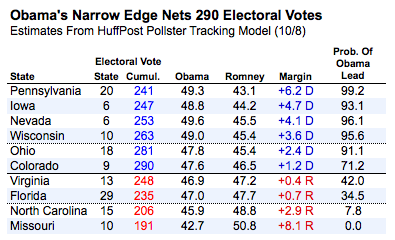 If we can keep PA, IA, NV, WI, and not shown NH in our column we can get to 270 with OH, CO, VA, or FL, and still have CO, and OH in our column but only by 1.2% and 2.4%.
So, this help us focus where we need to work. Getting up Democratic voter participation rates up seems to be our highest leverage strategy now.