Rachel Maddow just called attention to the extreme nature of Mitt Romney's proposal for a $2 trillion expansion to base defense spending with this historical plot published in Foreign Policy in an article entitled Budget crunched: The facts of Romney's proposed $2 trillion defense increase, by Thomas E. Ricks. After adding in wars, off-budget expenditures, and expansions to the Homeland Defense and intelligence budgets, total defense spending is more than twice this. (See update.)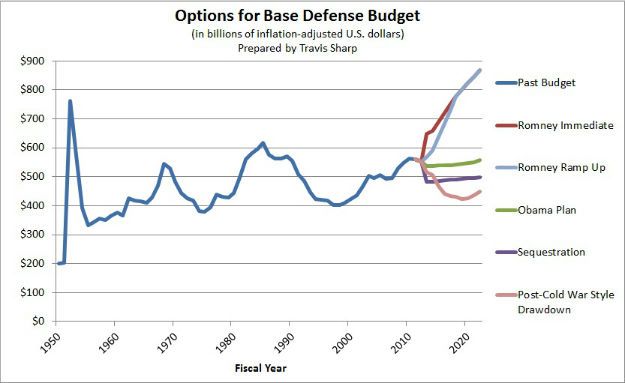 Mitt Romney fails to articulate any compelling national security risk which would require such expansion. President Obama has noted the Joint Chiefs have not requested any such expansion. So Romney insists we need to slash nearly all social spending including Medicaid, Amtrak, funding for the National Foundation for the Arts, Humanities, and even PBS to pay for this, and tax cuts for the wealthiest.
We need to find ways to communicate Romney's absurd and unnecessary expansion to voters in as many ways as is possible, and also link this to the bigger picture discussions of balancing the budget. President Obama's plan is vastly more sensible.

DOD's 2013 base budget excluding war funds is $525 billion, which equals 3.3 percent of GDP. Under Obama's plan, it will continue to grow modestly in future years. Romney has said that he wants to reverse the Obama-era cuts, return to the 2010 plan crafted by Robert Gates, and set the goal of spending 4 percent of GDP on defense. Those three objectives are different, so he'll have some wiggle room should he become president.

Let's compare Romney's third objective to Obama's plan. We'll run two scenarios for Romney. Under "Ramp Up," he increases defense spending by 0.1 percent of GDP per year until it reaches 4 percent and keeps it there. Under "Immediate," he increases defense spending to 4 percent of GDP immediately and keeps it there.

The table compares the Obama and Romney plans. The data are derived from OMB and CBO and denominated in billions. (I first did this calculation at the request of CNN Money in May. The resulting article has received some attention. The New York Times ran a signed editorial on the issue in August).

7:32 PM PT: Here's another historical plot putting defense spending into better perspective. This base budget above is but a fraction of total defense spending and the other parts have been dramatically increased in the last decade. Key message, we have not been reducing defense spending,nor is our national security imperiled by excess defense spending cuts.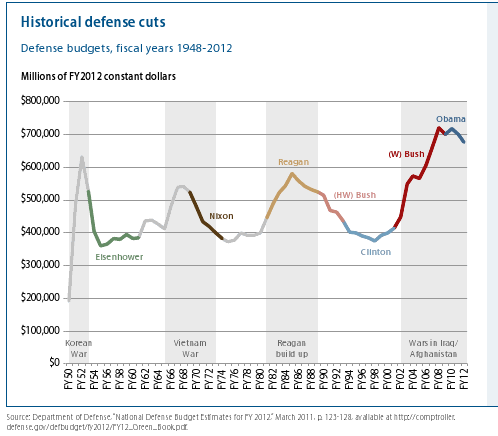 7:43 PM PT: More evidence suggesting the tremendous opportunities of balancing our budget by modest steady reduction to defense spending rather than slashing social spending such as Medicare, Medicaid, Social Security, NSF, NFA, NFH, and firing BIg Bird!
In addition to the below, I just read a few days ago that we have one more aircraft carrier groups than all the other countries of the world combined. 13 or 14 I think.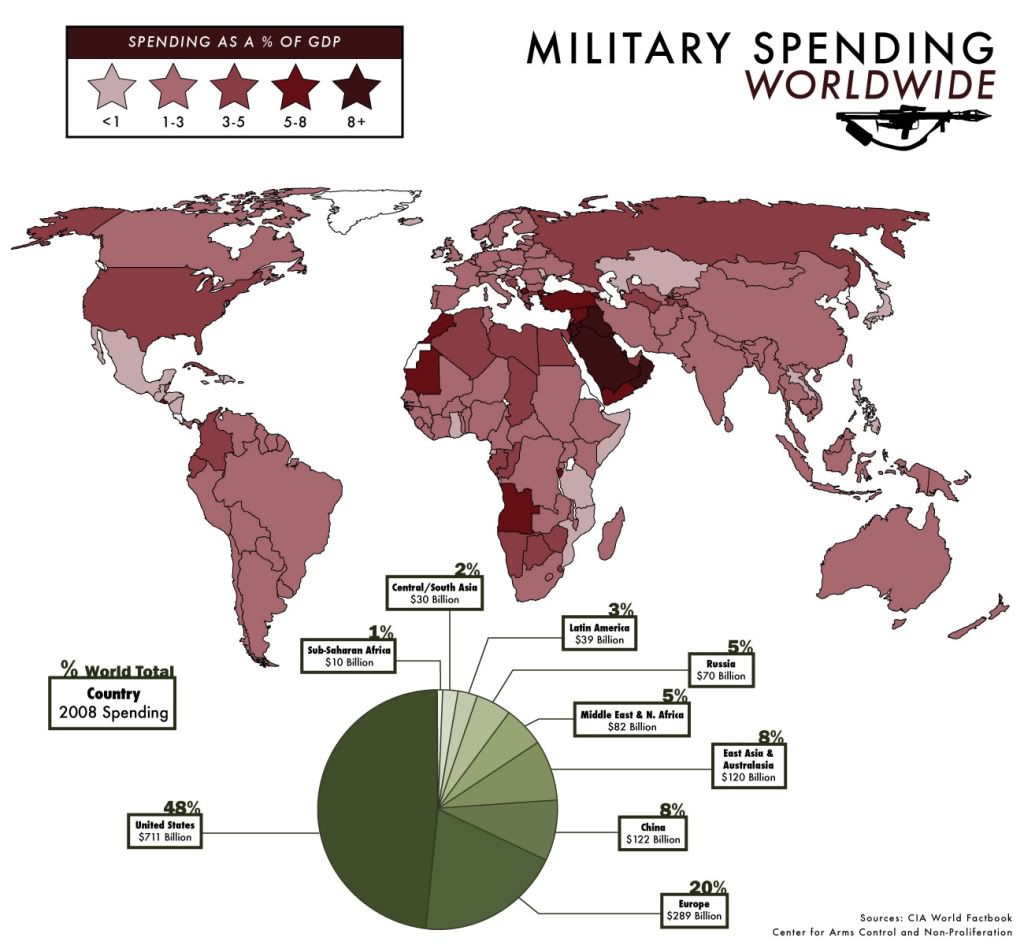 8:05 PM PT: Chris Hellman explains the additional components of the over $1.2 trillion annual total defense budget.
http://www.tomdispatch.com/...

For 2012, the White House has requested $558 billion for the Pentagon's annual "base" budget, plus an additional $118 billion to fund military operations in Iraq and Afghanistan. At $676 billion, that's already nothing to sneeze at, but it's just the barest of beginnings when it comes to what American taxpayers will actually spend on national security. Think of it as the gigantic tip of a humongous iceberg.

To get closer to a real figure, it's necessary to start peeking at other parts of the federal budget where so many other pots of security spending are squirreled away.

Missing from the Pentagon's budget request, for example, is an additional $19.3 billion for nuclear-weapons-related activities like making sure our current stockpile of warheads will work as expected and cleaning up the waste created by seven decades of developing and producing them. That money, however, officially falls in the province of the Department of Energy. And then, don't forget an additional $7.8 billion that the Pentagon lumps into a "miscellaneous" category -- a kind of department of chump change -- that is included in neither its base budget nor those war-fighting funds.

So, even though we're barely started, we've already hit a total official FY 2012 Pentagon budget request of:

$703.1 billion dollars.

Not usually included in national security spending are hundreds of billions of dollars that American taxpayers are asked to spend to pay for past wars, and to support our current and future national security strategy.

For starters, that $117.8 billion war-funding request for the Department of Defense doesn't include certain actual "war-related fighting" costs. Take, for instance, the counterterrorism activities of the State Department and the U.S. Agency for International Development. For the first time, just as with the Pentagon budget, the FY 2012 request divides what's called "International Affairs" in two: that is, into an annual "base" budget as well as funding for "Overseas Contingency Operations" related to Iraq and Afghanistan. (In the Bush years, these used to be called the Global War on Terror.) The State Department's contribution? $8.7 billion. That brings the grand but very partial total so far to:

$711.8 billion.

The White House has also requested $71.6 billion for a post-2001 category called "homeland security" -- of which $18.1 billion is funded through the Department of Defense. The remaining $53.5 billion goes through various other federal accounts, including the Department of Homeland Security ($37 billion), the Department of Health and Human Services ($4.6 billion), and the Department of Justice ($4.6 billion). All of it is, however, national security funding which brings our total to:

$765.3 billion.

The U.S. intelligence budget was technically classified prior to 2007, although at roughly $40 billion annually, it was considered one of the worst-kept secrets in Washington. Since then, as a result of recommendations by the 9/11 Commission, Congress has required that the government reveal the total amount spent on intelligence work related to the National Intelligence Program (NIP).

This work done by federal agencies like the CIA and the National Security Agency consists of keeping an eye on and trying to understand what other nations are doing and thinking, as well as a broad range of "covert operations" such as those being conducted in Pakistan. In this area, we won't have figures until FY 2012 ends. The latest NIP funding figure we do have is $53.1 billion for FY 2010. There's little question that the FY 2012 figure will be higher, but let's be safe and stick with what we know. (Keep in mind that the government spends plenty more on "intelligence." Additional funds for the Military Intelligence Program (MIP), however, are already included in the Pentagon's 2012 base budget and war-fighting supplemental, though we don't know what they are. The FY 2010 funding for MIP, again the latest figure available, was $27 billion.) In any case, add that $53.1 billion and we're at:

$818.4 billion.

Veterans programs are an important part of the national security budget with the projected funding figure for 2012 being $129.3 billion. Of this, $59 billion is for veterans' hospital and medical care, $70.3 billion for disability pensions and education programs. This category of national security funding has been growing rapidly in recent years because of the soaring medical-care needs of veterans of the Iraq and Afghan wars. According to an analysis by the Congressional Budget Office, by 2020 total funding for health-care services for veterans will have risen another 45%-75%. In the meantime, for 2012 we've reached:

$947.7 billion.

If you include the part of the foreign affairs budget not directly related to U.S. military operations in Iraq and Afghanistan, as well as other counterterrorism operations, you have an additional $18 billion in direct security spending. Of this, $6.6 billion is for military aid to foreign countries, while almost $2 billion goes for "international peacekeeping" operations. A further $709 million has been designated for countering the proliferation of weapons of mass destruction, combating terrorism, and clearing landmines planted in regional conflicts around the globe. This leaves us at:

$965.7 billion.

As with all federal retirees, U.S. military retirees and former civilian Department of Defense employees receive pension benefits from the government. The 2012 figure is $48.5 billion for military personnel, $20 billion for those civilian employees, which means we've now hit:

$1,034.2 billion. (Yes, that's $1.03 trillion!)

When the federal government lacks sufficient funds to pay all of its obligations, it borrows. Each year, it must pay the interest on this debt which, for FY 2012, is projected at $474.1 billion. The National Priorities Project calculates that 39% of that, or $185 billion, comes from borrowing related to past Pentagon spending.

Add it all together and the grand total for the known national security budget of the United States is:

$1,219.2 billion. (That's more than $1.2 trillion.)