Nate Silver was right when he said there is a lot of "noise" in some polls right now. This is some good noise. ABC News: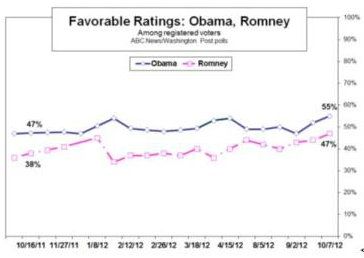 Mitt Romney reached his highest personal popularity of the election campaign among registered voters in the latest ABC News/Washington Post poll – but not by enough to lift his head above water, nor to surpass Barack Obama, who reached his own best favorability rating of the season.

Night-to-night data indicate a sizable boost for Romney, and drop for Obama, on Thursday night, a day after their first debate, which Romney widely is seen as having won. But both of those trends subsequently subsided in this poll, conducted Thursday through Sunday.

The net effect is slight at best. Romney is now seen favorably by 47 percent of registered voters overall, unfavorably by 51 percent; Obama's rating is better, 55-44 percent. Changes for both candidates from their pre-debate levels (Romney 44-49 percent, Obama 52-45 percent) are not statistically significant, given the surveys' margin of sampling error.
Apparently, Romney won "Thursday" overwhelmingly but those gains were gone by Friday. Shockingly, it was Obama who got the real bounce which is evident in the Raz and Gallup surge in approval.
"Obama's 55 percent favorability is numerically its highest since spring 2010. Better employment numbers on Friday may have provided some respite from his debate performance; among other groups, he's at his best since March among middle- and upper-middle income earners."
Bottom line, we're in much better shape than is being advertised.