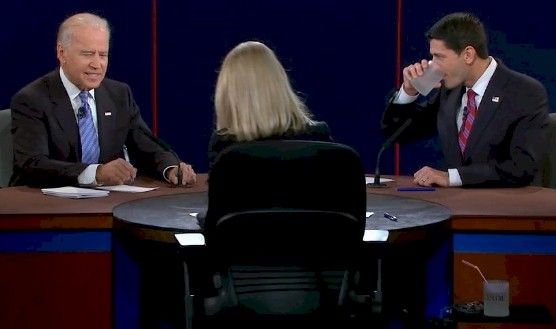 I hate to be the one to break this to you, but Paul Ryan did win something tonight. During the debate, I was also watching Bill Maher's tweets and he declared Paul Ryan the winner of being the one who knows to hydrate more. Of course, Bill added a caveat.
Ryan's is winning who knows to hydrate more. That's a big tell when you keep going to the water. But flopsweat don't replace itself!

— Bill Maher (@billmaher) October 12, 2012
And Bill wasn't the only one who noticed how much water Paul Ryan was drinking.
At this point I feel sorry for Paul Ryan. I want Joe to look over and say 'Are you okay? You need some water. Let's give him a break, Martha

— Chris Rock (@chrisrockoz) October 12, 2012
Paul Ryan drinking that water so damn fast to make sure he washes them lies down his throat!!! Hahaha #obama2012

— Madea Simmons (@MadeaSimmons_) October 12, 2012
Hey girl, I'm not taking nervous sips of water, I'm drinking every time Biden laughs at me. #vpdebate

— Paul Ryan Gosling (@PaulRyanGosling) October 12, 2012
Right? RT @chrisgolden: How much water is Paul Ryan going to drink tonight? Remember- there are no bathroom breaks in VP debates.

— Andrew Kaczynski (@BuzzFeedAndrew) October 12, 2012
Ryan gulping water while Biden speaks.Probably dehydrated from the 2:50 marathon he ran before the debate.

— Paul Begala (@PaulBegala) October 12, 2012
Who is refilling Paul Ryan's water? Because he is drinking that hard!!! And it is always full! #thirsty

— James Fortune (@MrJamesFortune) October 12, 2012
The true hero of this debate is Paul Ryan's water glass refiller.

— James Urbaniak (@JamesUrbaniak) October 12, 2012
There's no way Paul Ryan doesn't have to pee like hell right now.

— James Urbaniak (@JamesUrbaniak) October 12, 2012
Below the fleur-de-orange are my favorite Bill Maher tweets from the debate, but you can see all of them by visiting his Twitter feed. Please share the funny tweets you saw in the comments. I am having a good time laughing tonight.
Hello, under Bush: 3000 Americans killed by Al Quada on American soil; under Obama, 4 Americans killed in Libya. Next question.

— Bill Maher (@billmaher) October 12, 2012
Republicans sure have a point about Benghazi - what kind of clueless incompetent lets Al Qaida attack Americans on Sept 11?

— Bill Maher (@billmaher) October 12, 2012
"Let me tell you about the Mitt Romney i know" - too late, he's changed again

— Bill Maher (@billmaher) October 12, 2012
Hello 9 1 1? There s an old man beating a child on my tv

— Bill Maher (@billmaher) October 12, 2012
This isn't the kind of "feeling the burn" Ryan enjoys

— Bill Maher (@billmaher) October 12, 2012
Besides the words, Joe's face is winning

— Bill Maher (@billmaher) October 12, 2012
I'm actually starting to feel sorry for Ryan. But it wld be cool if Biden made him cry

— Bill Maher (@billmaher) October 12, 2012
Child, please! your running mate changed his position on abortion twice in 24 hrs this week! Shorter waiting periods for actual abortions!

— Bill Maher (@billmaher) October 12, 2012
Man, Joe Biden is clean and articulate!

— Bill Maher (@billmaher) October 12, 2012
Oh just shup up all of ya, i want to watch football. All that's left is for Biden to throw Ryan a handkerchief:"Here, clean yourself up kid"

— Bill Maher (@billmaher) October 12, 2012
Finally, if Obama had been this strong, the election would be over now.I predict he will be in the next two, so off the ledge, Sullivan!

— Bill Maher (@billmaher) October 12, 2012