...by awful, racist, fear-mongering billboards.
I recently moved to Miami from the relatively quiet (politically anyhow) streets of Boston. While i thoroughly enjoyed living in the liberal bastion of Eastern Massachusetts, my partner was transferred to Miami for work. Once I began to explore the city and drive around its interstates, I started to notice several billboards around town that put the right's strategy of inducing fear on full display.
Below are some of the billboards I see on a daily basis. I'm not one to take pictures with my cell phone while I'm trying to drive, so none of these I actually took myself. However they are the exact ones that line my morning commute. I'm sure there are countless more around town that I haven't seen yet, and it seems they all target the low-information, conspiracy-prone voter. These billboards do their best to portray the President as someone "different" or not "like us". This has been the strategy since he began campaigning for the 2008 election.
Meanwhile, I have yet to see a single pro-Obama or anti-Romney billboard. Is this type of media just overlooked by campaigns? I would assume with 100,000 or more cars passing by daily it would be a worthwhile investment.
Be warned, teh stupid is on full display here.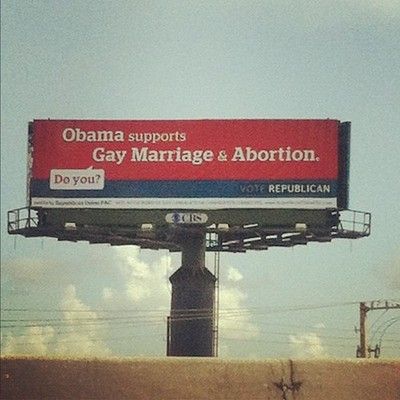 Yes, and yes. I do fully support personal liberties. A woman has the right to make medical decisions for her and her family, and a couple who is in love should absolutely have the right to marry and enjoy the many benefits that come along with marriage. Although the way this billboard is worded you would think Obama is the doctor and the minister.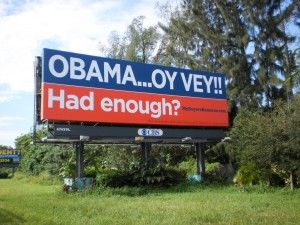 Cute way to target the Jewish voters. There is a massive push here in South Florida to portray Obama as an enemy of Israel. I've seen countless commercials saying he snubs his nose to Netanyahu and is a close friend to Arab countries.

Oy Vey! The infamous "bow" picture. The one that supposedly confirms the President is a super secret Muslim/terrorist/America-apologist. He's making it so hard to fill up my fleet of Hummers!

Obama ran up $15 Trillion in debt? Puhhh-lease. Were these people absent for the prior 8 years? Where were they then? When we were screaming about tax cuts we couldn't afford, two wars in the middle east put on a credit card, and a defense budget wildly out of control they were conveniently quiet. Where were they when the banks were bailed out while the rest of America rotted? We aren't Greece. We don't have the same problems as Greece. And the apocalyptic pictures of civil disobedience don't scare me into submission.
I can only hope after he wins in November this kind of drivel fades away.