Think Progress has tracked and documented Paul Ryan's charitably named 'myths' from the Vice Presidential debate. They counted two dozen whoppers in the span of 40 minutes and chronicled them here.
Among them were the LIES that it took the President two weeks to acknowledge that the Benghazi attack was a terrorist act, that the Administration blocked the House from imposing sanctions on Iran, that the stimulus doled out $90 Billion in green pork to Obama campaign contributors, the $716 Billion from Medicare to Obamacare lie, and twenty more.
I guess Vice President Biden must have done such a great job disputing and pushing back on Paul Ryan's LIES, that when USA Today decided to factcheck the Vice Presidential debate in A 2nd Look at Biden and Ryan Claims, most of their factchecking centered around disputing Vice President Biden's claims.
They factchecked Joe's claim that the Ryan budget cut $300MM from embassy security. They factchecked his claim that Romney said he wouldn't move heaven and earth to catch bin Laden. They factcheck his claim that sanctions are hurting Iran's economy. They checked whether Romney wanted 30,000 service members to stay in Iran.
They checked the claim that Ryan's Medicare plan would cost seniors and extra $6,400. They checked whether the Romney Ryan tax plan gives $500 billion to the richest 120,000 families.
They checked whether it was true that their plan was impossible without raising taxes on the middle class, or blowing up the deficit. They checked whether Romney said he would let the auto companies fail.
They checked whether Ryan really asked for stimulus money for his district. (In fact the AP has since unearthed a finding that not only did Ryan make the requests Biden mentioned, but there were two more that he didn't even know about).
Well it's a good thing they checked all those things Joe Biden said for us, because, they were all found to be essentially true. What claims by Ryan did they check? A total of four. His claim that Obama took two weeks to acknowledge the Benghazi attacks were done by terrorists (false), that Obama has called Syria's Assad a reformer (false) that Obamacare pays for abortions (absolutely false) and that a Romney/Ryan administration would oppose abortion with exceptions for rape, incest, and life of the mother. (impossible to figure out given Romney's "history" and Ryan's extreme stance). The rest of his LIES remained unchallenged.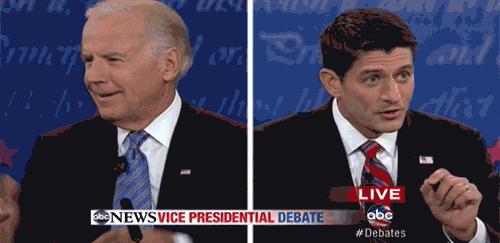 It's reassuring to know that the media is checking up and confirming the Vice President is telling the truth. Thanks, USA Today.
The GOP's idea of a Very Serious Person