From the way Mitt Romney has been running his 2012 campaign for President, one would barely know that he was a one term governor of Massachusetts. Given his record there it's hardly surprising he has barely mentioned it. But a new story in the New York Times yesterday now reveals how little time he actually spent governing.
Much of his time was spent at his vacation homes in Utah and New Hampshire and conducting 'political trips' (on the taxpayer's dime) that coincidentally happened to be in states that were important to setting up a Presidential run.

During Mr. Romney's four-year term as governor of Massachusetts, he cumulatively spent more than a year — part or all of 417 days — out of the state, according to a review of his schedule and other records. More than 70 percent of that time was spent on personal or political trips unrelated to his job, a New York Times analysis found.

Mr. Romney, now the Republican presidential nominee, took lengthy vacations and weekend getaways. But much of his travel was to lay the groundwork for the presidential ambitions he would pursue in the 2008 election, two years after leaving office.
During his last year as governor, he was largely an absentee chief executive. In October 2006, for example, he was out of the state all or part of 25 days. His public schedules said he was spending "personal time in Utah" or "attending political events" in California, Colorado, Iowa, Michigan, Nevada, Texas and Wisconsin.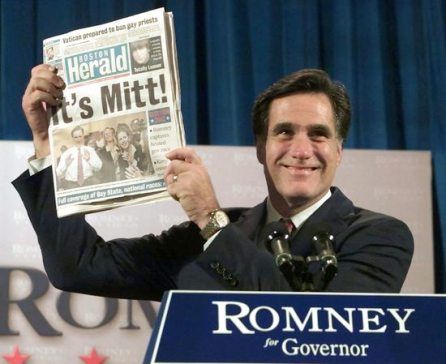 The Times compiled an itinerary of Mr. Romney's travels by analyzing the governor's public schedules, reviewing news accounts of his travels and the responses to public records requests made during his time in office by news organizations — including The Boston Globe, The Herald and The Associated Press — that were available at the Massachusetts State Archives. The figure is probably higher than 417 days because Mr. Romney's vacations were often not recorded on his public schedules.
Romney became known during his tenure as missing in action, with an anonymous group putting his picture on the back of a milk carton with the caption "Have You Seen Me"? The Boston Herald published a headline - "Mitt's Mass Denial". Though Ann Romney whines that Mitt took no salary as governor, his security detail and travel cost taxpayers more than $163,874.
When Romney was on the road (on the taxpayers' dime) he would often joke and complain about his difficulties with the Democratic legislature (despite the fact he brags about his skills at working in a bipartisan manner). The jabs got back to the people being jabbed at, who didn't appreciate them.

"He would make punch lines making fun of Massachusetts, and that was not widely appreciated," said Michael J. Widmer, the president of the Massachusetts Taxpayers Foundation, a business-backed public policy group.

Mr. Widmer said that while the administration focused on passing health care legislation in the second half of Mr. Romney's term, "the rest of his agenda just went by the wayside."
Despite the fact that his staff aide (at the time and currently) Eric Ferhnstrom and Republican legislators say Romney didn't miss anything important and was 'just a phone call away', the facts prove opposite.
The article notes that Romney was at his vacation home in New Hampshire when the ceiling collapsed in the Big Dig tunnel, killing a 38 year old woman. He was at his Utah retreat in 2003 when the Bush adminsitration warned of a high risk of a terrorist attack. And he was on the road when the legislature was negotiating changes to his landmark healthcare bill which he (sometimes) likes to take credit for.

No one points to any lapses from his absences. But some former constituents, particularly Democrats, say Mr. Romney's travels suggest that he was more interested in attaining the governor's post than in doing the job. They argue that his focus on his political rise limited his achievements, and they point to President Obama's double-digit lead in polls in Massachusetts as evidence of a bad taste left by Mr. Romney's single term.
I suppose Republicans can argue that there are no further goals for Romney to aspire to should he become President - so he wouldn't have any more distractions taking him away from presidentin'. And, he has no ranch to clear of brush.