Welcome!
I thought I'd get the creative juices flowing this week by sharing with you my latest creation! I've built something. I think it's a kiln. Perhaps it's just a mess but I did have fun building it. I brought pictures to share!
WAYWO is always looking for more folks willing to post a diary and share their creations! You can volunteer via the WAYWO Yahoo Group or by flinging a message at vgranucci like I did. At any rate, we are equal opportunity supporters of creativity! We'd love to hear about what you are working on in the comments. Share some pictures, recipes, tantalizing tidbits taken from your latest novel... Whatever you're creating, this is the place to show it off!
Well, first you have to scroll past all of my photos and verbiage...
Please join me by jumping over the squiggly Itzl-flavored hairball to begin reading about my own creative disaster project.
Let me introduce myself--
I'm an American, raised in Wisconsin, living for the last 20 years or so in Prague, in the liver of Europe. I do a wide variety of artwork but I've had a special love of ceramics for a few decades now. It started in Wisconsin visiting family friend Carolyn Steva in her home studio and blossomed under the care of my mentor Don Hunt. I've taught art and ceramics classes to everyone from preschool students to retired folks for about a dozen years but I've never had my own ceramics studio-- I've managed a couple of them over the years but I never had a place, other than a corner of my kitchen, to create stuff with clay whenever I wanted. But, that is ending. I married into a wonderful, loving family that foolishly has appointed me patriarch! Now there's a big, old farmhouse with attached outbuildings that I get to experiment on. I've learned to repair roofs, lay brick, mix and apply stucco, replace rotted beams and shore up foundations. I also get to plant and weed the garden. Somewhere along the way they decided I'd also be in charge of pruning and planting trees. But, along with the chores there are perks! I've got space. A couple of years ago I made a kick-wheel in the garage out of parts scavenged from an old wheel and some scrap lumber:


But anything I made out of clay I'd have to drive all the way back home and then drag out to the studio space of friends of mine who teach ceramics. Slowly, I decided to change that.
I had a lot of experience firing various types of electric kilns. The size of beast that I wanted would cost over $10,000. Gulp. I couldn't afford an electric kiln. I loved firing with both propane/butane gas and with wood in the past maybe with all that space I should build something...
I thought back to kilns I have helped build and fired over the years. I've never owned one! I helped Don and a friend of his build wood-fire kilns once upon a time. Knowing the cost of the fire-bricks they used I decided to try another method of building.
A friend of mine had made a few wood-fire kilns as camp projects for children-- with great success. She used clay that she and the kids dug up themselves and chicken wire. Visiting a few recreations of medieval villages I found some similar clay kilns:


Pretty primitive stuff eh? Looks like fun though. Once upon a time I rebuilt the tile oven at the farmhouse (the Czech word for it is "chalupa" and no, they do not serve them at Taco Bell. The 'ch' is like the sound in "chutzpah") and I was told that the clay on our property was used in putting it together the first time. Supposedly good stuff. Maybe I could use it for the firing chamber (where the pots go) and make a nice firebox (where the fuel goes) out of whatever I can find. Time to put some ideas on paper: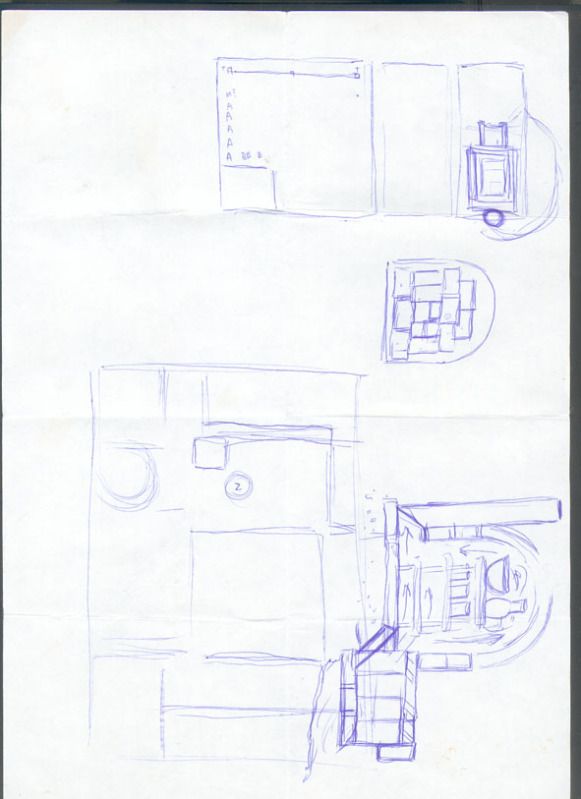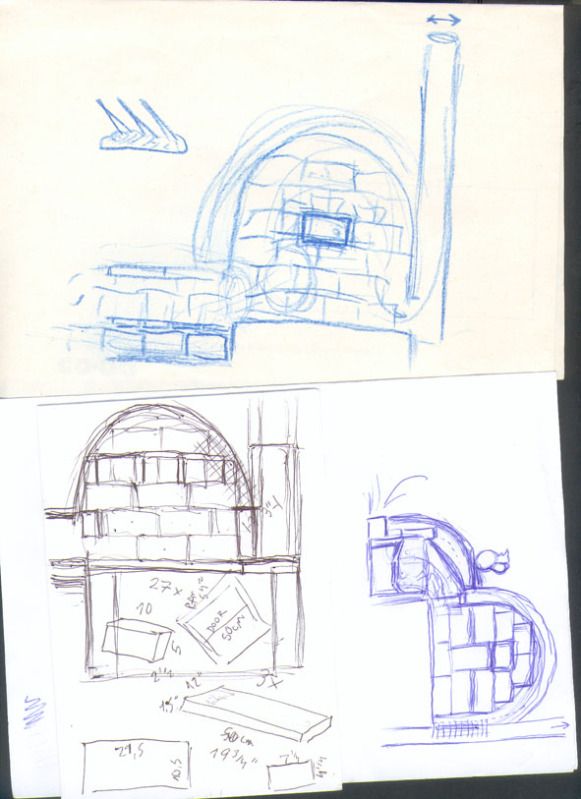 And that's a look into my scribbly mind. You can see how I like to add little details like a doodle of a line of pyrometric cones stuck at an angle into a blob of clay and pots waiting to be fired. The earliest sketches show my efforts to incorporate the kiln into one corner of the garden that later turned out to be too wet. I wanted the firebox to be lower than the chamber to imitate the designs I'd once seen of oriental chambered kilns built into hillsides. That would mean digging on my relatively flat piece of land. As my first attempt filled with water I picked out a place for my second attempt. I dug a hole, set up my batter boards and poured a foundation: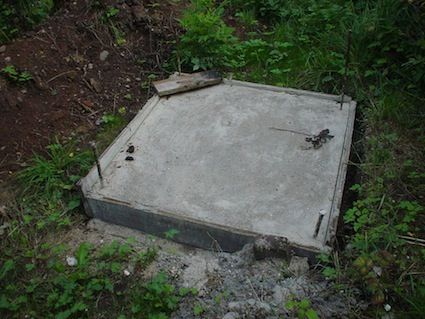 I used an old, rusty, spiky metal grid of iron used for smoothing fields like rebar to add strength to the block which is just over three feet long on each side. I've gotten to be pretty good at mixing concrete lately. I don't know how my concrete will handle the heat but I just wanted to keep my kiln up off the wet ground. And what's this?


Well, other than my toes sticking into the shot you can see a couple of blobs of an, er-- gift left either by a feral cat or a martin. We've had both living with us from time to time. So, a bit of territorial crap must mean that this project has been approved by the locals! Onward! I had a couple of long pipes laying nearby; left there by some previous generation. I needed something to use as a chimney for this wood-burning monster of mine; these were a good size and when I cut about a yard off the end of one and knocked a hole in it--


I discovered that they were perhaps made to line actual chimneys-- I had maybe been risking exposure to asbestos. All that lovely dust, while cutting... oh well, deep breath (see? just peachy) bumbling Marko rushes on! I dig a hole for the pipe and set the pipe in more concrete: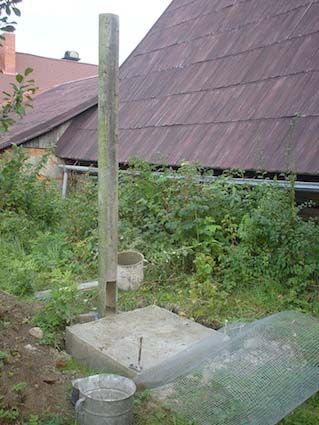 What? another gift from the martin?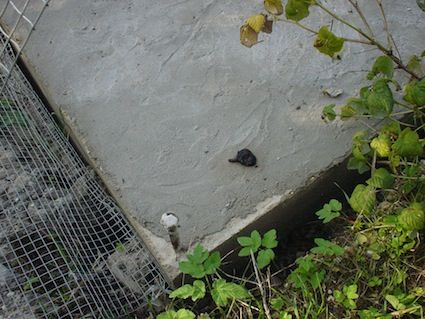 Then I gathered together my scavenged iron bits, my precious, purchased firebricks, my length of wire mesh... all the stuff I thought I could make a kiln out of and then I revised my plans, found more stuff I could use, changed my plans again, cut that lopped-off length of pipe into fourths, and pondered, and thought, and scribbled, and even occasionally measured:


I dug a big hole even deeper than my foundation block along the side of the block opposite the chimney and set a half yard (can I use the metric system now? Pleeeease?) sized metal frame into another garf of concrete: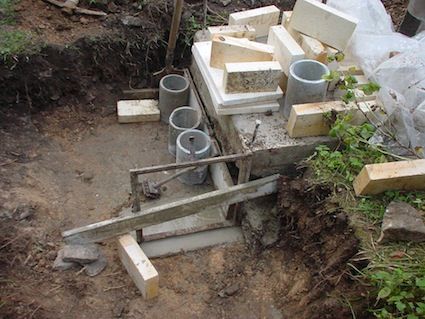 It's the frame for some sort of access shaft. Comes with a sheet iron lid that I planned to use as a door. I have a barn filled with rusty treasures.
Slowly, over a couple of weekends I built up the firebox: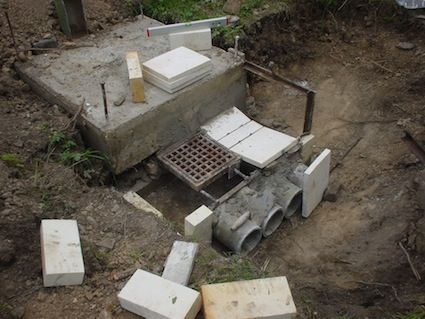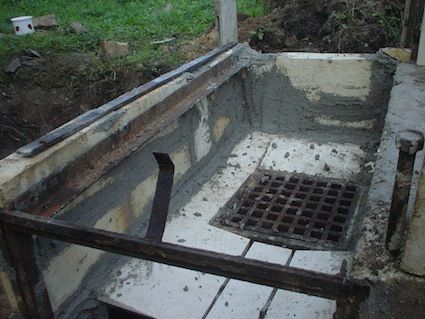 And a I thought that perhaps the transition from firebox to firing chamber was just a wee bit too steep so I chiseled in a slope and lined it with a sheet of firebrick that I cut to fit: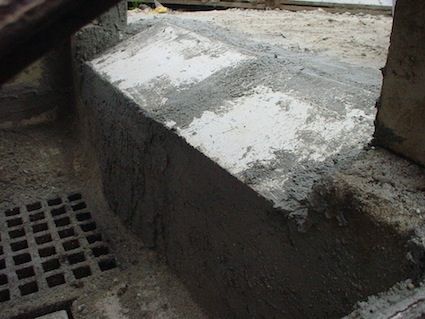 Then it was time to raise the roof-- well, set some thick sheets of iron from an old stove into place, drape the wire mesh over it and bend it into an arch up, over and down to the base of the chimney: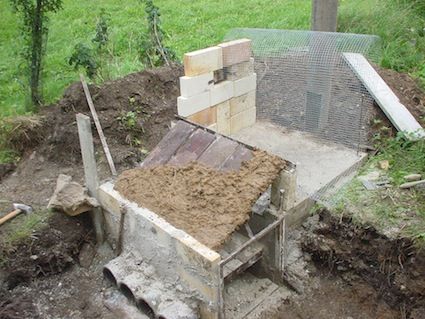 And if you're wondering about that brick wall there-- that's part of the plan but not quite part of the design. Um, let me explain... you see, I can't afford the really good, light firebrick that insulates so beautifully. Part of making an efficient wood-fire kiln is not wasting the heat you've got. You need insulation. That's also part of the oriental wisdom of building these things into hillsides you know. Dirt is a pretty good insulator. I planned to have my firing chamber arched to quicken the flow of air through the kiln and I planned to build up that arch with sort of an improvised adobe mixture. I have a dozen large bags of chaff that the damned poopy martins are just using for nesting materials-- how about if I'd mix that with clay, perhaps a bit of sand and shape my walls with that? I remember putting sawdust, wood shavings, paper pulp and all kinds of flammable stuff into clay as a student. Yeah, throwing on the wheel with wood chips in your clay is not for people who get 'mani-pedis'. It is for people who deserve mani-pedis. Ouch. Anyway, all that gunk burns out leaving behind a strangely textured and remarkably light pot. So, perhaps all that gunk in my walls will make my walls light, fluffy and terrific insulators? I decided to try it. I ended up using a fair amount of brick on the firebox; more than I'd planned really. Well, if you can call scribbling "planning". More than I'd scribbled then. Anyway, I didn't have a lot of brick for building much of the chamber but I knew that I'd need some type of entrance to it. I couldn't crawl through the firebox to load and unload it now could I? So I planned that there would be one wall, with a little peephole door in it for checking the temperature, that I would simply tear apart and rebuild for each firing. I would then be free to mound the dirt up over the back and one side of the kiln. A lovely, somewhat natural mound of insulation! At the time of that picture though I had just set up my wall to make sure that the arch was the right size. The following weekend that side of the kiln was replaced and filling up with my adobe mixture: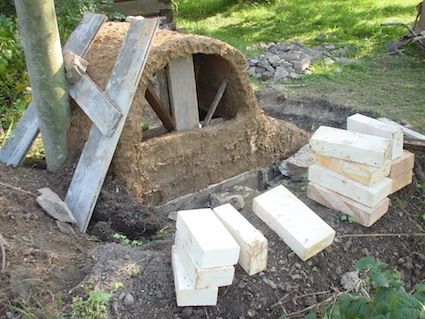 Did you notice? I'm actually building up that side wall using some rough adobe bricks: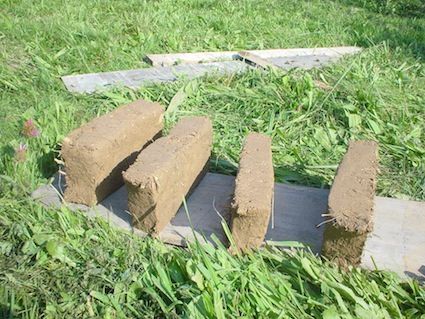 A peek from the inside: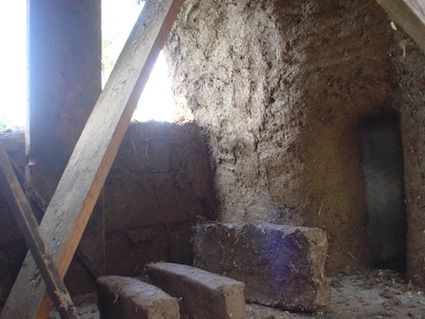 Lots of hastily improvised bracing. Some added iron rods were eventually bent and added for a bit of extra and permanent support to the opening. Here's the more or less finished chamber with the walls fairly well smoothed: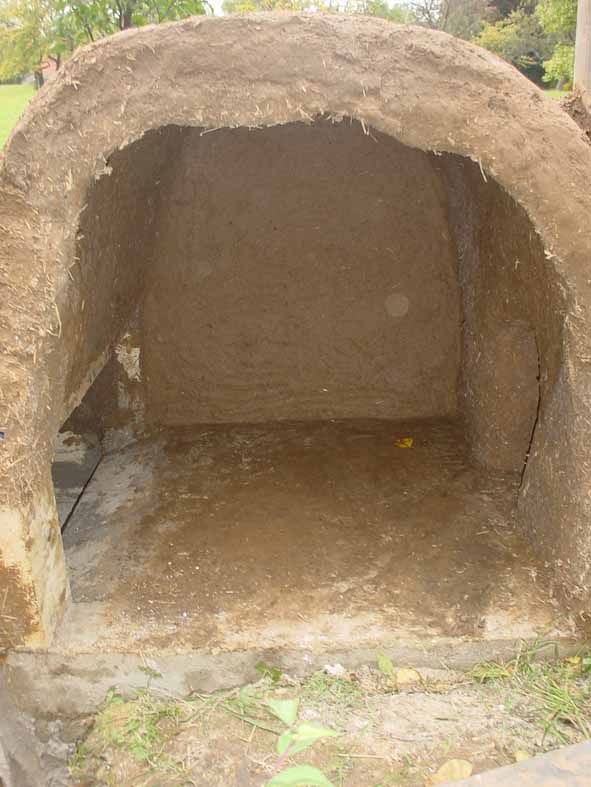 And here's a look at the kiln wrapped up in its cozy clay blanket: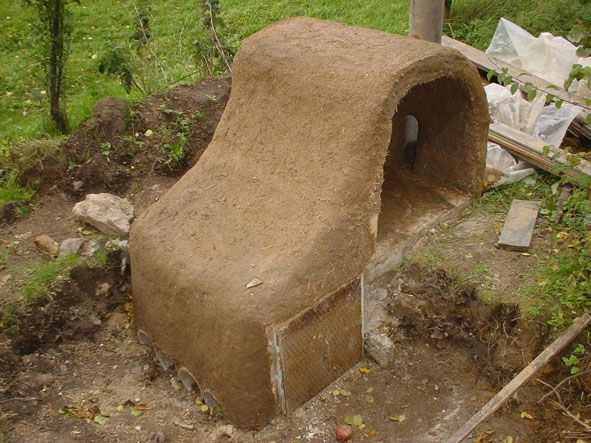 I stuck the door to the firebox on for you but seeing what it looks like while I fill it up, seal it up and fire it up will have to wait for the next time I post a WAYWO diary. It may end up to be a complete disaster but this was, above all, a creative and often improvisational attempt to build a kiln. It looks enough like a kiln that my neighbor recognized what it was even before it was finished. Oh well, worse comes to worse and I tear it apart, reclaim the firebrick and use it to line a barrel, buy myself a decent propane burner, add a bit of pipe and a strong fan and voila! a gas kiln.
Oh well...
Here's a parting gift-- this time it's half an eggshell left in the base of the chimney by the martin: