Previously posted on Colorado Pols but this picture of a rally at the steps of CO's Statehouse shows how Colorado Hispanic Republicans Rally For Glorious Victory! and their ability to draw Latino voters in a battleground state.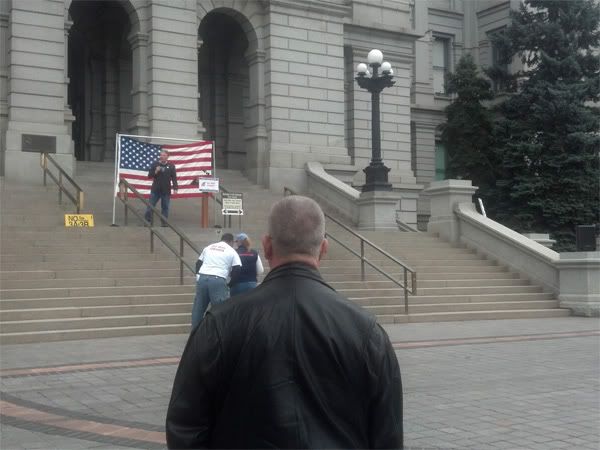 Now the promotion which makes it even more of a revealing moment.

LIVE FREE OR DIE
A RALLY ON THE STEPS OF THE CAPITOL

A CALL TO ACTION TO GET OUT THE VOTE!
DATE: SATURDAY OCTOBER 13TH, 2012
TIME: 12:00-3:00PM
PLACE: COLORADO STATE CAPITOL STEPS

Speakers

Michael L. Barrera Libre Initiative, Western Regional Director
Laura Boggs Director, Jefferson County School Board
Jon Caldara President of the Independence Institute
Ryan Call Chairmen of the Republican Party
Randy Corporon Chairman Arapahoe Tea Party
Frank Francone Colorado Chairman Doc Squad
Fr. Andrew Kemberling Pastor St. Thomas Moore
Trevor Loudon Author, Activist, Founder of KeyWiki
Tim Neville Colorado State Senator District 22
Molly Vogt Director, My Purse Politics, Colorado Women's Alliance
Derrick Wilburn Rocky Mountain Black Tea Party

The Board of the Colorado Hispanic Republicans:
Mimi Bell, Hugo Chavez-Rey, Carlos Klinger,
Martin Mendez, Pauline Olvera, Jeff Rodriguez,
and Tony Sanchez
ColoradoPols then says the obvious:
Something obviously happened, because there appear to be more Colorado Hispanic Republicans listed on the press advisory than actually in attendance at yesterday's rally.

It could honestly be a good thing to to see that lengthy advisory--otherwise you might get the idea that the people in the photo are all the Colorado Hispanic Republicans who, you know, exist.

Pro organizing tip: if a rally is about to send the opposite of the message you want, cancel it.
UPDATE: Questions were raised when the picture was taken, Coloradopols state 12:33 pm, half hour after start of rally
what point of the rally was pic taken?

by: rwnemanich @ Sun Oct 14, 2012 at 10:13:45 AM MDT
[ Reply ]
*[new] The timestamp on the photo above
As originally forwarded to us, says 12:33PM.

This reduced size copy was made this morning, of course.
by: Colorado Pols @ Sun Oct 14, 2012 at 10:19:32 AM MDT
[ Parent | Reply ]
More pics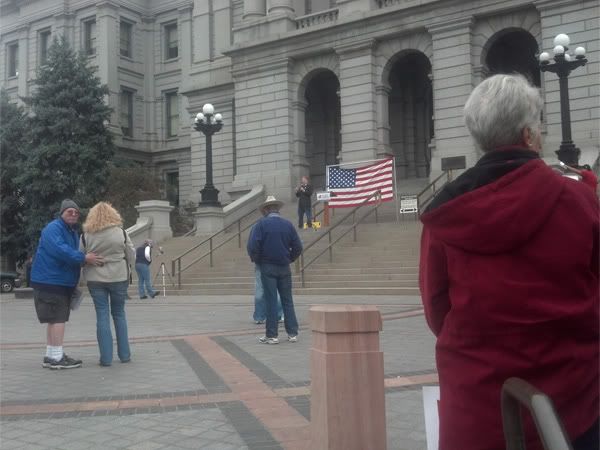 and a speaker name Caldera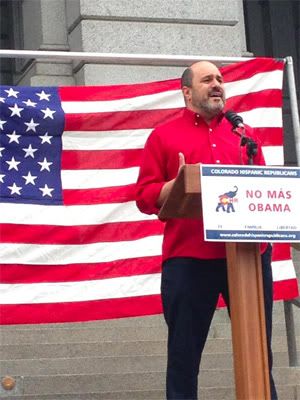 Colorado Pols added this in the comments:

The point isn't that everyone was going to show up nor that those listed in the announcement were going to be there.

The point is that those listed in the announcement were willing to believe there were Hispanic Republicans in Denver metro that could show up.

See, faith and belief are more important than actually showing up. And that's the point. Oh, and that the pastor at St Thomas Moore was willing to meet with the household and yard staff of his congregation outside the church is kinda big, 'cause he sure isn't going to see them at STM.