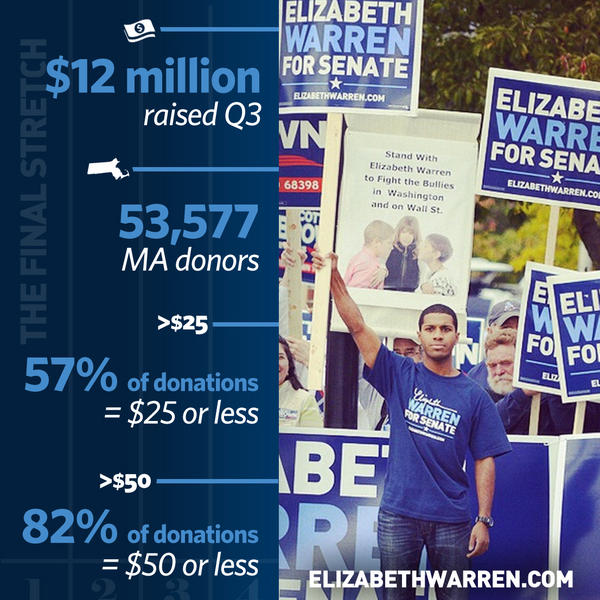 Following up on the great news of Elizabeth Warren's record 3rd quarter fundraising haul (as diaried by Scarce), I wanted to share how equally psyched I am feeling about the GOTV plans for the Warren campaign which really ramped up this past weekend! The fundraising numbers are especially encouraging -- clearly there will be lots of resources to spend on GOTV as well as the last flury of advertising.
I just attended a GOTV sign up/planning meeting for Elizabeth Warren on Sunday, in Cambridge. I imagine other folks attended similar meetings recently all over the state. I came away super impressed with the status and extent of planning that has already occured. The room was overflowing with energized volunteers from Cambridge as well as other cities and towns around the area.
I was also thrilled that every single speaker, from elected officials down to interns, who spoke at this meeting was a women. Believe me, this is not typical in our Massachusetts Democratic Party!! So inspiring to see State Rep Alice Wolf and her hopefully soon to be successor Marjorie Decker speak. Both women spoke at length about the critical importance of GOTV, based on their own experiences of past elections being decided by 80, 100 votes.
I am especially excited about the advances in automatic data entry for poll watchers, door knockers and phone bankers -- which will make the Warren campaign super efficient on November 6th and conserve volunteer and staff time that otherwise would be devoted to gobs of data entering -- a true game changer.
As with Deval Patrick's two campaigns for Governor, led by the brilliant MA Democratic Party Chair John Walsh, especially the 2010 campaign that succeeded against heavy odds via revolutionary grassroots organizing, both of which I volunteered for, I am just super impressed with the huge grassroots and field operation that the Warren campaign has built, as well as how much emphasis is placed on thanking volunteers repeatedly for their time and efforts. This is the unsexy stuff that wins close elections, folks!!
One final interesting point that came up in the GOTV meeting -- one volunteer asked if people were weighing going to New Hampshire to GOTV for Obama vs. staying in Massachusetts to GOTV for Elizabeth. This tradeoff has definitely been a point of debate and conversation among activists here, many of whom have made the treck year after year from MA to NH to boost GOTV for various Democratic candidates. The pushback to this question was pretty blunt, I thought: There is no Electoral College for US Senate, every single vote matters here, and Elizabeth will win or lose based on the popular vote. So staying and volunteering for her campaign is going to be my choice on Nov 3-6. I did GOTV in NH for Obama in 2008, but honestly I feel like the folks in NH are more than capable of doing really successful GOTV for Obama without a flood of volunteers from Massachusetts, especially since they did it so well 4 years ago.
Finally, unrelated but I wanted to share two lovely profile articles in local papers from yesterday -- one of Elizabeth's role as a stand out teacher at Harvard and one of her husband, Bruce Mann, which I figured others might be interested in reading:
Boston Globe -- Elizabeth Warren known as a tough but very popular teacher at Harvard
MassLive -- Bruce Mann adjusts to his role as a public figure and campaign surrogate
Three cheers for everyone who has donated and volunteered for the Warren campaign! And three more cheers for my future US Senator, Elizabeth Warren!