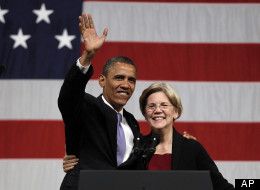 AP Photo/Stephan Savoia
President Obama endorsed Elizabeth Warren this morning, just after her campaign announced last night that is raised a staggering $12 million in funds just in the forth quarter in her quest to win the Massachusetts Senate seat held by Scott Brown. Elizabeth Warren Endorsed By President Obama tells us:
"Elizabeth Warren will be a strong, tireless and determined advocate for the people of Massachusetts, building on her remarkable record of working to help middle class families get ahead," said Obama. "Her life's work has been helping ordinary Americans get the fair shot they need and deserve. Elizabeth's passionate advocacy on behalf of consumers led to the Consumer Financial Protection Bureau. The agency is now protecting people from being taken advantage of by powerful companies. I know I can count on Elizabeth to stand with me to create jobs and opportunity for the people of Massachusetts and keep our country moving forward." ...

"I am honored to have President Obama's endorsement and eager to work with him to help the people of Massachusetts and to level the playing field to help middle class families get ahead," Warren said.

What a great day for Elizabeth Warren. More on fund raising below.
Last night, I reported that Elizabeth Warren Raises $12.1 Million In Third Quarter which reports an astonishingly successful fund raising campaign in her race against Senator Scott Brown to recapture the seat once held by Senator Ted Kennedy.

The campaign said that it raised over $7 million in September alone. It also said that 80 percent of donations were $50 or less, and more than half were $25 or less.

The Brown campaign announced later Monday morning that it raised $7.45 million in the third quarter, Brown's best figure to date. The campaign also said that it had $10.3 million in cash on hand.

"Tens of thousands of people across Massachusetts have joined this campaign because they know that Elizabeth will fight for them in the U.S. Senate," said Michael Pratt, Warren's finance director, in a statement Monday. "While Scott Brown has stood with billionaires, big oil and Wall Street -- and supports Republican control of the Senate -- Elizabeth Warren has been there for middle class families and small businesses. This strong support will help propel the campaign to victory in November."

Johnson reports the Warren has consistently raise more funds in every quarter, although, Senator Brown started with a large amount of money left over from his previous campaign.
The Huffington Post polling average give Elizabeth Warren a 47.7% to 45.5% advantage. This seat is important for our plans to keep control of the Senate.