Huffpo:
Jill Stein Arrested Before Hofstra Debate, Campaign Reports (VIDEO)
This is f@cked up.
Democracy Now
! is reporting as I write this that they are still detained. Is this Russia? China? Egypt? What?
Will you see this on any of the corporate media? Will you even see it at Dailykos?
Yes, yes, I have read the FAQ --Democratic site . But this is news, they were protesting today a travesty that has been going on for years:
League of Women Voters
Debates

The League sponsored the Presidential debates in 1976, 1980 and 1984.[2] On October 2, 1988, the LWV's 14 trustees voted unanimously to pull out of the debates, and on October 3 they issued a press release condemning the demands of the major candidates' campaigns:[3]

The League of Women Voters is withdrawing sponsorship of the presidential debates...because the demands of the two campaign organizations would perpetrate a fraud on the American voter. It has become clear to us that the candidates' organizations aim to add debates to their list of campaign-trail charades devoid of substance, spontaneity and answers to tough questions. The League has no intention of becoming an accessory to the hoodwinking of the American public.
—League President Nancy M. Neuman, LWV October 03, 1988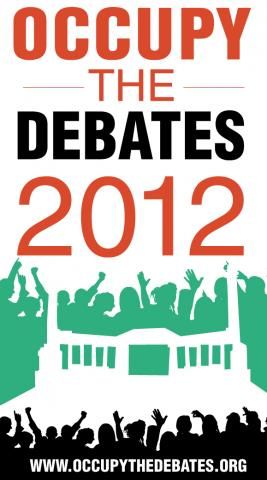 Bring back the League of Women Voters!
Update 1 No word yet as to whether they have been released etc. From the comments, here is a longer version of the arrest.

Update 2: HT to Occupy Santa Fe -- This tweet would be hilarious, if it weren't so sad. HT to
jillstein2012 MT @BilgeEbiri: Obama: "I passed a law allowing women to get equal pay." Romney: "I hired women once." @jillstein2012: I'm in jail. #debate