If you thought he outdid himself with lying during the first Presidential debate, never mind the previous months, he surpassed his lying lips speed record last night during the townhall debate.
Think Progress has compiled a handy list of various fact checkers' findings and it is impressive - just not in any moral sense.
Our "post truth" Republican Presidential candidate has out done himself and that took some real doing.
Romney beat his first debate lies per minute record of 27 Mitt myths in 38 minutes by a healthy margin, spewing 31 myths in 41 minutes during the second Presidential debate.
On everything ranging from Pell Grants, his reality defying claim that he will create 12 million jobs in four years, to his women in binders comment, truth could not be found - anywhere.
Romney's love affair with prevarication, false claims, and lies would almost be amusing in a sad -
Tsk. Tsk. Just look at that poor fellow. Let that be an example to you young ones. That's not how responsible grown ups behave!
- sort of way, if it wasn't for the fact that he thinks twisting the truth into a mobius strip is perfectly acceptable.
He thinks that is appropriate behavior for a "deal closer" and apparently for a President of the United States. After all, that is the job he is applying for.
I'm not a fan of the morally bankrupt philosophy of winning at all costs. Especially when that "winning" is attempted through a complete perversion of truth, reality and common respect for the American People.
None of which seem to trouble Mitt a wit. The only thing that seems to bother him is when he is called out on his addiction to lying.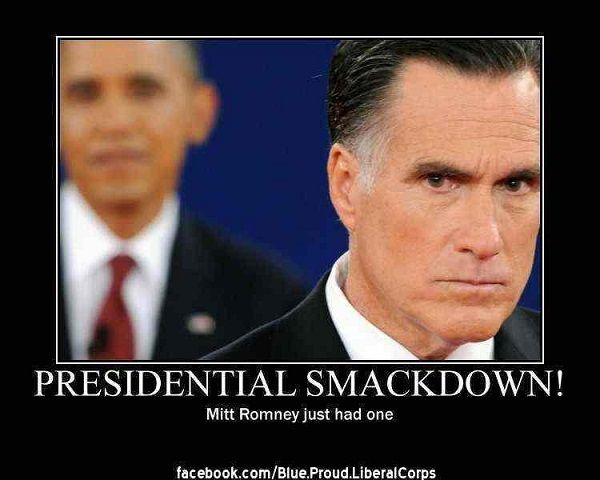 That is not the face of a man who feels chagrined at telling a falsehood. That's not the face of a man who feels the least remorse at twisting the truth to suit his goals.
That is the face of a man who feels entitled to do and say what ever serves his ambition, no matter the costs to the truth or the American people.
A man who only serves himself cannot be trusted in the Oval Office. There is nothing remotely amusing about that.
There's 20 days to go until election day. Let's take it home and reelect the man who honestly fights for us all on November 6th.