NOTE: Sorry about the blotchy pictures. I haven't posted a diary in awhile and forgot what kind of file to save the pictures as in Paint...
I think the consensus this cycle has been, if Obama wins in a landslide (by which I mean all the toss ups), there will be a wave and Democrats can retake the House. Unfortunately, over the past few weeks Romney has risen and the race is neck and neck, an Obama landslide seems less likely. But we've also noticed that the Senate seems to be trending more and more towards the Democrats, even with Romney rising in the polls. I'm beginning to think that Democrats may be able to retake the House... even without a landslide. According to the Cook Political Report, Republicans are currently at 213 and Democrats are at 169 with 53 tossups. On paper, that seems like a SERIOUS uphill climb for Democrats. Here's how we can win: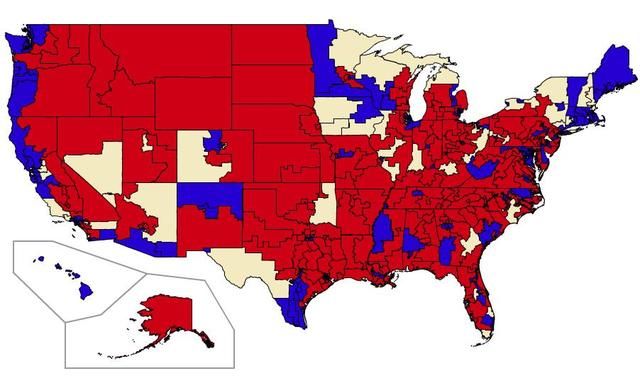 You may have heard Karl Rove talk about his 3-2-1 plan for Romney. Well this is my 6-5-4-3-2-1 plan for House Democrats. Haha.
6 BLUE DOGS
McIntyre, Critz, Barrow, Chandler, Matheson, Wallace
6 Blue Dogs - all considered toss ups right now but I think some of them are in better positions to win than Cook lets us believe. The first five are all battle tested, and have won in very difficult districts in the past. They were the few Blue Dogs that survived the 2010 wave. Some recent polling suggests that Matheson may be in a bit of trouble, but I think he can make it out. After all, he's won in friggin' Utah five times already, and that's the least Democratic state in the Union. The rest of the Blue Dogs are running in ancestrally Dem areas. Even though he's running in one of the most conservative districts in the country, I gave Rob Wallace the edge because he's shown some good fundraising numbers recently and that district in eastern OK is INCREDIBLY Dixiecrat. It's the exact same district that Dan Boren and Dixiecrats before him won, so I think he'll make it.
That brings Democrats up to 175.
6 in CALIFORNIA
There are 8 tossups in California, but Democrats only have to win six of them. I think 6 might be generous, actually, with the recent implosion of Mary Bono Mack.
That brings Democrats to 181.
5 - a sweep in NEW ENGLAND
Yeah. There are a few tossups here that I don't even think should be tossups. I'd bet money Democrats will win the "tossups" in MA, RI, and CT. Then they have to win the two in New Hampshire, which seems reasonable.
That brings Democrats to 186.
5 - a sweep of ILLINOIS
This one might be a little bit optimistic. Democrats are doing better than expected downstate, so I think they'll win those three races. The tougher ones are in the Chicago suburbs, where Judy Biggert and Bob Dold are running. Biggert was the strongest but she has flubbed up recently, so we might have a better chance there now. We should definitely shoot to win all five tossups in the Land of Lincoln - but even if we don't, at the end, you'll see there are plenty of other places where Democrats can make up for a loss here.
If we get 5, that brings us to 191.
5 - the UPPER MIDWEST
Dems must win 5/6 tossups here - out of 3 in Iowa, 1 each in MI, WI, and MN
Republicans overperformed in the upper midwest more than anywhere in the country in 2010, so I'm very optimistic that Democrats can pull off 5 victories up here. I think Obama won every single one of these tossups by more than a few points (with the exception of Steve King's district, but he may be in trouble anyway.) Boy, it'd be great to beat Steve King, wouldn't it?
That brings us to 196.
4 - NEW YORK
We have to win 4/6 tossups in New York.
4/6 is not as tall of an order as some of the others. But that is because there are some very rare breeds of Republican in office here... socially moderate "pro-choice" Republicans. I believe there are two or three. Kathy Hochul's district will be tough to hold but I think she can do it.
That brings us to 200.
4 - in the SWING STATES
There are 5 tossups - 3 in Florida and 2 in Ohio.
Two outrageous incumbents in South Florida shouldn't be hard to beat. SHOULDN'T - but Allen West is doing better than I expected. I still think we can beat him, though. If we win those two we have to win two of the remaining three.
That brings us to 204.
3 in the BORDER STATES
Democrats will have to win all three tossups - 2 in Arizona and 1 in Texas.
The two seats in Arizona are actually tilting Democrat and I think we can win the one in Texas pretty easily because Democrats are overperforming with Hispanics this year.
That brings us to 207.
2 in NEVADA AND COLORADO
There are 4 tossups in these two states combined, Dems should be able to peel off two of them. I actually have those two in mind - that one really large district in Nevada and the small district (Coffman) in Colorado. The other two seem to be leaning Republican, but they're still considered TOSSUP - so Dems could technically win any combination of the 4.
That brings us to 209.
1 in TENNESSEE
Cook still considers this one Safe Republican but I don't think they've updated their list since this DesJarlais scandal broke. There are two big things that DesJarlais screwed up on, 1) hypocritically supporting abortion of his child and 2) having an affiar with a patient while he was a doctor. The 2nd one is really something that doctors shouldn't be able to get away with - MUCH LESS get away with it and become a Congressman. Personally, I would let it go since it happened so long ago and it was personal. But because the conservative social agenda is so strong in this part of the country, I don't think they'll tolerate this kind of sin. A poll released today showed the Democrat, Stewart, down by 5 points but I think that will change after more people learn about the scandal.
That brings Democrats to 210 and Republicans down to 212.
EXPANDING THE MAP
There are a couple of districts that Cook doesn't recognize as tossups yet - however I think they are significantly in play for Democrats. Those two are Florida's 2nd, based in the Florida panhandle and Texas's 14th, stretching from Galveston to Beaumont. Poll numbers in Florida's 2nd have shown that this race certainly is competitive, and the DCCC has begun to spend money there. Texas's 14th seems like a tougher get for Democrats, because it's a Republican district in Texas. But this is one of the few areas of Texas where there are still a large number of white southern Democrats, like their neighbors in Southern Louisiana. Combine that with a large black population in Beaumont and a sky-rocketing Hispanic population along the 45 corridor in Galveston. Plus, Nick Lampson is showing some encouraging fundraising numbers, outraising his opponent.
These are solid tossups - not leaning towards either party. However this does bring Republicans down to 210.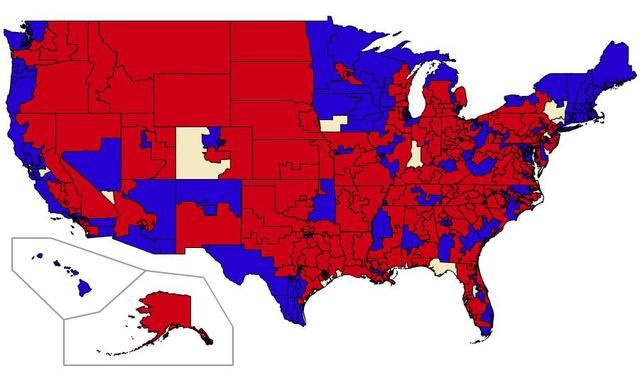 What now? 210-210
Democrats and Republicans are now tied, with 210 each. There are fifteen tossups remaining on the board. Democrats would need to win slightly more than half of these - 8 - to get to 218. But suppose these tossups are unwinnable, or Democrats are not able to get every district in the 6-5-4-3-2-1? There are places where Democrats may be able to open up the map even more. There are plenty of districts that are considered "likely" or "safe" Republican that I believe could be in play for Democrats, but I haven't seen any solid evidence YET that they are. To name a few....
- The three at-large districts in the big sky country. Democrats may be able to peel off at least one of these
- Runyan (R-NJ), Ribble (R-WI), Lee (R-NE), Open (R-MI), Amash (R-MI), all districts that were won by Obama in 2008 but considered "Likely R" now
- Hurt (R-VA), Hartzler (R-MO), BACHMANN! (R-MN), all long shots but they may be competitive
- And I'm still not giving up on Kissell (D-NC) and Open (D-NC). Very long shots, especially since they've posted weak fundraising numbers, but polls have shown they could be close.
So! That's the 6-5-4-3-2-1 plan. Even if Romney becomes more personally popular, I don't think it will help the House Republicans. Out with the old. It's safe to say we'll be looking at a Democratic Senate next year and a Democratic house? Who knows.