Big Tex, the iconic annoying monster that has been terrifying children for 60 years at the State Fair of Texas burnt to its skeletal remains this morning.
via wfaa.com
before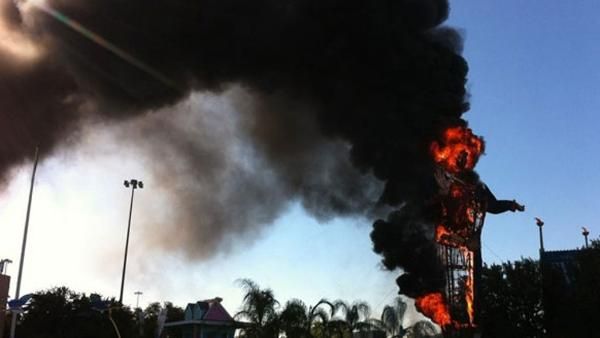 during
DALLAS - Flames swiftly engulfed Big Tex Friday morning, leaving only a skeletal frame with his hands still intact.

The State Fair of Texas was celebrating Big Tex's 60th birthday.

Mitchell Glieber, vice president of marketing for the State Fair, said it appears the fire was started by an electrical short circuit.
link
Big Tex had electricity because his mouth would open up and and tell people Howdy Folks , Big Tex would also spout horrible jokes and was hated by most fair minded people.
Before the days of cell phones Big Tex was the place at State Fair that you would go to if you got separated from your friends and whatnot.
after
There were no injuries reported. Glieber said the unprecedented fire happened at the best possible time; few people were gathered near the State Fair icon when the fire broke out.

"At this time in the morning, there was not a big crowd around here," he said. "It started and within a five minute period it consumed its body, but that was more than enough time to get everybody out of harm's way."

Big Tex has served as the mascot of the fair for dozens of years and was originally created as a 49-foot tall Santa Claus in Kerens, Texas.
They are probably going to rebuild him and continue the tradition of having a really creepy 50 foot tall robot weird everyone out.
This has been a public service announcement.
All pictures and story are via wfaa.com because I am too lazy and disinclined to look elsewhere.
happier days
Funny Dallas Fire Department Aduio:
Final Update
Big Tex has left the building