Good Morning all, this is the Saturday Morning Home Repair Blog, where the Daily Kos community comes together to discuss our building projects, ask questions and just generally shoot the shit.
Our experienced staff of experts stands ready to answer questions, ask the right ones and generally help you out in any way.
Hi its me exlrrp
OK OK OK settle down, we're going to start now.
As usual, I didn't get as much done as I had hoped because I was forced to go to South Carolina to lay on the beach and play golf. but other than that I been working away.
I finished the library by putting the baeboard in. I'd show a picture of it but we had guests this last weekend and I stuffed everything in there.
So now I'm rebuilding the stairs you see below in the Before picture below. I added that closet behind and under the stairs (with the door open) last year.


Ok, gang who can name the most stupid things about it?
No railing--- got it.
Not secured to wall or otherwise.
1 1/2" Gap between stairs and wall
Sits on top of the carpet instead of attached to floor.
First step 1 1/2" higher than others (this is from not allowing for the thickness of the first tread)
Has incredibly stupid looking screws sticking out of it *see below)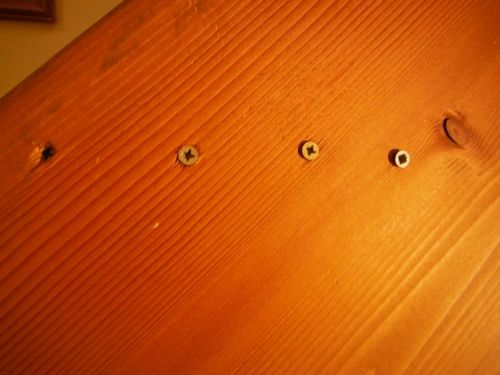 Ok, thats enough to start with. you don't often see finish work that shitty in the US so my goal, as always, is to unstupid it.
I debated whether to just pull everything out and burn it and start over but decided to fix it up. Cheaper, easier, quicker, less material to lug upstairs
First I un lagbolted the stairs where they were bolted to the top platform with about 46 lag bolts, all of them hard to reach. Then I took down the stairs and cut off 1 1/2" off the bottom to make all the stairs even. then I wrestled the steps back into place.
I bolted the stairs to the wall studs, but before I did, I took a singlejack (small sledge hammer) and smashed all those stupid looking screws flat. this will be (is now) covered with veneer plywood. The gap you see on the side will be covered by a railing post.
I'm putting a cabinet/countertop below the stairs where there will be a microwave and small fridge. This will shorten the walk to the fridge on those midnight raids. my coffee maker and grinder will sit on the countertop. this is right outside my bedroom, which is behind the red ladder.
Ive moved a little beyond this last photo, putting up the framing for the built in cabinet. Ive put up the veneer pywood over the stairs, now just needs trim.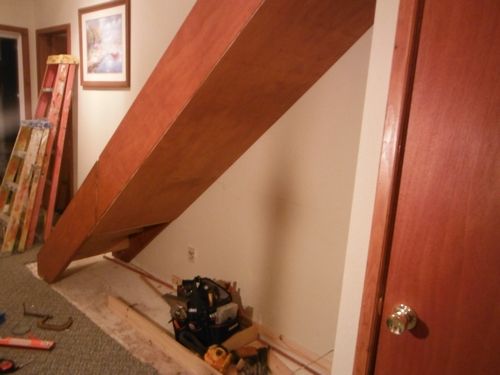 Forgot to say I added an outlet and a switched light.
So anyway, thats what Ive been working on---it never ends.
What have you been working on?