I have experienced many presidential elections before (since 1990s), but the enthusiasm generated by the 2012 Presidential Elections is really unique. The way people here in NC are marching to the polls and exercising their rights to vote is reminiscent of the marches in the 1960s for Civil Rights in the South.
Before I share some of the pictures with you, let me tel you what's at stake in these elections both nationally and for the state of North Carolina.
# A Mitt Romney presidency would be a catastrophe for America both Nationally and Internationally. Romnesia is not good for America and the world.
# Obamacare is personal to my family. And there is no way we want to see it overturn. Instead, we would like to see it fully implemented.
# We MUST keep NC from falling into the hands of the Tea Party. Pat McCrory, who is the former Mayor of Charlotte and current Republican Candidate for Governor is leading Walter Dalton in the polls by a wide margin. Democratic Governor Purdue is not running, but the Democratic Candidate (Walter Dalton) is really not well known and is struggling to get his name out there. The Tea Party took over the State Senate and the State House in the 2010 Elections. The submitted multiple voter ID laws similar to what we see in other States, they were all vetoed by Democratic Governor Purdue.
# NC could be the state that makes all of us sleep well on the night of November 6th. The race being very close in all other battleground states with Republican Governors (OH, VA, FL, NV, WI, NH, even PA and MI), I'm convinced that these Governors will use every single legal and illegal trick on their books to try and steal the elections.. They have done it before. All these polls we see with Romney leading are just a prelude to brainwashing Fox News talking heads and viewers that Romney is winning. In 2000 (Bush vs Gore) and in 2004 (Bush vs Kerry) in Ohio should be fresh on our minds in the next 2 weeks. NC has in Governor Beverly Purdue one of the strongest advocates of fairness and justice and she is on our side. NC could be our sleeping pill on November 6th.
#I would like to see NC break with rest of Southern States and become a Blue State. The combination of a highly educated and a diverse population have made North Carolina unique in the South. At the height of the 2008 crisis, while Southern States were destroying their education system to pay for Corporate Tax cuts, Union Busting and cheap jobs, Governor Purdue kept the UNC system running, she kept teachers and firefighters on the job. She opposed drastic cuts in Education. The NC Triangle is like Silicon Valley in California, thanks in part to the high level of Education in our Universities. Pat McCrory as Governor will re-align NC with the rest of the Southern states, where the population has been continuously been dumbed down. He will gut the Education System and turn us into cheap labor state. We can't let Pat McCrory win.
# Last but not least, I would like to see Billy Graham, his Sons and the whole Religious Right and Evangelical Movement cry on Election Night, because they endorsed a "Cult Leader" over a fellow Christian in their quest for Power. A win for Obama in North Carolina, the home of Southern Evangelicals (Billy Graham leaves in Montreat, NC) would mean a lot for the Country.
Pictures are worth thousand words ... follow below

First Lady Michelle Obama visited the Campus of UNC Chapel Hill to kick off Early voting. Look at the diverse population: Men and Women, Young and Old, all races. This is a picture of America I want my children to grow up in.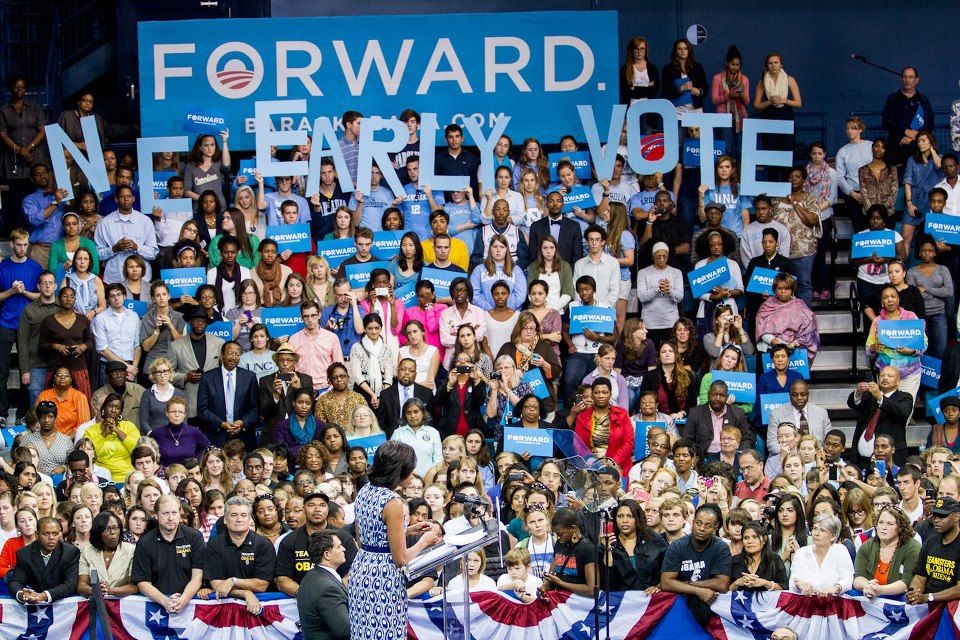 Kevin Johnson: Former Phoenix Sun NBA Guard and currently Mayor of Sacramento, CA.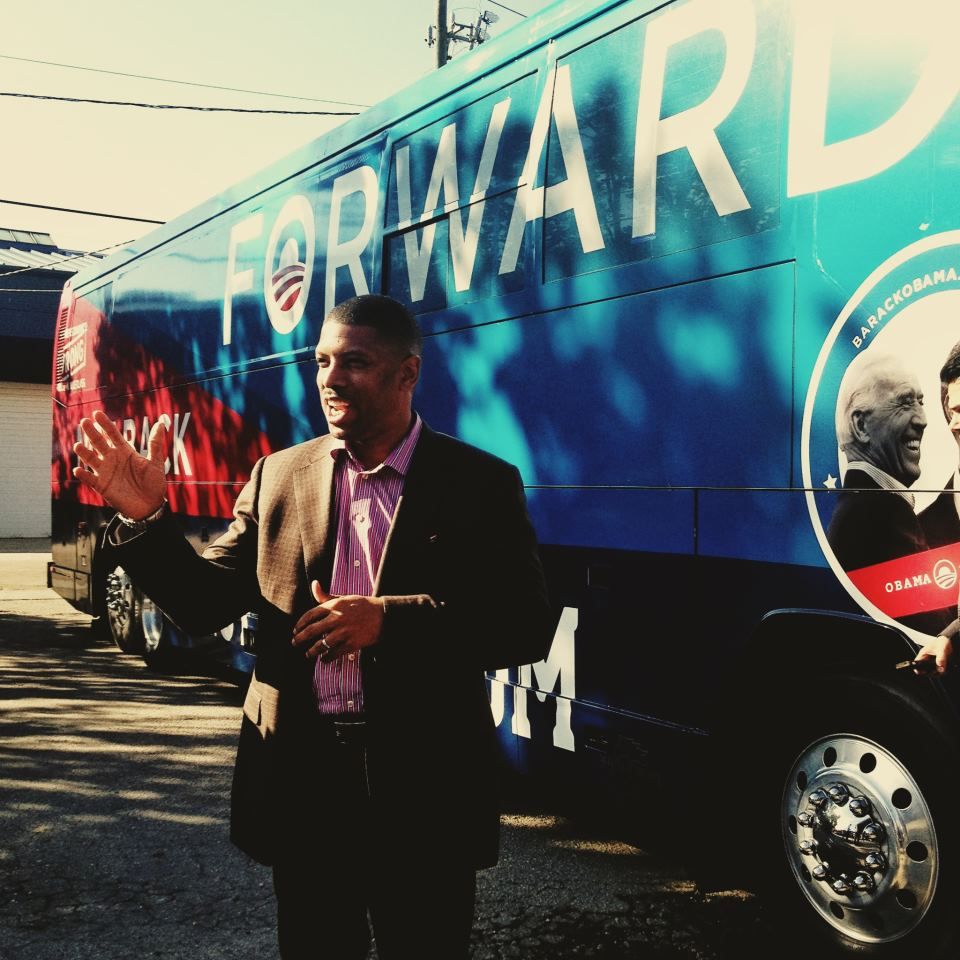 Beau Biden, the son of Joe Biden leading veterans to the polls.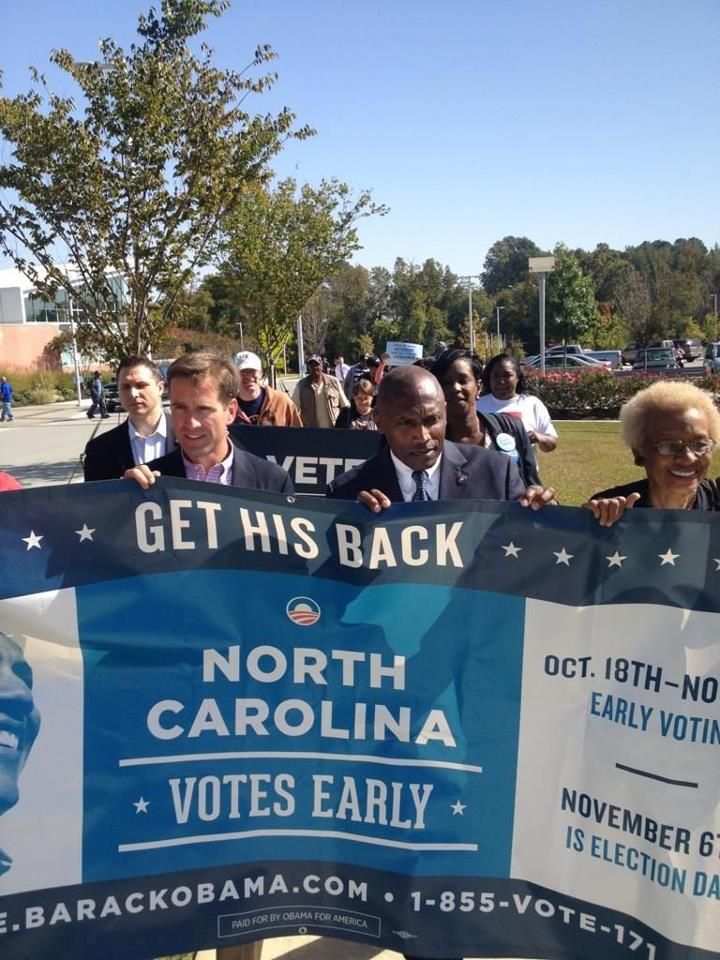 Russell Simmons helping with the GOTV efforts.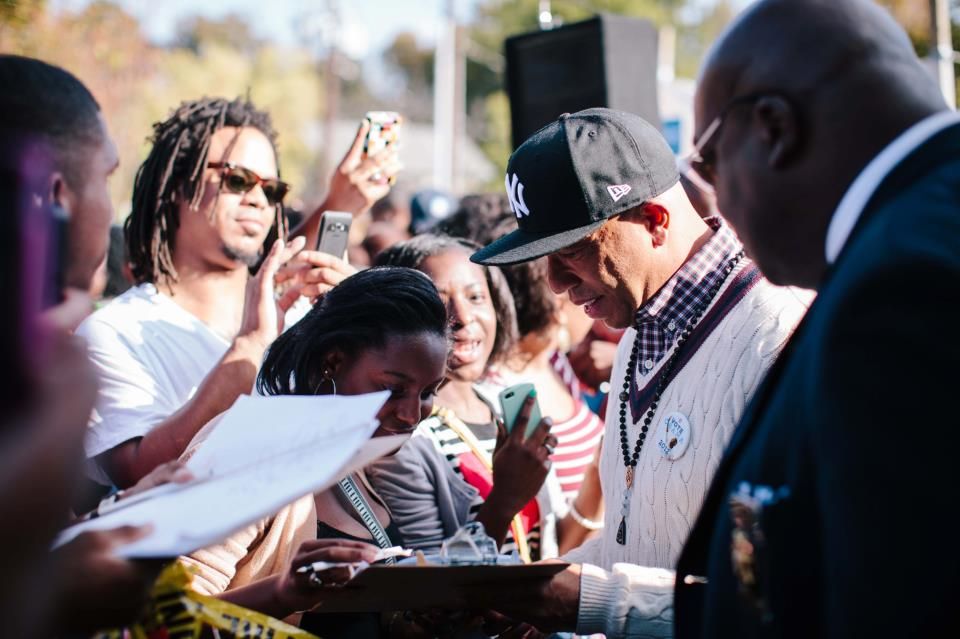 And now, to the real super stars of these Elections: The Voters.
NC has a lot of Black Historical Colleges: Saint Augustine College, Shaw University, ... For the students at these Universities a march to the polls is like a true History Lesson in Civil Rights. For lots of these kids who are freshmen, sophomores, juniors or seniors in college, this is their first time voting for the President of the USA. It is with pride, honor and a sense of duty and responsibility that many of them will vote for the person, who can relate to them, understand their day to day lives, their struggle, their dreams and aspiration. It is with pride that they exercised their right to vote for people who respects them, someone who will listen to their problems , someone who doesn't see them as victims and moochers and parasites. These Young men and Women understand the responsibility that goes casting a vote for the future of our state and our nation. Imagine these young men and women 30 years from now, telling your kids something like this: Just like MLK marched to the Capitol to fight for our Rights to Vote, we marched to the polls in 2012 to re-elect President Barack Obama, Candidate for Governor Walter Dalton to ensure that our Rights to Vote isn't taken away from us. If you want to know how the Tea-Party in NC, the Koch Brothers and Art Pope have been trying to buy the state of NC and take away the rights to vote, read on here. Yes, NC is in danger of falling into the hands of crazy people. That's why their vote is so crucial.
A March in Raleigh from Saint Augustine College students.

Enthusiastic voters everywhere.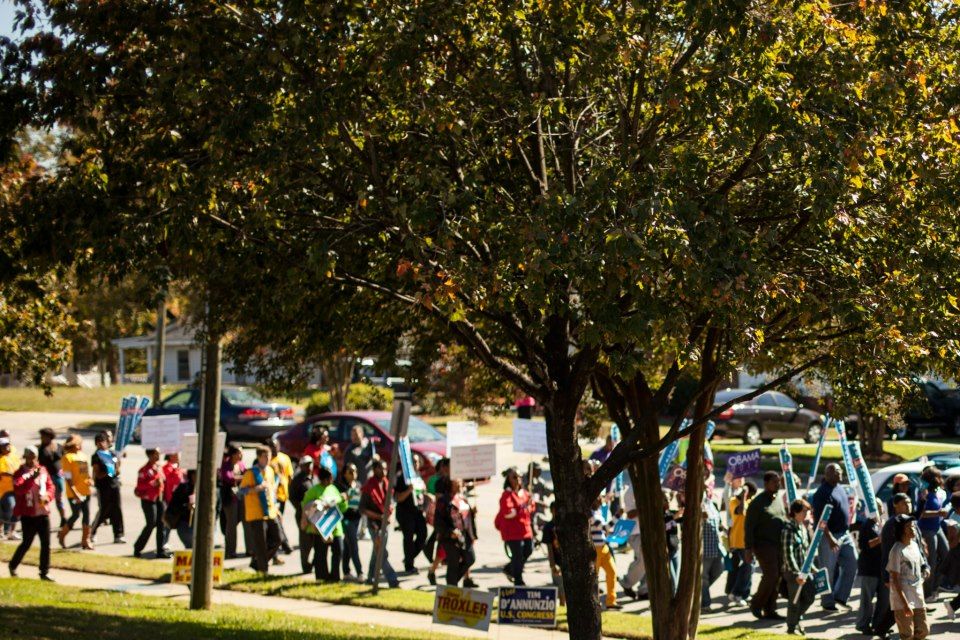 Wilmington, NC ... everyone is fired up and ready to go.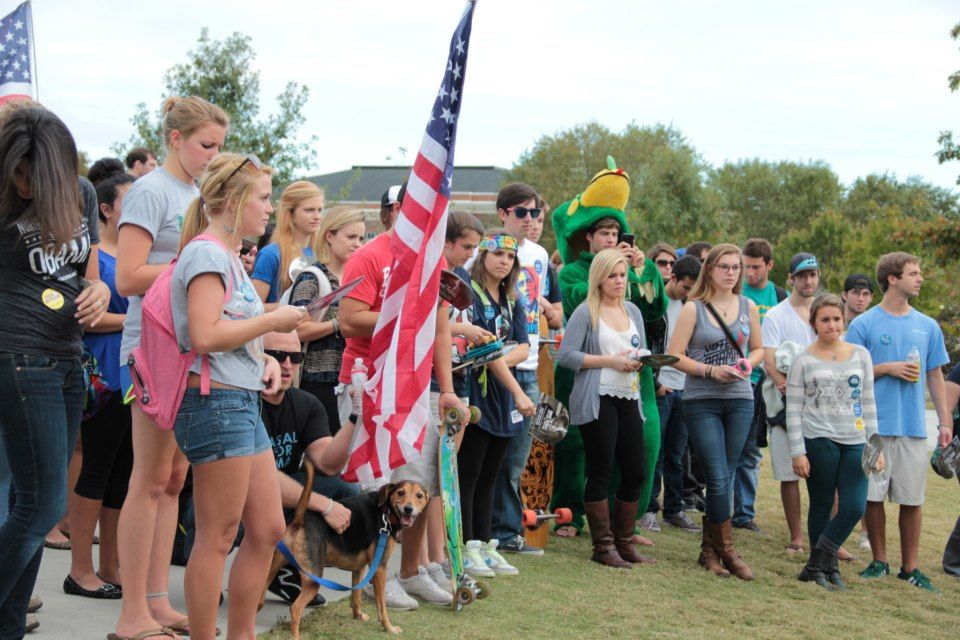 Voting is really an event in Raleigh: It needs a Marching Band...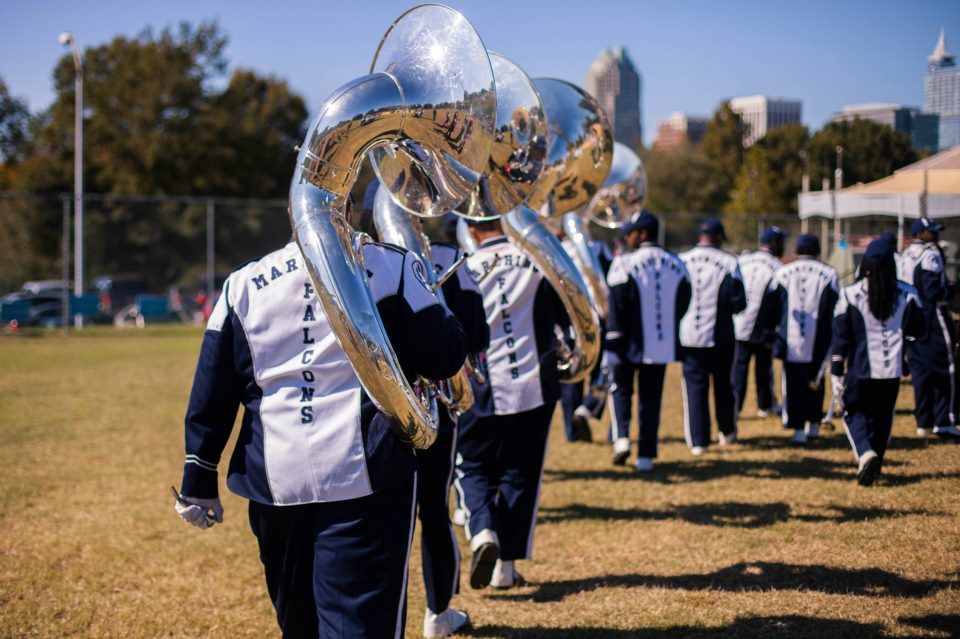 It needs Cheer Leaders...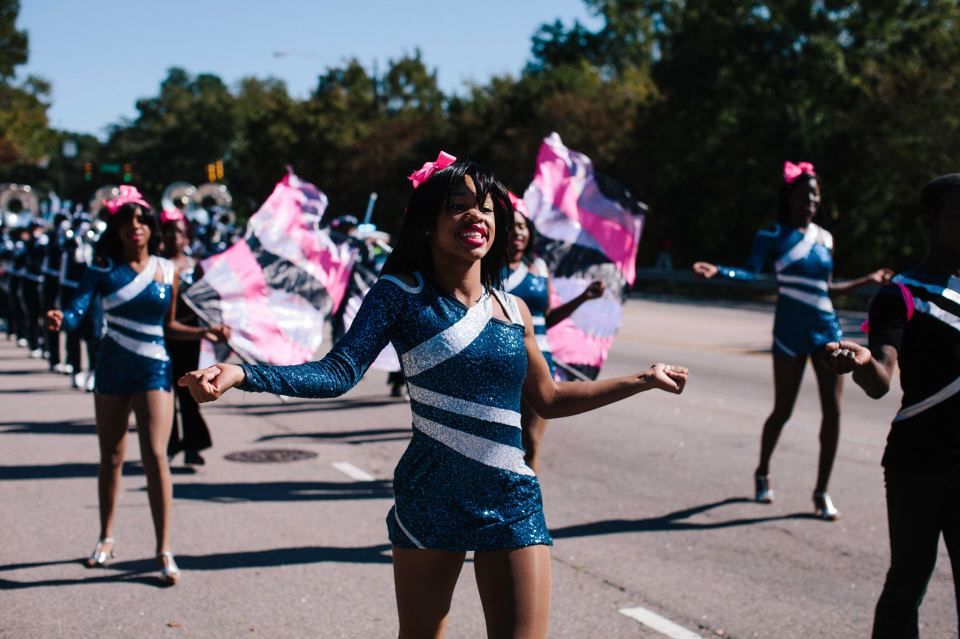 And of course a crowd of enthusiastic voters ... Fired up and ready to vote for protecting Education, Jobs, Healthcare, Environments, Women, Minorities.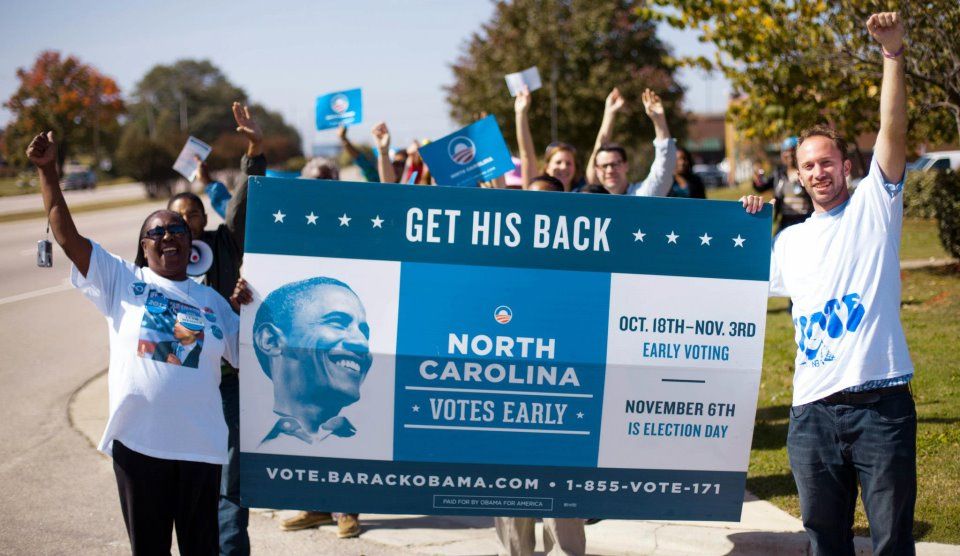 One Stop Voting. In NC, if you haven't voted, you can register and vote the same day. We want to preserve this right. That's why we want to make sure Pat McCrory doesn't win the Governorship. Candidate Walter Dalton MUST win this election.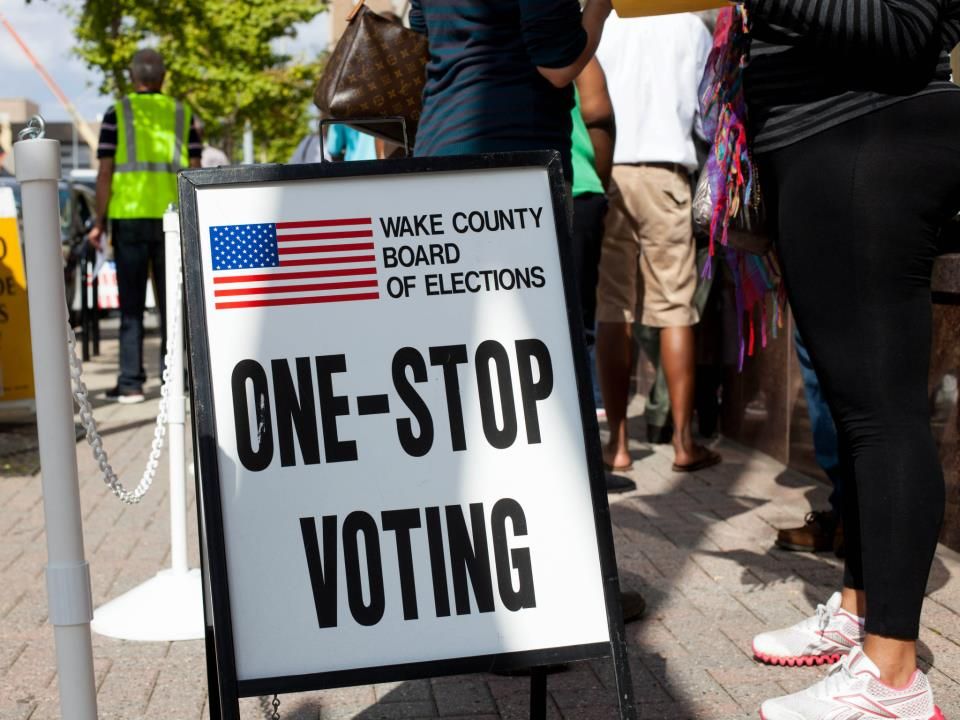 Please DO NOT go voting alone. Bring a friend, a classmate, a roommate, a family member.

Obama needs to win to prove to the rest of America that Progressive Ideas and policies can win in the deep South.
These pictures are from the Obama for America - North Carolina facebook page. Sign up here to help with the volunteer efforts.