Update 4: I could not get in touch with a live person in OFA in Mecklenburg County. I called back the Mecklenburg County Democratic Party, and they just don't have the resources, but said that they would be willing to support a grass-roots effort if we could only gather the volunteers. If we can get some volunteers from the area, willing to watch the polling places for a few hours a day and report back, it might make a difference. Any takers?
Update 3: Anyone in Charlotte with information about voting lines, please post it in the comments, I will update accordingly. Also, if you are voting in Charlotte, please ask the poll workers about turnout, best times of day to vote, etc. Every little bit of information helps. NC is going to be hard to take this cycle, but if we all pull together, we can do it. There is information out there. That information can help us win this state. ASK! For the love of all that is good and decent, ASK! We can do this thing.
On Thursday I wrote about my difficulties when I first attempted to vote on the first day of early voting in NC. At the time, I thought it was frustrating, but ultimately a good sign. It was the first day. I would just have to come back later.
Yesterday I went in early evening. The line was just as long.
Today I went back at 11:30. The line was just as long. Here is what would-be voters at the University City Library encounter at almost any time of Day:
First, there is the approach to the building:
Then once you get to the building you have to traverse its entire length:
Then you get to the end of the building.
Then you realize that the line goes all the way around to the back of the building, before you wait some more inside the building.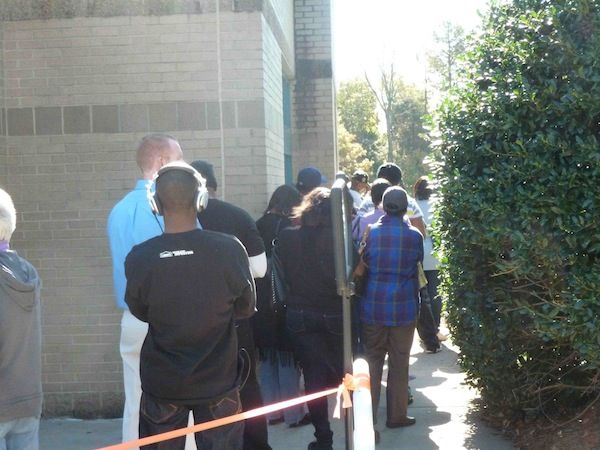 I bailed. Again. This makes three times. Then I got the brilliant idea of calling the Mecklenburg County Democratic Party. A helpful young woman came on the phone and I told her that the lines were simply ridiculous and asked if she knew of any other polling places that weren't as bad. She wasn't sure about the others, but she did know that the Marshall Annex on College Street in the city had no wait at all.
That seems like it might be something those people in that line would like to know.
So, either later this afternoon or tomorrow I'm going there.
But here's the point, the Mecklenburg Democratic Party should be able to tell you the approximate wait time at EVERY polling place for which you are eligible.
So Kossacks, if you live near a polling place ask a voter coming out how long he or she waited. Then report it to MCDP at 704-525-5483. Ask them to keep the time and the time of the call. Ask them if they have information about other places. If they do, share with the people in the long lines. If you really want to make a difference, print out driving directions and offer to hand them out. If you are mini-van equipped, offer them a ride.
The basic problem is that there are a lot of our voters who are getting frustrated and walking away because they lack one thing: Information.
I'd try to organize an effort to correct this, but, as a dear friend of mine once said in his inimitable Kiwi accent, "[journeyman], you couldn't organize a case of clap in a whore house."
If anyone has any better ideas on how this can be solved, then please suggest them. Otherwise call the Mecklenburg County Democratic Party at 704-525-5483 and let them know what's going on at your polling location. It's information they can use.
704-525-5483.

Update: From the comment by Kismet:

There's a polling place on UNCC campus (3+ / 0-)

in the Cone Center, less than half a mile from the UCL. After 5 p.m. you can park in the nearby Cone Deck without a charge (as far as I know), and according to the Meck BOE website it seems to be open the same 8-7 hours as the other locations.

I also had a relatively quick trip through the Bette Rae Thomas center in West Charlotte when I voted.
Update 2: A brilliant suggestion from Wilbur:
The Obama campaign should develop an early voting app for every early voting state. The app should be able to tell you how long waits are in different locations, which location is best at what time, the exact hours and addresses of each location, and who to call if they run into any trouble.

Come on, this is the Obama campaign, if the MTA can do it, we sure can.
Update 5: From On Puget Sound:
I voted on sunday in charlotte (1+ / 0-)

at the Marion Diehl rec center on Tyvola. voting opened at 1; I got there at 12:20 and was the sixth person in line. By 12:45 we were about 15 people, but by 12:55 the line had grown to 50 or more. If this experience is any guide, getting there a half hour before opening might be the best bet.

The other good news is, there were lots of machines and very friendly and efficient poll workers, so the line moved briskly.
Update 6: News From Christian Dem in NC:
I voted at the Mountain Island Library on Friday (1+ / 0-)

Was in and out in about 10 minutes, no problem. It may be because I got there before the rush started--when I left, the line was starting to wrap around the sidewalk.
Update 7 from WayBeyondSoccerMom:
The lines in Charlotte can be long anywhere (2+ / 0-)
I live in South Charlotte where there is a large republican base. The line at the South Charlotte library was over 1 1/2 hours, but if you drove 2 miles south and voted at the Gibson building, you could walk right in using one of the 21 voting machines.

My son and I voted on Friday. We stood in line for 20 minutes outside the library when someone running the early voting location announced to everyone outside that we could be voting immediately if we went to the Gibson building. She had placed a call to the Gibson site.

It took less time to drive there, vote and head home, than the 20 minutes we stood in line.