With apologies to the late Sam Cooke. Good evening, Kossacks, and welcome to Obama Nightly News.
I know that this election is supposed to be all about the economy, but I am a foreign policy voter. I grew up during the Cold War in the 50s and early 60s. As someone who lived through the air raid drills in Queens, I never expected to make it to 30, much less 60. The Duck and Cover film was shot only a mile or two from my home in Jackson Heights, Queens. I came of age politically as a result of the anti-war movement, and I am still proud of my vote for George McGovern in 1972. Since 1971, I have traveled abroad extensively for research, and I lived abroad as a graduate student between 1977 and 1979. As an archaeologist, I have worked in many parts of the Middle East, including Egypt, Israel, Palestine, Jordan, and Armenia. I have also worked on archaeological collections from Iran and Uzbekistan, and I plan to work in Turkey next summer. I care about the Middle East and America's place in the world.
In last night's speech Romney once again talked about President Obama's "apology tour." Politifact gave that claim a "pants-on-fire" rating. Fact Check gave it a "four Pinocchios" rating. It never happened.
However, many of us who lived and worked abroad during the Nixon, Reagan, and George W. Bush administrations had to go on our own apology tours when we were abroad. I spent a lot of time during those administrations explaining that not all Americans supported the presidents' policies. It was and is far easier to be an American abroad during the Clinton and Obama administrations. Clinton gave us peace and prosperity, and Obama has given us a strong and thoughtful foreign policy without the cowboy antics of his Republican predecessor. Romney has surrounded himself with left over neocons from the Bush administration, even though he tried to portray himself as a Massachusetts moderate on Monday night.
Romney's biggest gaffe on Monday had to be his claim that Syria provides Iran with its route to the sea. As many have pointed out, Iran has 1520 miles of coastline on the Persian (yes, Persian) Gulf and the Strait of Hormuz. I has an additional 460 miles of coastline on the Caspian Sea. Even if, as some conservatives have suggested, Romney was talking about the Mediterranean Sea, he still has problems. Iran and Syria do not share a border. A place called Iraq is located in between.
Follow me below the colonial cheese doodle.
You might think that this was a one-off mistake on Romney's part, since he sounded a bit like Miss Teen South Carolina during the debate. In fact, Romney has made this claim at least 6 times.
The Washington Post actually fact-checked the claim back in April:

Considering that Syria shares no border with Iran — Iraq and Turkey are in the way — and that Iran has about 1,500 miles of coastline along the Persian Gulf and Gulf of Oman, leading to the Arabian Sea, the reader wanted to know: What's Romney talking about? [snip]

We also checked with other experts, many of whom confessed to being puzzled by Romney's comments. Tehran certainly uses Syria to supply the militant groups Hezbollah and Hamas, but that has little to do with the water. The relationship with Syria could also effectively allow Iran to project its power to the Mediterranean and the border with Israel.

But does that really mean, "a route to the sea"?
Do we really want a president whose knowledge of geography rivals that of a 5th grader? Do we want a president who wants to airbrush his past history? We just can't afford multiple choice Mitt.
Here'a the relevant map: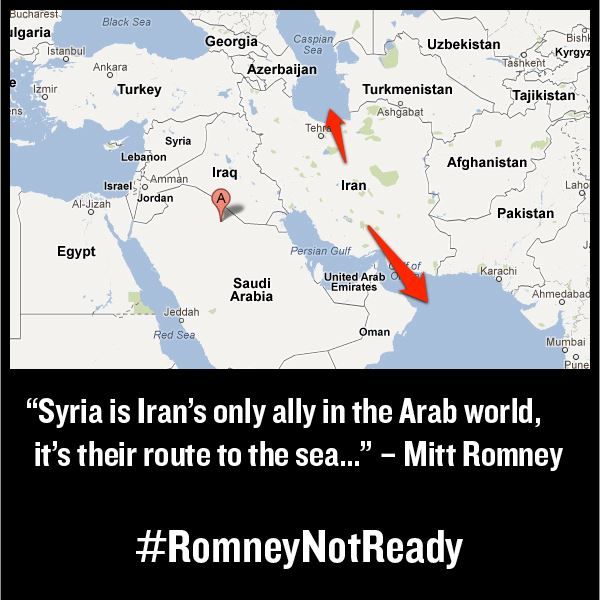 And here is the typical Romney supporter's view of the Middle East:
We can't let them win!
Link to Transcripts and Documents.