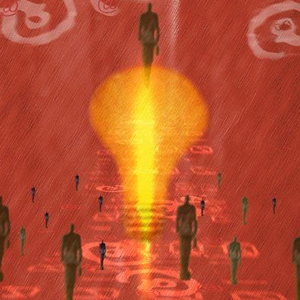 Commentary: African American Scientists and Inventors
by Black Kos Editor, Sephius1


Lloyd Albert Quarterman was born in Philadelphia on May 31, 1918. As a young boy he soon discovered his passion for science and spent many hours working with chemistry sets. When he was older during the 1930's, Quarterman went to college at St. Augustines in Raleigh, North Carolina. It was here that Quarterman not only developed a reputation for science, but also for his abilities on the football field. He earned his bachelors degree in 1943.
(con't.)
Immediately following graduation Quarterman was hired by the United States War Department. He was one of only six African Americans to be involved with research for the atomic bomb. His official title was an assistant to an associate research scientist and chemist. It is not known what his exact duties were because those who worked on the Manhattan Project were sworn to secrecy. Many different teams were involved with the building and completion of the atomic bomb. Quarterman worked on the teams at Columbia University in New York City and at the University of Chicago in Illinois.
It was on this team at the University of Chicago that the atom was first split, creating nuclear fission. Quarterman occasionally worked along side Albert Einstein to help create uranium isotopes. These were necessary for uranium gas, which made fission possible. This project was very secretive and also became known as the plutonium project. It was under this project that the first nuclear reactor, pile, was built. This is the most essential part of modern nuclear power plants. In 1945 when W.W.II ended, Quarterman was recognized with a certificate from the US War Department for helping to bring the war to an end.
This Chicago team became known as Argonne National Laboratories. This lab, funded by the University of Chicago, but no longer secretly, searched for peaceful uses for nuclear energy. Quarterman remained involved with this team for the next 30 years. During this time he also studied quantum mechanics. This helped to strengthen his ability as a scientist. In 1952, because of his dedication and hard work, he earned a Masters of Science from Northwestern University......Read More
~~~~~~~~~~~~~~~~~~~~~~~~~~~~~~~~~~~~~~~~~~~~~~~~~~~
News by dopper0189, Black Kos Managing Editor
~~~~~~~~~~~~~~~~~~~~~~~~~~~~~~~~~~~~~~~~~~~~~~~~~~~


~~~~~~~~~~~~~~~~~~~~~~~~~~~~~~~~~~~~~~~~~~~~~~~~~~~
Lack of training, safety concerns may deter would-be Good Samaritans. Health Day: Less Bystander CPR Done in Poor, Black Neighborhoods, Study Shows.
~~~~~~~~~~~~~~~~~~~~~~~~~~~~~~~~~~~~~~~~~~~~~~~~~~~
People whose hearts stop abruptly are only half as likely to be given bystander-initiated CPR in poor black neighborhoods as they are in higher-income white areas, a new study indicates.
Analyzing the link between median income and neighborhood racial composition with the performance of bystander CPR, researchers also noted the odds for such CPR were also reduced for those suffering cardiac arrest in low-income white and integrated neighborhoods along with high-income black ones. The bystander CPR rate in high-income integrated enclaves, however, was comparable to that in high-income white ones.
"Location, location, location is crucial in real estate, and I would say the same for cardiac arrest," said study co-author Dr. Comilla Sasson, an assistant professor in the department of emergency medicine at the University of Colorado School of Medicine. "Working as an emergency room doctor for more than 10 years now, I realized that time and again I'd see patients in black and lower-income neighborhoods not have anyone start CPR. It's completely dependent on where you have a heart episode."


~~~~~~~~~~~~~~~~~~~~~~~~~~~~~~~~~~~~~~~~~~~~~~~~~~~


~~~~~~~~~~~~~~~~~~~~~~~~~~~~~~~~~~~~~~~~~~~~~~~~~~~
A boom in sub-Saharan Africa is attracting business talent from the rich world. Economist: Bulging in the middle
~~~~~~~~~~~~~~~~~~~~~~~~~~~~~~~~~~~~~~~~~~~~~~~~~~~
AFTER giving a speech at a business conference in London a young analyst chatted with investment executives in the audience, then followed two of them to a nearby hotel lobby. Over glasses of Chablis the executives raved about their company's worldwide network of extravagantly decorated offices and their fat annual bonuses. Then they offered the analyst a job. What surprised him was not their interest, nor the chunky salary, but the place where they wanted him to help invest their millions: west Africa, the most backward part of a poor continent.
In recent years investors have been piling into Lagos and Nairobi as if they were Frankfurt and Tokyo of old. Anaemic growth in the rich world has made sub-Saharan Africa an attractive destination for money and its managers. Foreign direct investment has increased by about 50% since 2005. Once regarded as casinos, local capital markets now seem less risky. J.P. Morgan has just added Nigeria to its government-bond index for emerging markets; South Africa had hitherto been the only African country on its list. The American bank, the world's biggest underwriter of emerging-market debt, predicts that adding Nigerian bonds to its benchmark will lure an extra $1.5 billion to the country. New funds will pay for so far non-existent infrastructure on a continent with a land mass equivalent to that of China, India, Japan, America, Mexico and Europe combined (see map).
Some business people remain sceptical about Africa's long-term prospects. Sales blather in Western financial circles hailing an African "golden age" is overblown. Most Africans are still poor, even if local managers drive flashy cars. A gaggle of truly wretched states is still trapped in misery and is unlikely to attain even modest prosperity soon. A recent survey found that nine out of 11 countries in the world at "extreme risk" of having a food crisis are African.


~~~~~~~~~~~~~~~~~~~~~~~~~~~~~~~~~~~~~~~~~~~~~~~~~~~

~~~~~~~~~~~~~~~~~~~~~~~~~~~~~~~~~~~~~~~~~~~~~~~~~~~
Conflicts involving race and sports is almost as old America. Yahoo! Sports: Hall of Famer says criticism of Cam Newton's demeanor is valid, but believes race is a factor.
~~~~~~~~~~~~~~~~~~~~~~~~~~~~~~~~~~~~~~~~~~~~~~~~~~~
ewton's visible pouting, which became an issue as the Panthers went 6-10 during his rookie campaign, has drawn even more scrutiny this season. Moon understands that, though he believes the criticism thrown Newton's way is disproportionate to the problem, especially in the wake of Hurney's firing.
"I think a lot of this is because so many people want to say 'I told you so' about him, but couldn't because he was so good last year," Moon said. "I think people are overreacting. How can he be a bust? He just had one of the great years a rookie has ever had, and now he can't play? Come on."
Moon, who went undrafted after a stellar career at Washington and starred for five seasons in the Canadian Football League (leading the Edmonton Eskimos to five Grey Cup titles) before getting his NFL shot, remains attuned to the stereotyping of African-American quarterbacks and is convinced race is one reason Newton has become so polarizing.
"I don't understand it," Moon said. "I heard somebody compare him to Vince Young. It's the same old crap – it's always a comparison of one black to another black. I get tired of it. I get tired of defending it.


~~~~~~~~~~~~~~~~~~~~~~~~~~~~~~~~~~~~~~~~~~~~~~~~~~~
Welcome to the Front Porch