In the last few days there has been a good amount of discussion about state and national polling. Some of it is designed to understand why Obama seems to have a battleground state advantage but trails in some polling by 3. One explanation offered is that Romney is generating large margins in southern states that don't effect the Electoral College. But the real answer is much simpler. All you really need to do is look at the results from 2008.
Think of this chart as the Romney campaign's target list. Based on the results from 2008, these are the states that you should target in order to win. Remember: Obama won by 7.28% nationally. In order to win, Romney needs to get Obama under 270.
I have highlighted Colorado - in order for Romney to get to 270, he needs to win all of the states above the line including Colorado. Now look at the 2008 margin: Obama won Colorado by 8.97%. This means Romney would need a national shift of 8.98%, or about a 1.7% margin over Obama to win.
Think about this for a second. Electoral Votes are not awarded on a continuous distribution - you have to win a state to get them. In essence, it takes the Romney campaign an additional 1.7% beyond a simple majority for Romney to win.
But the situation is actually worse for Romney than even that suggests. Note that the current polling is far less in three of the states above the line than national polling suggests. In Ohio, Florida, Virginina and North Carolina the swings from 2008 have been far less than is suggested in national polling. This is why when I ran 20,000 simulations based on current polling, I get the following results:
For the methodology used, see below.
Here is my version of Charlie Cook's cheat sheet - updated as of 11:00 AM.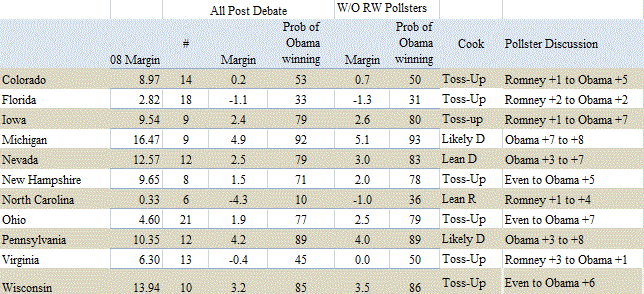 One issue I have had with much analysis on this subject is that for much of the last month you could not square the state and the national polling. The difference between the two has declined somewhat in the last few days, though the polling, whether you include right wing pollsters like Gravis and Rasmussen or not, still shows Obama leading by .5%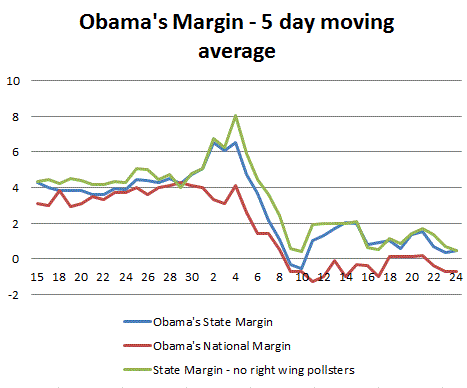 Finally, one explanation offered for the difference between state and national polling is that Romney is building up huge and useless margins in the South. The state polling does not support this theory. In fact, Obama is actually outperforming in polling from Arkansas and Georgia since the debate, and was outperforming accross the South in September when more southern polling was available.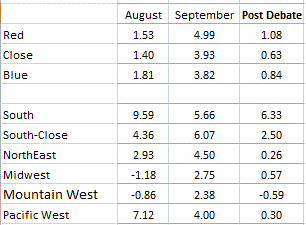 In 2010 Chris Bowers did a detailed analysis of past election results.
Essentially, what that work found was the empirical odds of winning a race with a certain lead in the polling average. To summarize:
A candidate with a .5% lead wins 56% of the time
A candidate with a 1% lead wins 64% of the time
A candidate with a 2% lead wins 78% of the time
A candidate with a 3% lead wins 83% of the time
A candidate with a 4% lead wins 89% of the time
Go here for more detail:
http://www.openleft.com/...
I take these odds, and run 20,000 simulations. The odds presented are if the election was held tomorrow.