Blue sharks don't care about polls, so as a reprieve and an aside to the community consternation over the upcoming election, here is a diary that I have been drafting for way too long-
Introduction:

For blue sharks it doesn't matter who the president is or who controls congress! The species is plenty busy fulfilling the role of an apex predator throughout the world's oceans. Under constant fishing pressure, blue sharks are the most common pelagic predator in the ocean.
They have been referred to as the
wolves of the sea
and "as common as muck" by some scientists and blue sharks are harvested by the millions in the world's pelagic fisheries. The meat is usually discarded, but their fins are valuable for the shark fin soup market.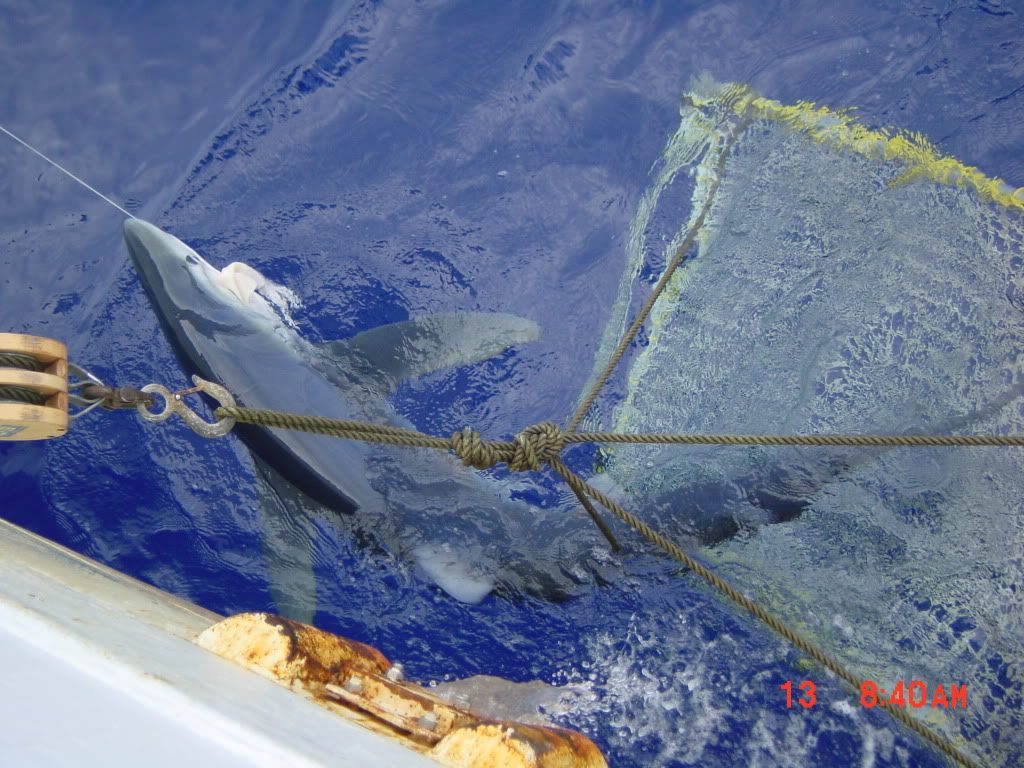 A longline caught blue shark about to be tagged on a NOAA research trip Source: tharu1.

Up to (and maybe beyond) 20 million sharks are harvested per year. This is difficult to document as most shark fins are harvested outside a documented regimen.
Reproduction
Compared to most pelagic sharks, the blue shark matures relatively quickly (3-5 years) and a mature female commonly produces anywhere from 25-50 pups in a litter (many other pelagic sharks take twice as long to mature and only produce 1-2 pups per litter). Litters of up to 135 pups have been reported. After copulation the females may retain and nourish the spermatozoa in the oviducal gland for months or even years while she awaits ovulation. Once the eggs have been fertilized there is a gestation period of between 9 and 12 months.
In the Pacific Ocean, from early spring to late summer, large numbers of blue sharks congregate north of the Hawaiian Islands westward to Japan. This used to be the prime drift gill net fishery grounds in the 1980's, but is now the domain of pelagic longline fishermen.
Gravid and breeding age females are captured in large numbers by Japanese, Chinese, Taiwanese, and other fleets in the yellow zone.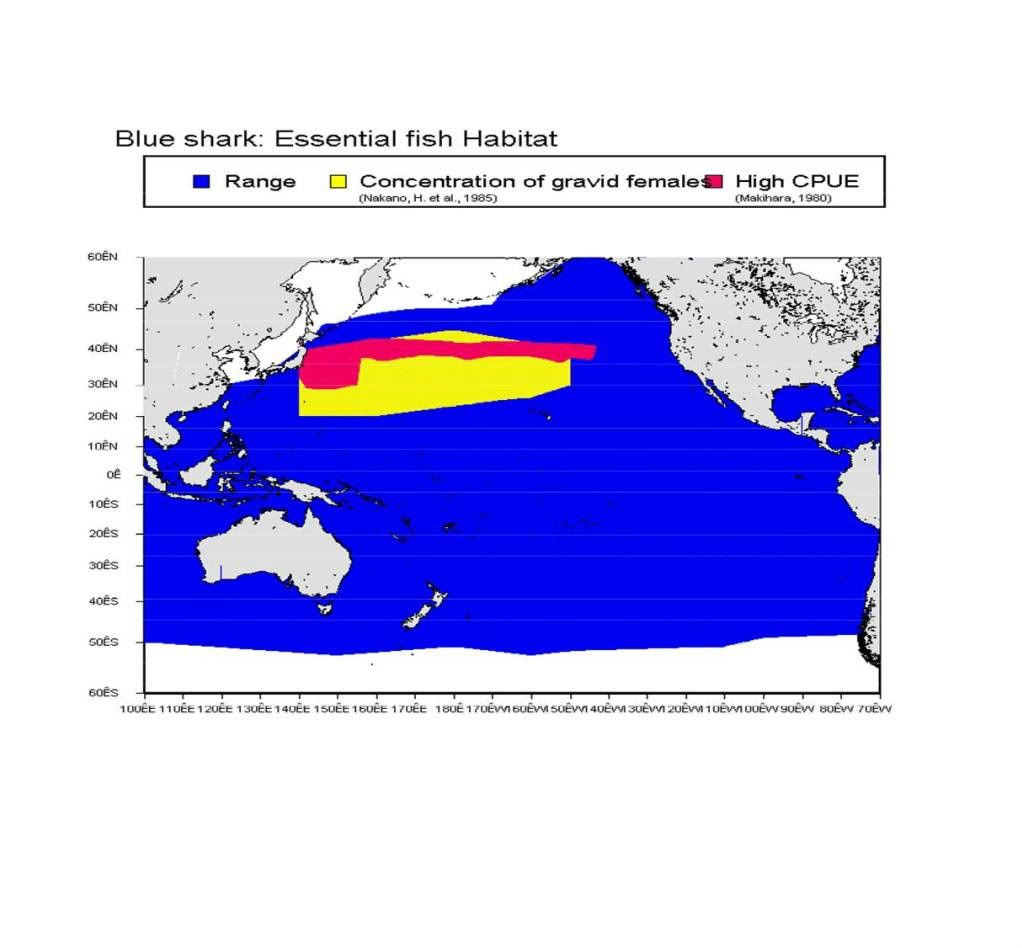 As a result of stress, longline caught blue sharks often evert their stomachs. It looks gruesome, but this shark was tagged and did survive.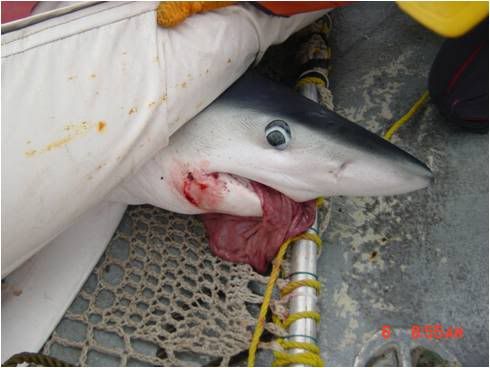 Here are some photos of blue sharks caught during NOAA tagging studies: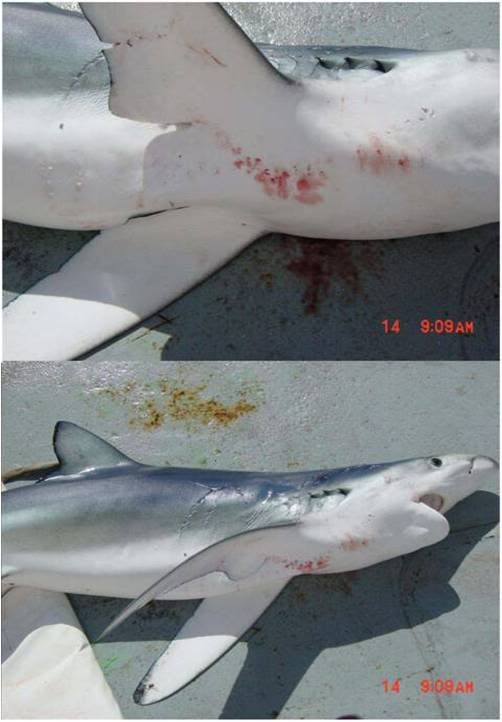 The previous two pictures show nuptial bites from breeding attempts and the next picture shows a shark outfitted with a pop up satellite archival tag-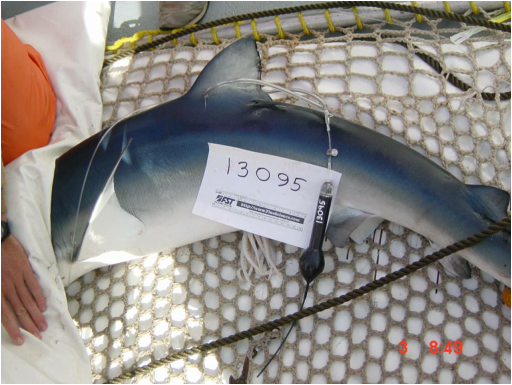 and as a bonus here is a picture of my favorite boobies!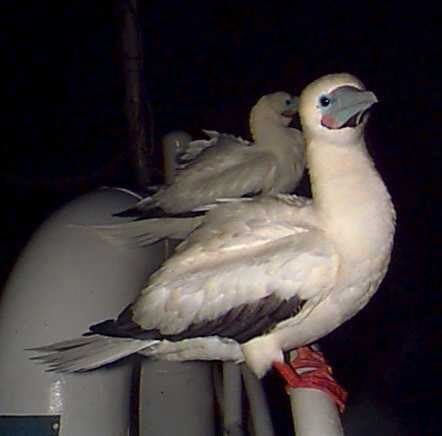 Hope you enjoyed this break from the politics, now back to our regular fretting over the upcoming election...