CA-01 overlaps mostly with the old CA-02 after redistricting. CA-02 has been consistently red since 1975. But there is chaos and conflict on the Republican side and Jim Reed, an outstanding candidate, has stepped up to the plate, so we have a chance.
I talked to Jim today and he sounded upbeat and very convincing. I was impressed.
CA-01 is probably one of the most beautiful regions of California. It borders Oregon and Nevada in the North East corner of California. It's an agricultural region and most of the district are national parks. The photo on the right is Redding, the largest city in the district. The district covers a lot of territory. Jim was going to be 6 hours on the road today between campaign events, all in the district.
As I said, the district is red. Heck! The debates (forums) are organized by the Tea Party. 43% of the registered are Republican and 30% Democrat. But, and a big but, 26% are independents (declined to state).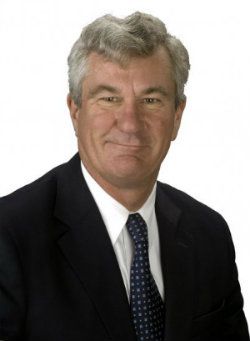 So it goes like this; many Republicans are disgusted with Doug LaMalfa, the Republican candidate (I'll cover the reasons below), and may not vote for him, LaMalfa is facing FEC charges and is spending much of his funds in lawyers, Jim Reed ran for State Senate in 2010 and got 43% of the votes against a Republican incumbent and of the other 6 primary candidates, 2 Republicans and one independent have endorsed Jim and none have endorsed LaMalfa.
One more thing. With $12,000 in new contributions, Jim tells me he can match LaMalfa's media campaign in the few days left. So a contribution, however small, is highly welcome. Jim is no blue dog BTW.
If you have the time, listen to Jim give it to LaMalfa in the last debate. You'll hear about their positions and the $4.7M LaMalfa has hypocritically taken in farm subsidies.
More about Jim Reed and Doug LaMalfa below the orange croissant.
Doug LaMalfa has baggage.
1) In spite of his consistently seriously conservative voting in his 10 years in the State Assembly and Senate he has taken $4.7M in farm subsidies.
2) According to this Republican from the district; LaMalfa racked up $25,000 in repair bills on his state-subsidized 2003 Mustang V8 Mach 1, nearly matching the car's $29,000 sticker price.
3) He faces serious charges brought against him by another Republican candidate he beat in the primary earlier this year at the Federal Election Commission.
Sam Aanestad was the Republican candidate with most support in the primary. LaMalfa had to beat him. So he put up an ugly attack website against him. This is fine as long as you say you are doing this. But LaMalfa did it under a false identity;

LaMalfa: "It's completely independent…"
Matt Ray: "Independent as in Spannegal [LaMalfa Chief of Staff and paid campaign staffer] put it up…?" [KPAY-AM, 5/17/12]

Doug LaMalfa and the LaMalfa for Congress campaign have issued a number of false and contradictory statements about the illegal attack website,www.Sam4Congress.com, which has been traced back to LaMalfa Chief of Staff and paid campaign staffer Mark Spannegal.

What has Doug been saying? Well…let's just say that his position has been "evolving."

First he said, "It wasn't me!"

"…it was not authorized by my campaign in any way, it was not condoned by my campaign…" [Burney Tea Party Candidates Forum, 5/15/2012]

"Neither Doug LaMalfa, nor the LaMalfa campaign, had any knowledge or involvement in the construction or posting of the website in question, which just came to our attention this morning." [Sacramento Bee, 5/15/2012]
LaMalfa is spending serious funds defending himself leaving him with less $$$ for media buys.
This story made a lot of local headlines;
Web of deceit Race for congressional seat gets dirty

Congressional candidate Sam Aanestad has charged that the campaign of his opponent for the 1st District seat and fellow Republican, state Sen. Doug LaMalfa, has violated federal disclosure laws and maybe even committed libel.
Aanestad campaign: LaMalfa aide behind attack website
An anonymous site attacking Republican congressional candidate Sam Aanestad has sparked legal action, allegations of campaign violations and calls for staff firings in the 1st Congressional District contest.

Voters who came across the site Sam4Congress.com in the past month would find unflattering pictures, criticisms and a banner reading "Sam Aanestad NOT for Congress," instead of the typical endorsements and biographical information they might expect to find at a URL carrying the candidate's name.

"Unlike the real deal -- the real Sam Aanestad has had a long history of bad votes and out of touch elitism," the site said on Monday. It has since been taken down.

The website originally carried the disclaimer "Free Thinkers for D'Acquisito," apparently a reference to another Republican candidate running for the open seat, according to a screenshot that the Aanestad campaign provided. But candidate Michael Dacquisto says he had no part in the site, and records released by the company hosting the site show that the domain name was registered in the name of Mark Spannagel, the chief of staff of yet another Republican candidate, state Sen. Doug LaMalfa.

The Aanestad campaign obtained the domain records as part of a lawsuit it filed to find out who was behind the site.
IMO, Republicans who supported Aanestad wil not vote for LaMalfa. If so, Jim Reed who got 43% on a State Senate race in an overlapping district, has a very very good chance of picking up enough of the numerous independents in CA-01 to defeat this recalcitrant and horrible Republican.
So contribute to Jim Reed and lets turn this beautiful part of California blue. And BTW, this will really upset some Republican heavyweight in DC. Both John Boehner and Eric Cantor came to CA-01 to campaign and fund raise for LaMalfa.
I am now going to see what I can do about the Latino vote in the district. 10% (lower than in the rest of California) are Latinos there.