I don't know where else to post this. Sandy crossed the gulf stream and is intensifying. The pressure from recon keeps dropping. They just found a 937mb central pressure, that's the lowest pressure ever found north of Virginia. The "bomb" scenario is underway, the perfect storm literally is occurring, and it could not be hitting in a worse place for NY Harbor. Because of the strengthening, meteorologist Joe Bastardi just tweeted this:
Meanwhile, watching the New York Harbor webcam is like watching a train wreck in slow motion...
http://www.nyharborwebcam.com/
Here is the graph of the tide at Battery:
PLEASE, New Yorkers, be prepared, our hearts are with you.
MAJOR UPDATE
http://tidesandcurrents.noaa.gov/...
STORM SURGE AT 11.45 FEET - SUBWAY SYSTEM IN DANGER
Remember this picture, it will go down in history. This is Sandy undergoing intensification over the gulf stream in the hours preceding landfall:
The historic radar image of Sandy approaching (It is important to note that the clear areas are not actually free of rain, its just that the radar can only penetrate the storm so far:
To everyone who may lose power in this storm...
Remember this number, save it in your phone: (631) 443-4144
Every text or call you make to that number will be posted on this website... that way you have a way of getting your voice out to the world in case your power goes out:
Any phone with SMS will work.
This storm isn't even 12 hours away yet, and we're already seeing storm surge greater than Irene.
Atlantic City is already underwater:
The Hudson River:
Red Hook, Brooklyn:
I hope to god people took this seriously.
Potential records that Sandy may hold:

Largest TS strength windfield ever at US landfall.
Most northerly US landfall of severe storm with tropical origins.
Latest US landfall of severe storm with tropical origins.
Highest surge ever recorded at many places on the US East Coast, notably including Manhattan.

Most economically destructive US storm ever is not out of the question. It will certainly be top 10, and probably worst for the East Coast.
Be safe.
9:38 AM PT: Watch Obama's 12:45 statement live:
9:40 AM PT: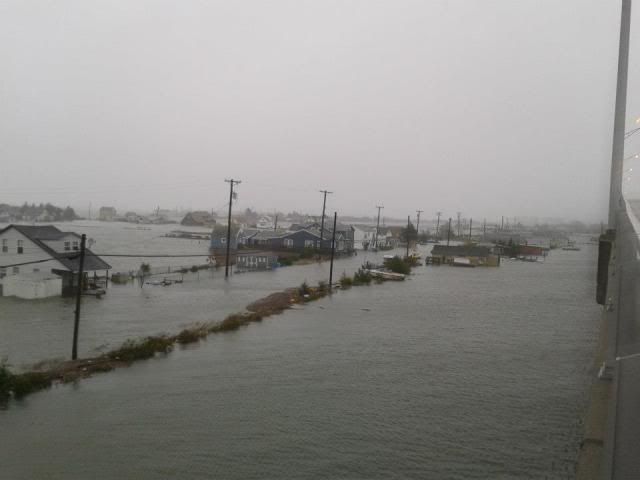 Nummy Island at low tide, before the waves hit...
GOD I hope these people evacuated :(
9:44 AM PT: Police, Fire, and EMS Feed of Atlantic City:
http://www.radioreference.com/...
10:46 AM PT: There are unofficial reports that the seawall at Brigantine Beach has collapsed. 75% of the 9500 residents apparently stayed there and did not evacuate. Working on confirming... Pictures seem to indicate it though.
10:49 AM PT: Brigantine Beach, 75% of the 9500 residents did not evacuate:
10:54 AM PT: Confirmed. MAJOR incident occurring at Brigantine Beach:
12:00 PM PT: Tide is increasing now.
Surge will grow from here on out:
12:11 PM PT:
NY harbor webcam, low tide.
Tide will be increasing now.
12:32 PM PT: Ozonepete, professional Met on storm2k, has this to say:

Eye is not going in over Delaware. The NHC is covering its bases because the models have been showing a more westward motion as it gets near the coast or after landfall. However, you can see from the visible and RGB satellites that the flow around it is still NW. The eye will landfall around 6PM just north of Atalntic City. The winds are gusting over hgurricane force over 100 miles from the center. Winds will be southeast at 8PM over NYC gusting to hurricane force and will push the water right up into NY Harbor at that time which is high tide.
12:32 PM PT: Source for above: http://www.storm2k.org/...
12:32 PM PT: Likely to get surge during high tide in NYC.
12:50 PM PT:
Rising fast now at Battery.
1:41 PM PT: The surge and waves are coming:
2:19 PM PT:
Storm tide still rising at Battery.
2:20 PM PT: Current view of New York City:
As of 5:15
Clear that the tide is rising again.
3:39 PM PT: Battery park is still rising:
http://tidesandcurrents.noaa.gov/...=
two hours until high tide.
3:44 PM PT:
3:56 PM PT: Battery park about to break 11 feet:
http://tidesonline.noaa.gov/...
4:09 PM PT: Record storm surge for New York City, EVER, just reached at the battery:
11.25 foot reading. Source coming soon.
4:10 PM PT: Source:
Record broken. Subways likely to flood.
http://tidesandcurrents.noaa.gov/...
4:28 PM PT: 11.87 feet
4:37 PM PT: 12.33 feet and rising, fast.
4:45 PM PT: 12.54 feet.
Authorities shutting off power to lower Manhattan
4:51 PM PT: 12.75 Feet
This is likely to flood the subway if it continues rising at this rate. We are an hour from high tide.
4:56 PM PT: 13 feet and still not high tide. This is terrible.
6:07 PM PT: 13.75 feet - Subways are now flooding.
6:15 PM PT: Still rising, 13.85....