Credit: http://www.forbes.com/...

Gotta love our Coast Guard, huh?
Wonder if Mitt wants to expand it like he does the Navy to help our one of his rich buds?
Nah, probably not.. and one more reason to vote against Romney.
United States Coast Guard Rescue At Sea

Just watched this birds eye video at Sea Rescue of the Bounty replica tall ship crew.
This CG chappie makes it look soooooooo easy! That's what training will get you!

Sandy's First US Victims ?
Credit: http://gcaptain.com/...
Missing at Sea
Sadly, there are two missing and the beautiful ship has sunk.
Tall Ship Bounty Abandoned, Sinks in Heavy Seas off Hatteras, 2 Still Missing [UPDATE 2]

Rescuers at the United States Coast Guard have swung into action this morning after receiving word that the crew of the 180-foot, three-masted tall ship, Bounty, has abandoned ship approximately 90 miles southeast of Hatteras, North Carolina.

The 1716-person crew donned cold water survival suits and lifejackets before launching in two 25-person lifeboats.

US Coast Guard watchstanders dispatched a pair of MH-60 Jayhawk helicopters from Coast Guard Air Station Elizabeth City, N.C., to rescue the crew.

The first Jayhawk crew arrived on scene at approximately 6:30 a.m. and hoisted five people into the aircraft, and a second helicopter arrived and rescued nine people.

The 14 people are being flown to Air Station Elizabeth City where they will be met by awaiting emergency medical services personnel.

The C-130 Hercules aircraft remains on scene and is searching for the two missing crewmembers and a third Jayhawk crew is en route to assist search and rescue efforts.
No to Budget Cuts
Many of us are all up with funding the Coast Guard, teachers, Social Security, Medicare, Medicaid...
I am not all up with cutting these and other important services in the name of War Profiteer Welfare. Guess who's the darling of the War Profiteers?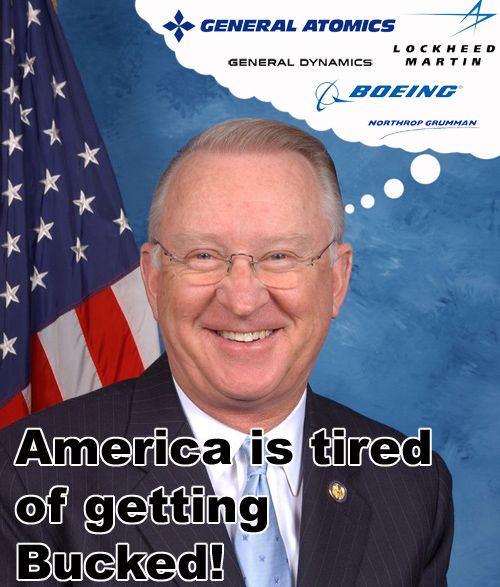 Digby, War Costs, and others plan a twitter bomb Tuesday !
Join Our #BlastBuck McKeon Twitter Bomb on Oct. 30
...Tuesday, October 30, at 2 pm ET/11 am PT to 4 pm ET/1 pm PT, Brave New Foundation's War Costs is going to lead a Twitter bomb aimed at House Armed Services Chairman Buck McKeon, the leading recipient of defense contractor campaign contributions in Congress and one-man force for the military-industrial-congressional complex.

The point of the Twitter bomb is to flood his feed with tweets, hopefully get some attention on his record and, if we have enough people involved, make our hashtag for this -- #BlastBuck -- a trending topic on Twitter. Tweets should be aimed at his handle, @BuckMcKeon.

To encourage more participation, we have several sample tweets that could be used, below. Send tweets starting at 2 ET and going out every 5/10/15 minutes, or however often you choose.

For War Costs' part, we are only focusing on his track record as THE darling of the defense industry on Capitol Hill, no election stuff. Others are focusing on his election in CA's 25th congressional district and other aspects of all that is McKeon. There are many issues to choose from regarding his record: immigration, the environment, you name it. Here's his Project Vote Smart page for more information on his positions and how interest groups rate them.

Thanks, and happy blasting!
Sample tweets and more info
here
Not a tweeterer? Rather be in the streets?

Solidarity Against Austerity

November 3rd.

Strike Debt.

Resist Cuts.

Empower Communities.
What's your stand on austerity and military spending?
3:59 PM PT: 1 of 2 missing found ! Crew was mostly around 30 with one 70 year old...
4:34 PM PT: The Guardian http://www.guardian.co.uk/...
1 unresponsive, Captain still missing
Body found in Bounty search
One of the two missing crew members of the replica ship the Bounty, which ran into trouble off the coast of North Carolina early today, has been found. The Coast Guard said the body of a woman, 42-year-old Claudene Christian, had been recovered. CNN says her body is apparently "unresponsive". She is being rushed to hospital.
The Bounty sent out a distress call at 6.30pm yesterday, when the crew reported she was taking on more water than the pumps could push out. The crew made plans to stay on the ship overnight and to abandon it at 8am this morning. But in the event, the crew were forced to leave the ship at 4am this morning. Three crew members were washed overboard at this time. One was recovered alive, soon afterwards.
Rescuers continue to search for the ship's captain, Robin Walbridge, 63.

4:35 PM PT: http://www.usatoday.com/...
1 dead, captain missing after 14 saved from HMS Bounty

USA TODAY-5 minutes ago

The HMS Bounty, a replica of the historic British ship, is shown moored at Annapolis, Md., in 2010. It reportedly sank at sea early Monday after ...
5:35 PM PT: Weather Channel live stream --NYC man dead, found under tree