Although a number of skeptical Kos viewers might write off the race in California's 49th Congressional District, I've been covering it since September and I gotta tell you, now things are heating up more than they used to. Will this be a dark house district that will end up turning blue or will it stay red? That's what a lot of people are debating although it's reasonable to say you're skeptical because the CA-49 district has been notoriously Republican in the past. Not as much per Jerry Tetalman and his campaign manager.
Recently, NONE other than Darrell Issa's worst enemy, Sandra Fluke, has officially endorsed Issa's Democratic challenger, Jerry Tetalman, for Congress! A Planned Parenthood rally last Friday at Balboa Park, San Diego featured both Jerry Tetalman and Sandra Fluke together, speaking! The Nurses Union has endorsed Jerry Tetalman as well and like Ms. Fluke, they are in the fight against Darrell Issa's extreme policies against women.
Here's the Sandra Fluke radio ad:

Here's the Nurses Union radio ad (I wish I could get this embedded but I can't):
http://www.wildsidenews.com/...
Below are the details, per the Tetalman campaign of Sandra Fluke's endorsement of Jerry Tetalman:

Sandra Fluke Supports Jerry Tetalman for Congress

Carlsbad, CA – Sandra Fluke today endorsed Jerry Tetalman for Congress, saying he should replace Rep. Darrell Issa in the 49th District.

"I really encourage folks from San Diego to get out to vote this November and put their vote behind Jerry Tetalman, who will be a much more progressive voice and will stand with women, rather than Darrell Issa," Fluke said in a KPBS radio interview broadcast today.

The former Gerorgetown University Law School student gained national attention last spring when Issa refused to let her testify on birth control and women's health issues before his House Oversight Committee. She will appear with Tetalman on Friday at the Planned Parenthood Action Fund rally at noon in Balboa Park.

Contact: Charles Dodson

760-542-8190
And off the heals of Sandra Fluke's endorsement, the Tetalman campaign released a fundraising letter recently so Sandra Fluke's radio ad would get on air. Obviously the radio ad has been completed but the fundraising letter is important nevertheless:
Join Jerry Tetalman and Sandra Fluke and Stop Issa's Attacks on Women

Extreme Republicans like Darrell Issa have tried everything to keep Sandra Fluke quiet: vicious insults, personal attacks, and outright lies. Anything to stop her from speaking up for basic equality for women.

Sandra is speaking out again, this time to support Jerry Tetalman in his race for Congress. In an interview on KPBS, she endorsed Jerry. Next, she is recording a radio ad to support Jerry this week! Join Jerry and Sandra and stop Darrell Issa's attacks on women.

Your contribution will buy radio time to spread Sandra Fluke's message!

Will you help us buy airtime by contributing $25, $50, $100, or the most you can give today?

The GOP knows the best way to silence our concerns about birth control and choice is to defeat our allies with anti-woman extremists and keep control of the Congress.

Are you ready to let Republicans shut us up and erase women's rights? I'm certainly not. Please help us get Sandra Fluke's message out on the radio waves!

Click HERE to contribute to JERRY TETALMAN's campaign right now so we can elect a candidate who will speak up for women and never shut us out.

We're counting on you to stand up for women across this country by electing our pro-choice, Democratic champions.

Sincerely,

Team Tetalman

DONATE:
https://secure.actblue.com/...

Please send checks to:
300 Carlsbad Village Drive
Ste. 108A Box 4
Carslbad, CA 92008
Here's what you're REALLY looking for: Sandra Fluke speaking at the Planned Parenthood Rally last Friday:
AND here's Jerry Tetalman speaking at the rally:
Here is Sandra Fluke speaking on KPBS San Diego:
Here's Sandra Fluke on KPBS Midday Edition Radio, talking about abortion, women's rights and getting people in the San Diego area (more specifically in this case, California's 49th Congressional District) to vote for Jerry Tetalman over Darrell Issa.
Now for all of you on Daily Kos, I just have one thing to say to you: Are you going to sit back and let Darrell Issa win re-election to Congress in California's 49th Congressional District?
Are you going to support and fight like hard for Jerry Tetalman, a man 180 degrees opposite of Issa and one of the best progressives the Democratic Party has EVER had?!
Are you going to ensure women's rights are protected and don't have any asses like Darrell Issa say, "Fluke's testimony wasn't appropriate" when you only allowed males to testify at the contraception hearing?
Now is the time to DONATE and VOLUNTEER! If any of you meet any Republicans or conservatives weary on supporting Jerry Tetalman but want to stick with Darrell Issa, I say kindly and considerably get them out of their shells so they can see the light at the end of the tunnel. NO VOTER will be missed, no matter who they're supporting or if they don't want to vote at all! It is possible for Tetalman to have cross support. I've talked to him. He's a very calm, diplomatic and very non-ideological Congressional candidate who happens to be a very DAMN good progressive, particularly when it comes to being pro-peace and pro-environment. He can appeal to many Democrats and even those in the Green Party who really need a breath of fresh air and independent, outside the box thinking!
As in my previous diaries, here are additional bits of information to know more about Jerry Tetalman and his campaign to unseat Rep. Darrell Issa:
My Interview with Jerry Tetalman:
http://www.dailykos.com/...
Jerry Tetalman's Statement on Darrell Issa's Press Release on Libya Incident:
http://www.dailykos.com/...
Jerry Tetalman News Conference on Darrell Issa's Support of HR 6082 (pro offshore oil drilling bill):
http://www.dailykos.com/...
AND of course, the other necessary links:
Jerry Tetalman for Congress Website:
http://jerryforcongress2012.com/...
Donate:
https://secure.actblue.com/...
Volunteer:
http://jerryforcongress2012.com/...
I mean, seriously, how can you not support and vote for a man who has been to many peace conferences around the world and has met with South African Archbishop Desmond Tutu?!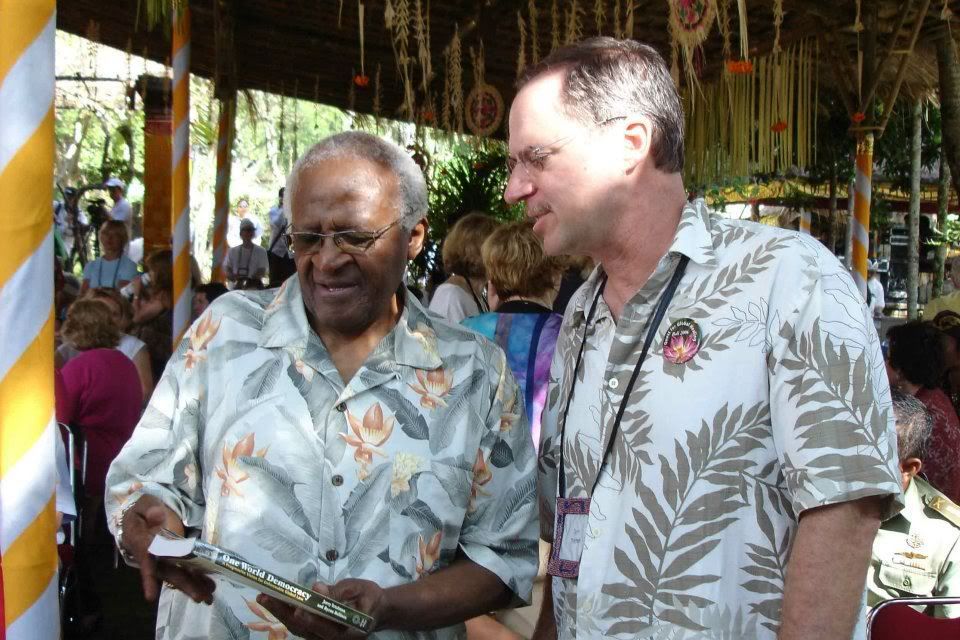 Seriously guys, getting Darrell Issa beaten will mean we don't have to see or hear anymore of the following nonsense without a representative fighting back:

By the way, on an slightly unrelated note, Jerry Tetalman's campaign manager just reported to me that Darrell Issa did not show up at the U.S. Postal Workers rally at his own office in Vista, CA. However, Issa's legislative aide, Laurant, did come out and invite two postal union execs to meet after the rally. Didn't imagine this would be happening months ago, did you?
Here's information on the rally that happened earlier today via my previous diary: