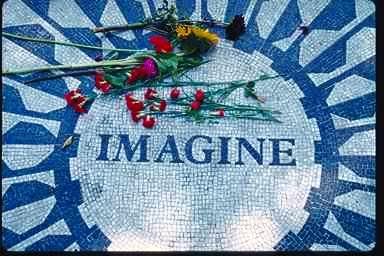 Welcome! "What's Happenin'?" is a casual community diary (a daily series, 8:30 AM Eastern on weekdays, 10 AM on weekends and holidays) where we hang out and talk about the goings on here and everywhere.
We welcome links to your writings here on dkos or elsewhere, posts of pictures, music, news, etc.
Just about anything goes, but attacks and pie fights are not welcome here. This is a community diary and a friendly, peaceful, supportive place for people to interact.
Everyone who wants to join in peaceful interaction is very welcome here.
---
Good Morning!
photo credit:
Agathena
Only when the last tree has died
and the last river been poisoned and the last fish been caught
will we realise we cannot eat money.
~ Cree Indian Proverb
"The Earth was created by the assistance of the sun, and it should be left as it was. The country was made with no lines of demarcation, and it's no man's business to divide it. I see the whites all over the country gaining wealth, and I see the desire to give us lands which are worthless.

The Earth and myself are of one mind. Perhaps you think the Creator sent you here to dispose of us as you see fit. If I thought you were sent by the creator, I might he induced to think you had a right to dispose of me.

Do not misunderstand me; but understand me fully with reference to my affection for the land. I never said the land was mine to do with as I choose. The one who has a right to dispose of it is the one who created it. I claim a right to live on my land, and accord you the privilege to return to yours.

Brother, we have listened to your talk coming from our father, the Great White Chief in Washington, and my people have called upon me to reply to you.

The winds which pass through these aged pines we hear the moaning of departed ghosts, and if the voice of our people could have been heard, that act would never have been done. But alas though they stood around they could neither be seen nor heard. Their tears fell like drops of rain.

I hear my voice in the depths of the forest but no answering voice comes back to me. All is silent around me. My words must therefore be few. I can now say no more. He is silent for he has nothing to answer when the sun goes down."
~ Chief Joseph, Nez Perce
---
Drop in
any time
day or night
to say hello.

---
News
Can you hear me now?! ~Planet Earth
After Hurricane Sandy, can we finally talk about climate change?
The candidates won't discuss a warming planet, but Hurricane Sandy filled in the silence

Every four years, presidential candidates tell the American people that this election is a turning point for the country. This year they might actually be right. To be sure, there are always differences between candidates. On a range of issues, from health care to tax reform, voters face a real choice about two different approaches to governing.

But the most profound turning point in this election may be the fact that the neither candidate is talking about one of the most critical issues of our time. I refer to the silence around climate change.

For the first time in 24 years, the words "climate," "warming" or "greenhouse effect" were not used once in the presidential debate cycle. Meanwhile, "oil" and "natural gas" were mentioned 56 times. To put that in context, the U.S. just experienced the warmest eight months on record, when 60 percent of the nation experienced moderate-to-exceptional drought conditions, 44,000 wildfires burned 7.7 million acres, and U.S. corn production reached its lowest yield in 17 years. In 2011, the 14 most severe weather events in the country cost the U.S. close to $140 billion. And now comes Hurricane Sandy, which is on track to be the largest storm ever to hit the East Coast, with damage estimated in the tens of billions.
Separate and not equal...
The Power Outage Didn't Divide NYC: Income Inequality Did

After an explosion at a power station cut off power to Lower Manhattan, photos showed a stark divide in Manhattan between lit-up uptown and downtown blanketed in darkness.
...
Anyone who grew up in the city and is paying attention can tell you that the problem of income inequality--which helped give birth to Occupy and has been enabled by Mayor Bloomberg--is indeed worse than ever.
AS long as the sun shines...
Big Oil vs. Native Community: Canada's First Nations Challenges Shell's Plan to Mine Tar Sands

Fort Chipewyan is a small indigenous community on the edge of vast Lake Athabasca in Alberta's remote north, accessible only by plane in summer and by snow road in winter. The town is directly downstream from the Alberta tar sands—Canada's wildly lucrative, hotly debated, and environmentally catastrophic energy project.

Residents say that tar sands mining is not only dangerous but illegal because it violates the rights laid out in Treaty 8, an agreement signed in 1899 by Queen Victoria and various First Nations. Their legal challenge to the tar sands project could have a powerful impact on the legal role of treaties with First Nations people.
...

The Athabasca Chipewyan First Nation (ACFN), many of whose members live in Fort Chip, responded on October 1 with a landmark constitutional challenge to Shell Canada's expansion of its Jackpine tar sands mine. The challenge states that the expansion would be a further assault on their rights as First Nations people, which are federally protected under Treaty 8.

The Jackpine expansion, which will be reviewed at the end of the month, would destroy over fifty square miles of land and begin mining portions of the Muskeg River in Canada's most important watershed. AFCN members point out that both the federal government and Shell have ignored their legal duty to consult with them. This time, they're going to fight back.

"As long as the sun shines"
sigh...
'Deep concern' as deal to protect Antarctic seas fails; Governments meeting in Australia have failed to reach agreement on new marine protected areas for the Antarctic ocean.

Made up of representatives from 24 governments and the European Union, it has been considering proposals for the establishment of marine reserves in two critical areas of the Southern Ocean.

Many parts of Antarctica have been coming under increasing pressure as the growing global demand for sea food means the region's rich resources are increasingly targeted.

Climate change and increased acidification of the waters are also likely to affect the food sources and habitats of many species in the region including penguins, seals and whales.
...
The focus will now turn to a special session of the Commission which will meet in Germany in July 2013. Activists say the situation is grave and there can be no backsliding on decision at that point.

Many still have hope that agreement can be found.
The Boss...
Bruce Springsteen and Jon Bon Jovi are to perform at a benefit concert for victims of Hurricane Sandy on Friday
The rock stars are natives of New Jersey, which was one of the areas hardest hit by the storm.

They will be joined by other stars including Billy Joel, Sting and Christina Aguilera on the live one-hour telethon to be broadcast on NBC.

Money raised from Hurricane Sandy: Coming Together will go to the American Red Cross relief efforts.

Hosted by Today show presenter Matt Lauer, the concert will be recorded from NBC's New York studios at Rockefeller Plaza.

It will be broadcast live across NBC's other cable networks including Bravo, CNBC, E!, Syfy and USA at 20:00 EST (00:00 GMT) and tape-delayed on the west coast.
---
Blog Posts and Tweets of Interest
---
---
Remember when progressive debate was about our values and not about a "progressive" candidate? Remember when progressive websites championed progressive values and didn't tell progressives to shut up about values so that "progressive" candidates can get elected?
Come to where the debate is not constrained by oaths of fealty to persons or parties.
Come to where the pie is served in a variety of flavors.
"The smart way to keep people passive and obedient is to strictly limit the spectrum of acceptable opinion, but allow very lively debate within that spectrum." ~ Noam Chomsky