The San Juan Islands are some of America's crown jewels. The proposed Gateway Pacific coal MegaPort at Cherry Point would bring a steady stream of enormous Cape class bulk carriers loaded with coal through the two straits the straddle the San Juan Islands.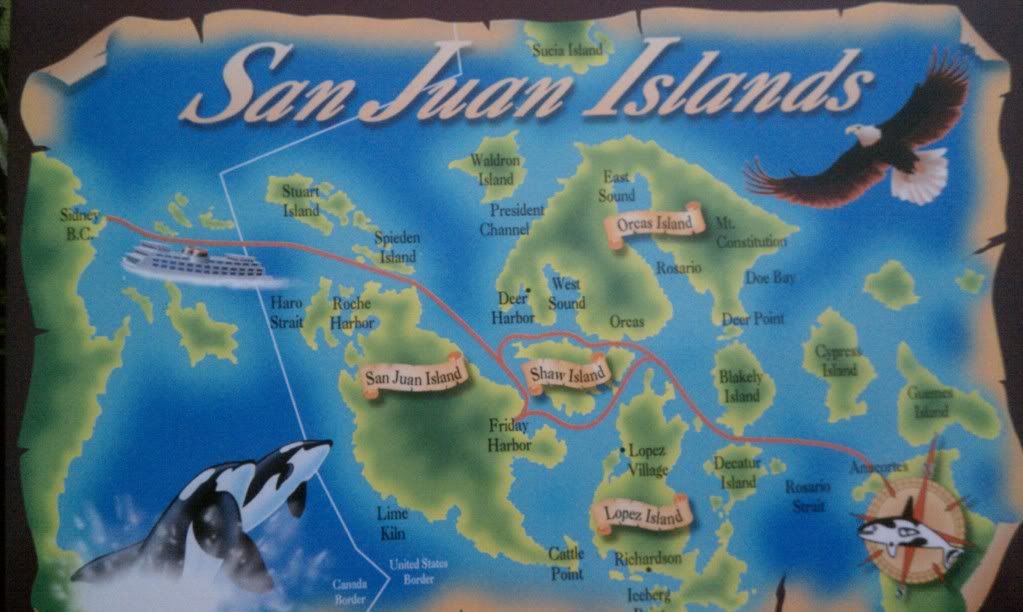 These Islands have a special place in my heart and the hearts of many who make the Northwest home. When I was a kid I went to the YMCA camp on Orcas Island, and later my family spent summer vacations cruising the islands in our small cabin cruiser.
You can see why these islands are so special to us.
The San Juan Archipelago includes 372 islands islets and rocks (at high tide) with 375 miles of rugged spectacular pristine coastline.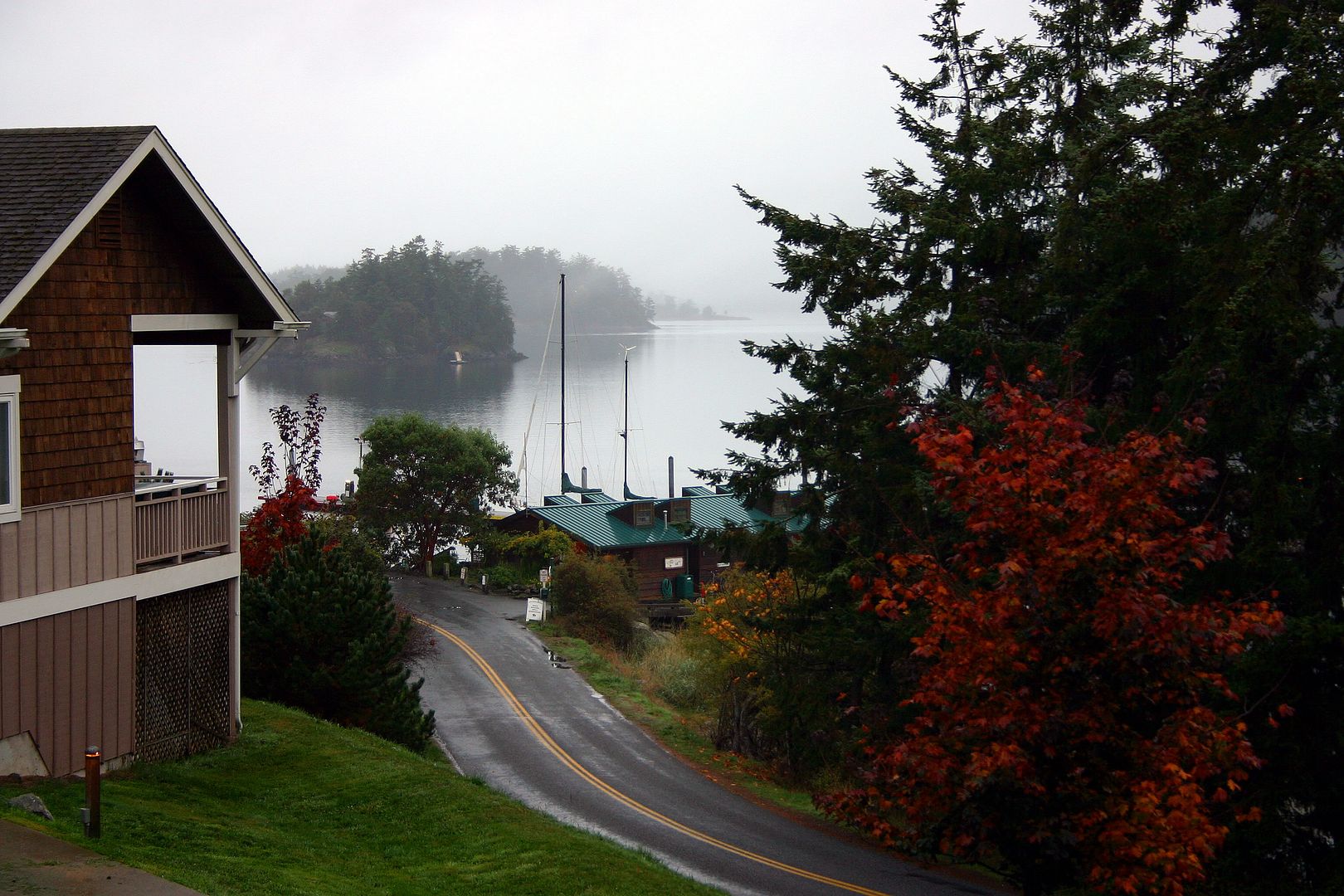 San Juan County is very dependent on tourism and an influx of new residents its stunning natural beauty draws to the islands.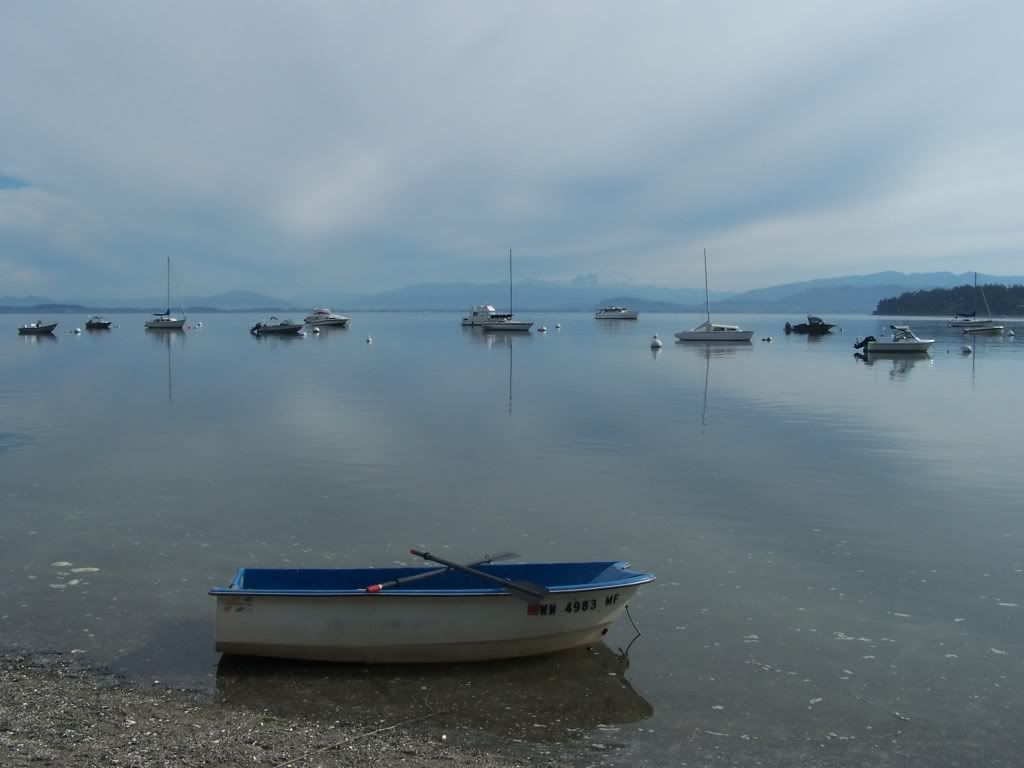 The Islands are renown for their wildlife.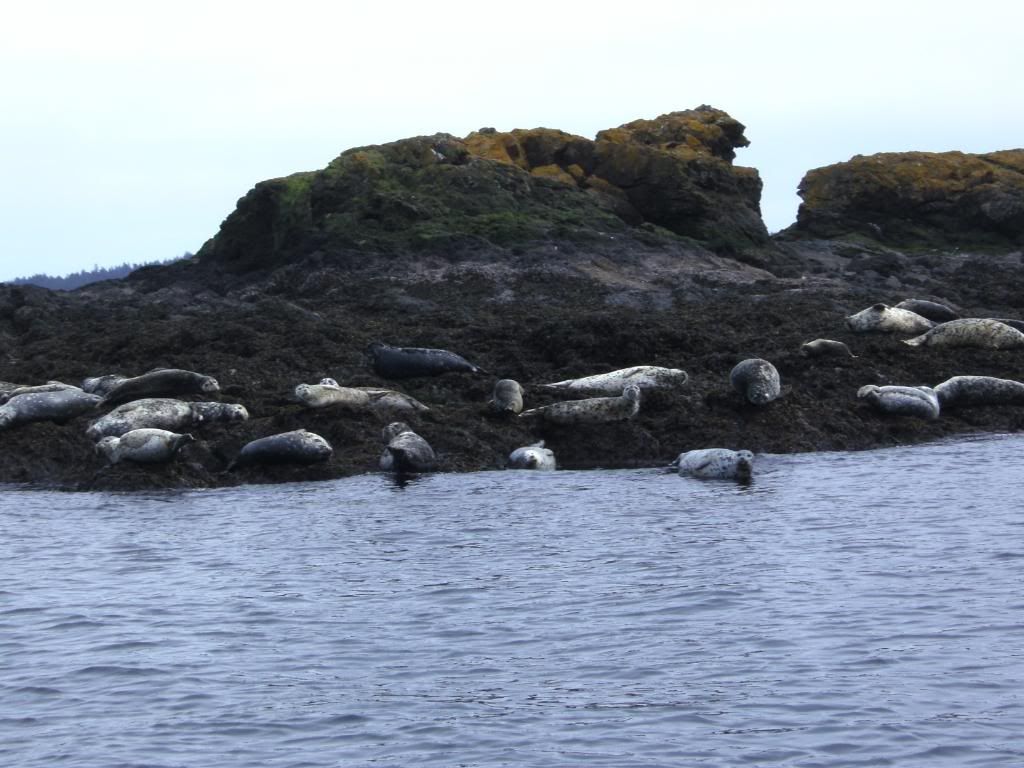 Orcas in Harro Strait and a passing oil tanker.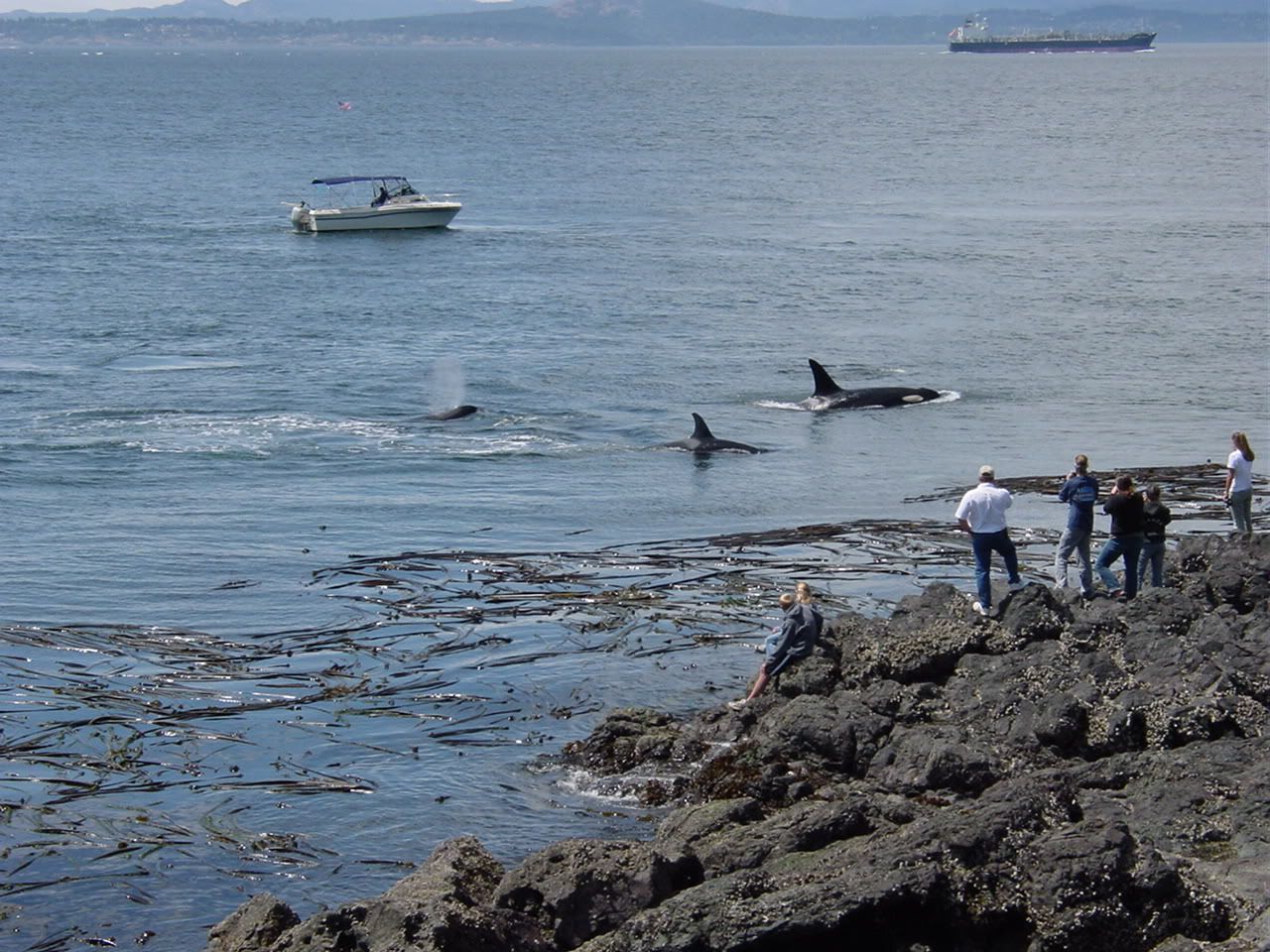 A huge cloud of coal dust on a windy day at the Westshore Terminal just north of the Canadian border.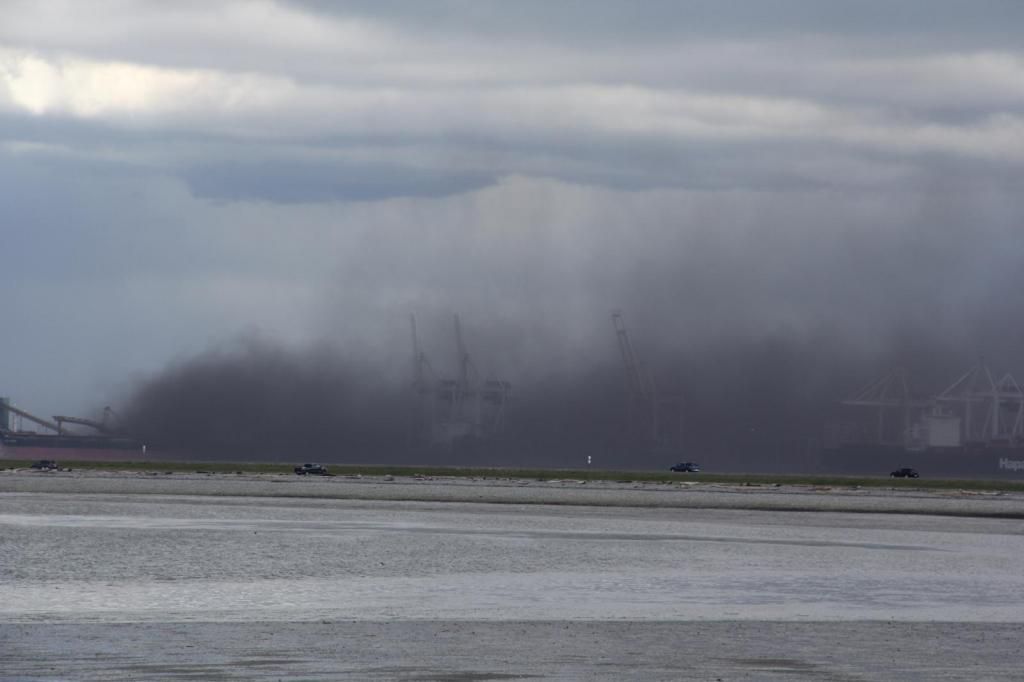 The wind carries off a million and a half pounds of coal dust from the Westshore Terminal every year.

Saturday's scoping hearing for the proposed coal port was held in Friday Harbor the county seat.
Friday Harbor.
This was Island residents chance to weigh in on the proposal. Residents of the Islands have nothing to gain from the coal port and potentially have much to lose. Those who came to voice their opposition overwhelmingly outnumbered the handful of proponents most of who came over on the ferry from the mainland (and most of them are employees of the SSA Marine the contractor for the pacific Gateway Terminal.
About 420 to 450 people attended the scoping hearing, and 85 made two minute comments to the panel.
The commenters were very persuasive. Many had impressive professional credentials in fields with techinal expertise and intimate knowledge of the local waters of the Salish Sea. Ken Burtness is a retired Washington State ferry captain who took issue with the proponents' claim that the waters of the two straits are broad and deep. Captain Burtness pointed out when a ship's steering, propulsion or generators fail it doesn't matter how proficient the crew is, the ship is at the mercy of the area's powerful currents and if one of those things fails when the ship is in a tight spot a disaster can result. Captain Burtness related how all of those things happened to him during his career as master of a state ferry. Another man spoke against it as a former naval officer and decades spent working in the merchant marine on ships all over the world. He talked about how these bulk carriers are some of the oldest and most decrepit ships plying the seas, and urged the panel to look at the abysmal safety record of the enormous Cape class bulk carries. Another local opponent introduced himself as a consultant to the World Bank on International Energy issues. He said sending federally subsidized cheap coal to Asia would help make building more coal plants a more attractive option.
The audience silently shows their agreement with a point made in one of the comments.
A young girl as her father makes a comment wearing a Sea Lion mask speaking for the marine mammals who make the islands their home.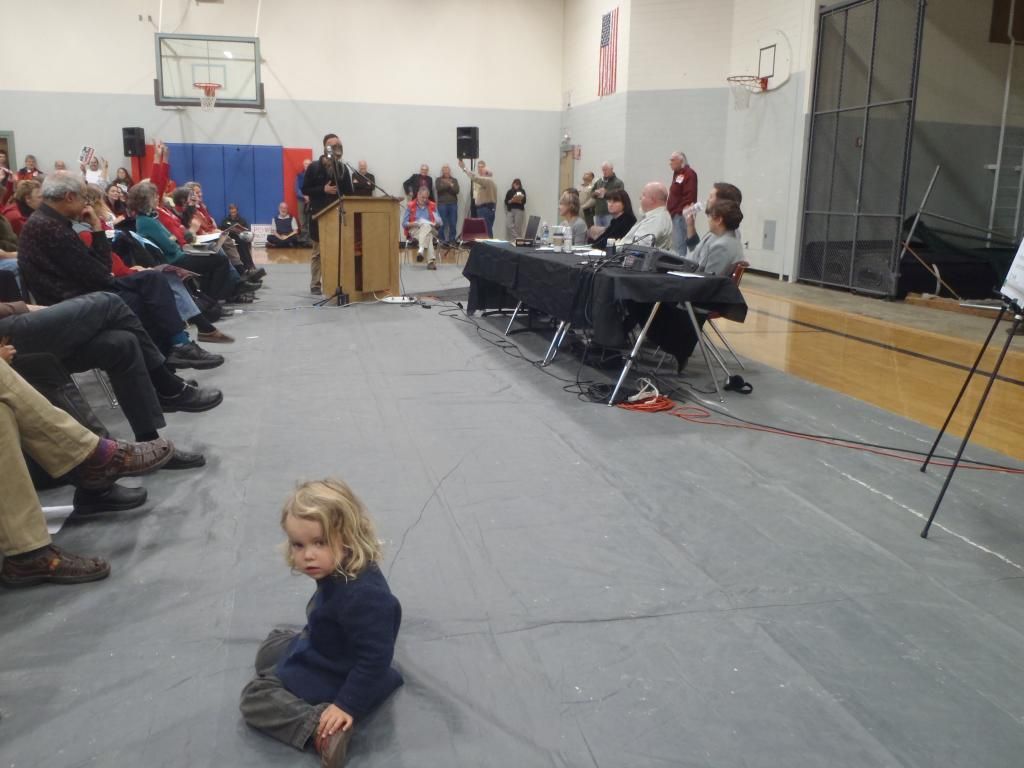 An exchange student from China with a collage she made.
Another exchange student from China named Cheung told the panel about her friend back in heavily industrialized Shijiazhuang Province, and how her friend hasn't seen a bird in her home town since she was very very young.
Opponents returning from the hearing on the ferry to Lopez and Fidalgo Islands.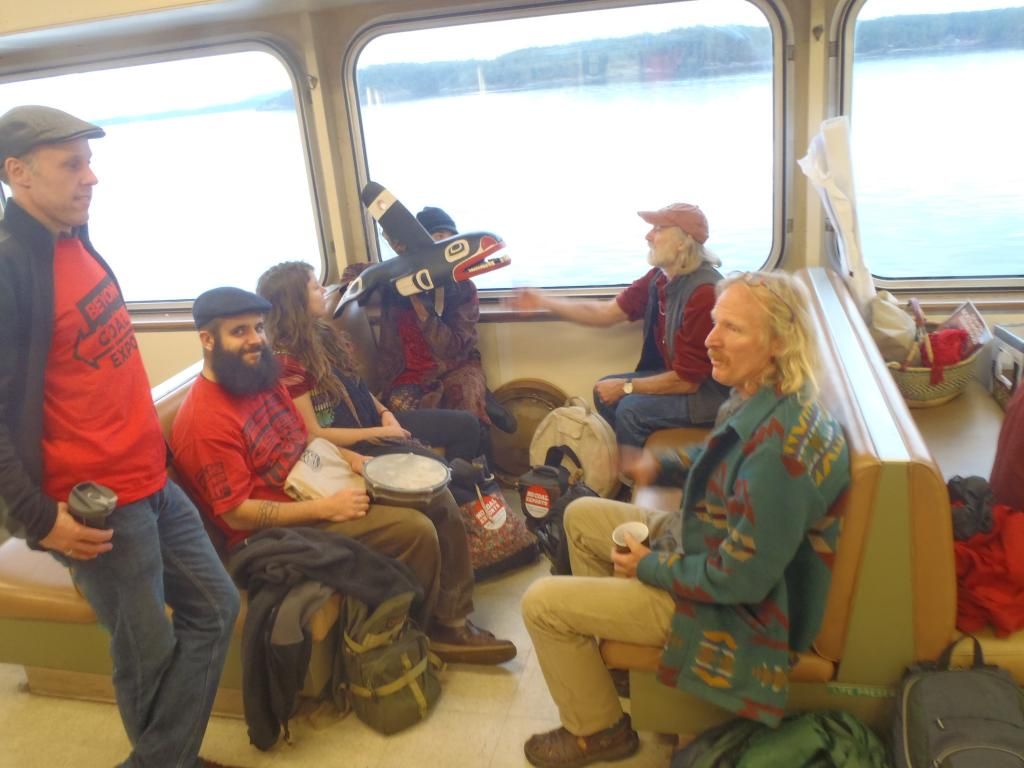 The next Scoping Hearing is tomorrow evening in Mount Vernon. If there's any way you can attend please come.
Also see: 57 NW Tribes join call for Programmatic Environmental Impact Statement on Coal Ports
and They've got the money. We've got the humans!
Please take the time to attend one of upcoming five Scoping Hearings if you can.
11/5/12 – At McIntyre Hall, 2501 East College Way, Mount Vernon, WA 98273 from 4pm-7pm
11/13/12 – At North Seattle Community College, 9600 College Way North, Seattle, WA 98103 from 4pm-7pm
11/29/12 – At Ferndale Events Center, 5715 Barrett Road, Ferndale, WA 98248 from 3pm-7pm
12/4/12 – At Spokane County Fairgrounds, 404 North Havana Street, Spokane Valley, WA 99202 from 4pm-7pm
12/12/12 – At Clark College, Graiser Student Center, 1933 Fort Vancouver Way, Vancouver, WA 98663 from 4pm-7pm
You can also submit as many comments as you want on aspects of the project that are a concern to you HERE
Re-published as a Photo Diary and with one major correction.