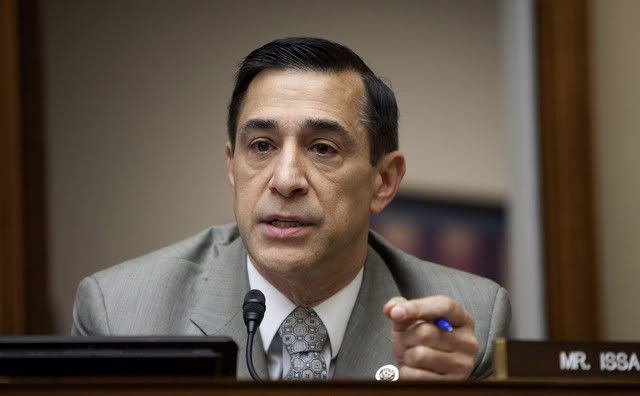 I'm not sure if enough people have reported on the February 21, 2012 issue of Washington Post but I just discovered it via Jerry Tetalman's Twitter Tweet moments ago. Allow me to dissect the article in its entirety and offer some of my trademark, offbeat humor.
rolls up his arms
http://www.washingtonpost.com/...
Rep. Issa has been busy as oversight panel chairman

By Ed O'Keefe
Feb 22, 2012 12:53 AM EST

The Washington Post Published: February 21, 2012
Rep. Darrell Issa is trying to make good on his promise to keep close tabs on the Obama administration.

Since assuming the chairmanship of the House Oversight and Government Reform Committee in January 2011, the California Republican has held hundreds of hearings, made more than 700 requests for information and issued almost two dozen subpoenas.
Yes, he's definitely kept his promise on keeping close tabs on the Obama administration. Oh yes, he is. Since Darrell Issa didn't have the chance to really take the initiative during President Bush's tenure, he figured, "Gee, you know what, I think it sounds really cool if I'd keep close tabs on Obama and his minions. I am SO patriotic man, you don't even DARE mess with me! I own you man!"
Um, no you don't Issa. We own you.
But for every line of inquiry that led to a public hearing or legislation, administration supporters and critics alike complain privately — White House and agency officials especially fear upsetting the chairman — that many of the efforts by Issa's staff resulted in no follow-ups, no hearings or no reports. Essentially, some complain, there have been too many instances in which there was more show than substance.

Eric Schultz, a White House spokesman hired last year to handle the crush of media requests anticipated by GOP oversight investigations, puts it delicately.

The White House has cooperated "with legitimate congressional requests for information," he said. But "we believe that neither political motivations nor political theater should drive congressional oversight."
No follow-ups? Outstanding! Marvelous! Stupendous! This is the most outrageous tactic ever! Shha, and monkeys fly out of my butt!
So the White House believes neither political motivations nor political theater should drive congressional oversight.
On the contrary, I disagree. I believe Darrell Issa is absolutely outstanding in his political theater. Steven Spielberg? Michael Bay? Disney? Ari Emanuel? Are you reading this? Darrell Issa wants to become an actor! Yippie! Let's employ him in the um, uh, the uh, Benson Republican Nut Talent Agency. Issa would be perfect there!
Butthead: "You said Ice-Uh."
Beavis: "Hehehehe. Hey Butthead, does Ice-Uh get the chics?"
Butthead: "Uh, I heard he like, uh, didn't let this chic to testify, uh.
Beavis: "Was she cute?"
Butthead: "Uh, yeah, uh... Her name is Sandra uh, Fluhke."
Beavis: "So he didn't let her testify?"
Butthead: "Not really. Uh, that was stupid."
Beavis: "Yeah, really. Sandra Fluke is hot. She's cool too."
Butthead: "Yeah, it had something to do with women's, uh, rights."
Beavis: "Women's rights are cool. Women are hot."
Butthead: "Shut up Beavis! You can't even talk to a girl."
Beavis: "I can talk to Ice-Uh. I can uh, tell him, he sucks!"
Butthead: "Aren't you uh, forgetting anything?"
Butthead: "Umm, uh, oh yes. Hehehehe. Mr. Ice-Uh.... Hehehehe. I am Cornholio! I need TP for my bunghole!"

Issa issued 22 subpoenas and published 11 investigative GOP staff reports, and the panel sent 748 letters seeking information from the White House and federal agencies in his first year, according to the panel's records.
Darrell Issa issued 22 subpoenas, published 11 investigative GOP reports and had the House Oversight & Government Reform Committee sent 748 letters. Now that's outstanding! Government best at what government does worst! Wait, I'm sorry, I meant to say government best at what government does best! Sorry, sorry, sorry!
Seriously man, I could get a robot android clone of Natalie Portman to do more efficiency than what Darrell Issa and his "staff" have done... And better and more honestly. Seriously, with technology of robotics at its finest its been than decades ago, why not revolutionize the way Congress does business?

Some Issa hearings have had their share of drama. Last week, Democrats walked out of a session when Issa blocked testimony from a woman who supported the Obama administration's decision to require insurance companies to pay for the contraceptives of employees at faith-based institutions that object to them. Issa said the Georgetown University law school student did not have the appropriate credentials to testify at a hearing regarding perceived threats to religious freedom.

One issue, however, that has earned the chairman and his panel bipartisan kudos — and significant headlines — is the Department of Justice's "Operation Fast and Furious" gun debacle.

Whether he strikes an administration nerve or not, Issa isn't apologetic for his aggressive style.

"Do we send a lot of letters out? Yes," he said recently. "When we hear about it, we send letters. And when we get answers, we very quickly say, 'We're all set, thank you very much, we're done.' "
Darrell Issa, we know you don't apologize. We get that. You don't have to explain it to us! Gee, stop trying to reinforce what we already know just to have us vote for you! If we're going to vote for you based on you not being apologetic for your aggressive style, we'll do it um-kay?
In addition, Issa and his aides noted that the administration faced virtually no serious congressional oversight in its first two years, when Congress was controlled by Democrats.

Administration officials provided a list of dozens of oversight panel requests that appear to have fallen flat. The committee sought information on the White House's ties to Google after a former company official who had joined the administration used his personal Gmail account to e-mail former colleagues. Republican committee staffers later pressed federal agencies to detail how quickly officials granted Freedom of Information Act requests. Issa also inquired about President Obama's meetings with political advisers and about why Federal Communications Commission Chairman Julius Genachowski visited the White House so frequently.
Biff Tannen taps Darrell Issa on the hand
Um, McIssa, McIssa, McIssa you there! Think McIssa, think!
How is it Darrell Issa make such an outrageous claim that there was no oversight over Obama administration's antics during the first two years Democrats controlled the entire Congress? That's because no oversight was needed! The Democrats were on a roll, at least I thought they were!
Seriously, McIssa, seriously. Where was the oversight when you were in the committee during President Bush's years? "Um, I don't know. Let me check my staff."
Rep. Issa has been busy as oversight panel chairman

Officials complained that the requests required compiling hundreds, if not thousands, of e-mails and documents.

At the Energy Department, officials said Issa's panel sent 18 separate letters seeking information on department policy and launched 11 investigations. Some inquiries focused on the administration's decision to grant loans to the now-bankrupt Solyndra energy company. The department has provided more than 170,700 pages of information to Issa andexpects it will take more than a year to provide more than 1 million pages of requested documents, administration officials said.

Rep. Jason Chaffetz (R-Utah), a key Issa ally, defended the chairman's strategy.

"You think something's there, it doesn't pan out, you move on," he said. "You get a lot of whistleblowers who raise questions, and with limited resources, you have to figure out where you're going to allocate resources."

Rep. Jason Chaffetz? Hugo Chavez? What? Seriously man, you must have been born yesterday. Noting your slick hairstyle and your elegant way of dressing when you go to work to Congress, you certainly seem to be a gentleman when it comes to working with Congressmen and Congresswomen. Wow, I could have never thought you could develop independent thinking like that. Like oversight wasn't even done before under President Bush's administration when they ran the White House from 2001-2008
And who are these whistleblowers who raise questions? Meat Loaf? Stacey Dash? Jesse Ventura?
The committee's "Fast and Furious" probe prompted most of the 43 requests for information from the Department of Justice.Issa said he launched the investigation only after the DOJ and the White House rebuffed requests for information by Sen. Charles E. Grassley (R-Iowa), the ranking member on the Senate Judiciary Committee.

Despite contentious exchanges with some GOP lawmakers at a Feb. 2 hearing on the issue, Attorney General Eric H. Holder Jr. said, "The questions that you've asked — they've been tough, they've been fair."

But Rep. Elijah E. Cummings (D-Md.), the panel's ranking member, faulted Issa for permitting Republican committee members to air allegations against Holder and other federal officials who were still under investigation or that were previously disproved. Though he supports the "Fast and Furious" inquiry, Cummings said: "I want people to automatically assume that we're operating almost on level with a federal court, where there's a tremendous amount of respect. When there are allegations made and then they're not proven, I think that it hurts every member of the committee."

In his first year, Issa and his seven subcommittee chairmen led more than 120 hearings, according to committee staffers, far short of the seven-hearings-per-week vow he made before taking over. The number puts him short of former representative Thomas M. Davis III (R-Va.), who ran the panel during the middle of George W. Bush's presidential term, and ahead of Rep. Henry A. Waxman (D-Calif.), who chaired the committee during Bush's final years in office.
Oh shoot, it looks like Darrell Issa's goal all along was to play sports and beat the Guinness Book of World Records of hearings by the House Oversight & Government Reform Committee. Looks like he beat Thomas Davis's record! Congradulations Mr. McIssa, you have won the Tea Party Peabody Award for Massive Arrogance and Ego!
Rep. Gerald E. Connolly (D-Va.), a committee member, said Issa's "peripatetic attention span" and tendency to quickly move on after attracting attention for a new line of inquiry hampers serious oversight of government management concerns.

"He's failed to foster bipartisanship," Connolly said. "There had been cooperation before. I don't think it's impossible for Darrell to recapture that, but a lot of damage has been done."

Rep. Patrick T. McHenry (R-N.C.), who chairs the panel's subcommittee on financial services, however, credits Issa with "very methodical oversight that's been lacking in the last decade in Congress on regulations."
Patrick McHenry eh? This is the same guy who in a presentation to a group of supporters claimed how he once got so excited about getting to meet President Bush before he was in Congress (I think). Isn't Daily Kos trying to make defeating him a priority of national security here? What happened? Anyone there?
And Davis, whom Issa considers a mentor, praised the chairman's first year. "He's been very careful about the investigations he's picked," Davis said.

In his second year, Issa said he is forging ahead on a host of issues, including Obama's plans to reorganize trade- and commerce-related agencies.

"Real reorganization takes time, it takes buy-in, historically, from Congress and the administration," Issa said. "It takes a willingness to understand that the upheaval has to be far more worthwhile."

"I was sent to Congress to be a jack-of-all-trades and a master of as many as I could be," he added. "I didn't come to Congress for one thing. I came to try to leave our country better by being here, so I'm never apologetic for taking on as many diverse issues as I can."

ed.okeefe@washingtonpost.com
No, Mr. Issa, you came to Congress to be a con man like Paul Ryan and you know it. Don't try to be so bold.
By the way, isn't Darrell Issa Darth Vader? Yeah, and Sandra Fluke is Princess Leia! Gosh, Vader interrogating Leia is like Darrell Issa shutting off Sandra Fluke from not testifying!
Darth Issa (to Princess Sandra): "I want to know what happened with those women's rights plans!"
So bottom line is this, it is possible for Jerry Tetalman to win over Republicans if they are receptive to hearing him. Not all conservatives or Republicans are self-centered or con men like Darrell Issa and Paul Ryan are. As long as people listen to them, then the anxiety, anger and frustration level are diffused and the openness of dialog begins. Ahhh, the nature of diplomacy.
Ok. I do not need to tell you anymore. We don't have much time so I will only give you the following necessary information:
Jerry Tetalman for Congress:
http://jerryforcongress2012.com/...
Phone Number: (760) 542.8190
E-mail: Jerryforcongress2012@gmail.com
Donate:
https://secure.actblue.com/...
Volunteer:
http://jerryforcongress2012.com/...
Jerry Tetalman at US Postal Worker Rally at Darrell Issa's Office in Vista, CA:

On Stage with Jerry Tetalman:
Jerry Tetalman's News Conference on HR 6082 and Darrell Issa:
Also, "Like" Ed Schultz of MSNBC on Facebook and message bomb all the Facebook posts his staff is making:
Remember Return of the Jedi? Well, Darrell Issa is Darth Vader. Jerry Tetalman is Luke Skywalker and you pro-Tetalman, Kos people, U.S. Postal Workers, and 49th district voters are the Rebel Alliance!