Occupy Sandy continues its awesome work !
Is Occupy Wall Street Outperforming the Red Cross in Hurricane Relief?
In Sunset Park, a predominantly Mexican and Chinese neighborhood in South Brooklyn, St. Jacobi's Church was one of the go-to hubs for people who wanted to donate food, clothing, and warm blankets or volunteer help other New Yorkers who were still suffering in the aftermath of Hurricane Sandy. On Saturday, Ethan Murphy, one of the people heading the kitchen operation, estimated they would prepare and send out 10,000 meals to people in need. Thousands and thousands of pounds of clothes were being sorted, labeled, and distributed, and valuable supplies like heaters and generators were being loaded up in cars to be taken out to the Rockaways, Staten Island and other places in need. However, this well-oiled operation wasn't organized by the Red Cross, New York Cares, or some other well-established volunteer group. This massive effort was the handiwork of none other than Occupy Wall Street—the effort is known as Occupy Sandy.
This morning's weather news is not good for those of us concerned about the millions impacted by Sandy.
'Really intense nor'easter' heads for New York, New Jersey
Cold vs Hot
This is so different from the experience of our friends who still live in the TX hurricane zone area we retired to and moved away from after hurricane. Its usually hot hot hot after a hurricane.
In the comments to the above linked US News story, a person says their church has given generators to people still without power. Really hope they trained them to avoid carbon monoxide poisoning from generators, a hazard that has taken a number of lives over the years.
Another commented that there was frost on the windows there this morning. Brrrrrr.
Contributing to Occupy Sandy

Occupy Sandy Relief
Facebook PageTwitter

Occupy Sandy is a coordinated relief effort to help distribute resources & volunteers to help neighborhoods and people affected by Hurricane Sandy. We are a coalition of people & organizations who are dedicated to implementing aid and establishing hubs for neighborhood resource distribution. Members of this coalition are from Occupy Wall Street, 350.org, recovers.org and interoccupy.net.
If you are close enough to go lend a hand there are lists of places and needs for those. If, like us, you are too far away you might want to send a donation.

OccupyWallStreet
The revolution continues worldwide!

Occupy Sandy

click here to donate!

Storm Track
Jeff Masters:
While the exact track of the storm still has considerable uncertainty, the models are pretty unified on the timing and strength of this storm. A 12-hour period of strong winds of 40 - 45 mph will likely affect portions of the coast from Maryland to Massachusetts. A more westerly track, as currently predicted by our top model, the European ECMWF model, would likely result in the storm's strongest winds affecting the New Jersey coast. A storm surge of 2 - 4 feet would likely hit the New Jersey coast, and a storm surge of 3 - 5 feet would likely impact the western end of Long Island Sound. These surges would be accompanied by high, battering waves, capable of causing moderate to locally severe erosion along the coastal areas pounded by Hurricane Sandy last week.
Hope those that can have gotten to vote. Namaste.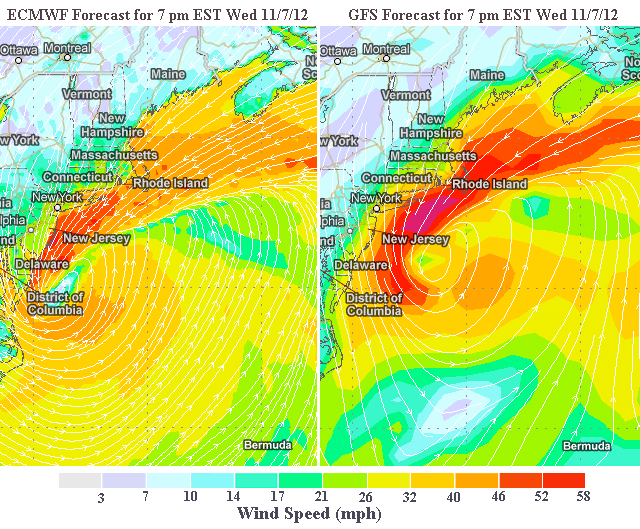 Credit:http://www.wunderground.com/...
Update 1 May be worse than first thought ..
Sandy-hit areas could see several inches of snow, 50 mph gusts from nor'easter

Outside of Manhattan, New York residents are still facing a power outage as temperatures drop and the region braces for another storm. NBC's Stephanie Gosk reports.
By Miguel Llanos and Ian Johnston, NBC News

A developing nor'easter might track farther offshore than earlier thought, but should still dump several inches of snow in New York City and the New Jersey coast starting Wednesday evening and test Sandy recovery efforts with wind gusts of up to 50 miles per hour, the National Weather Service warned Tuesday. Some coastal flooding is also a possibility and one New Jersey town has already ordered evacuations.