One of the most dramatic rescues of our time is being undertaken by Occupy Wall Street / 350.org, and the need for our support is huge. Another winter storm is on the way reason to ramp up action for help for the millions in need......

How Serious Is This?


jimwxgator
Winter Weather Advisories now posted in the northeast U.S. for tomorrow's #noreaster. Hurricane gusts and heavy I-95 snow coming.
4 minutes ago from TweetCaster for Android


MikeBloomberg
High winds, heavy rain, and cold temps accompanying this coming storm are a significant concern for people displaced by #Sandy #Noreaster
3 hours ago from HootSuite
For a minute by minute snapshot of the needs and heroic deeds in
NYC check this out: Occupy Sandy Relief
Occupy Sandy is a coordinated relief effort to help distribute resources & volunteers to help neighborhoods and people affected by Hurricane Sandy. We are a coalition of people & organizations who are dedicated to implementing aid and establishing hubs for neighborhood resource distribution. Members of this coalition are from Occupy Wall Street, 350.org, recovers.org and interoccupy.net.
#SandyAid – In need of Doc/RNs to work night shift at Rockaway Evac Site Wed/Thurs for Nor'Easter support. email osmedicdispatch@gmail.com

33 minutes ago →

RT @NYCSandyNeeds: URGENT: Just got word that a lot of people in Far Rockaway are getting sick. Need OTC meds, esp fever reducers and wi …

37 minutes ago →

RT @SIrecovers: Any SI restaurant that can get hot food for 50 by 6pm? If DEFINITE yes, text me 646 398 0869. Will post when complete.

37 minutes ago →

Hot food at Yana B113!- Rockaway…please get the word out. :)

39 minutes ago →

"These people need serious help and have gotten NO attention. When I and another volunteer visited this neighborhood yesterday, people looked at us with fear and confusion, and when we stopped to speak to them, they said we were the first people who came to try to help.
SNIP
And Wednesday morning:
RUSSIAN SPEAKERS …. WE NEED YOU @ 9:00 am the meeting place is in Far Rockaway — Beach 19th and Seagirt Boulevard- (the building is 125 Beach 19th street) it is the JASA high-rise building

EVACUATING 25 seniors & in DESPERATE NEED for at least 30 Russian Speakers….

32 minutes ago →

Info from the MAYOR:

Here is the latest information for you to share with your constituents:

Director of Housing Recovery Operations:

• We face an enormous challenge – providing longer-term housing for the New Yorkers displaced from their homes by the storm.

• Many buildings that were flooded are going to be out of commission for a long time because of damage to boilers and electrical systems.

• This includes public housing, as well as private apartments and houses.

• We are committed to ensuring that every New Yorker who needs a warm place to live and a roof over his or her head is going to have one.

• Today we announced the appointment of Brad Gair as the City's new Director of Housing Recovery Operations.

• His mission will be to develop and implement a comprehensive plan to house New Yorkers displaced by Sandy.

• He is a resident of Brooklyn who has 20 years of experience in such efforts at every level of government, with a particular expertise in post-disaster housing recovery.

• As a senior official at FEMA from 1999-2006 he managed long-term recovery efforts in Louisiana, Florida, and North Carolina.

• He was the highest ranking federal official directly involved in helping New York get back in its feet after 9/11.

• From 2006-2009 he was Deputy Commissioner for Operations at our Office of Emergency Management.

Community Restoration Directors:

• We have appointed seasoned, high-level managers from our administration to identify urgent needs in affected communities and deploy resources needed to meet them.

• These directors will each cover part of the city. They are:

o Staten Island: Haeda Mihaltses, Director of Intergovernmental Affairs, Mayor's Office

o Queens: Diahann Billings-Burford, Chief Service Officer

o Brooklyn: Nazli Parvizi, Commissioner, Community Affairs Unit

o Manhattan & Bronx: Matt Mahoney, Associate Commissioner, Department of Environmental Protection

Mobile Medical Vans:

• Today mobile medical vans staffed with primary care providers began providing medical care and distributing commonly prescribed drugs at several of the City's Restoration Centers, as well as two additional high-need locations, in the Rockaways and Coney Island.

• There is a particular need for pharmaceuticals in the Rockaways because of a limited number of pharmacies still open and able to fulfill prescriptions.

• Starting tomorrow, the medical vans will also be in Staten Island.

• Volunteers working through the City's volunteer operation, NYC Service, have been knocking on doors to check on and address the medical needs of those who remain in their homes, often without heat and power.

• The New York City Human Resources Administration, along with FEMA Search and Rescue, have targeted our most high risk households and will continue this effort until power is restored.

• The list of sites can be found here: http://www.nyc.gov/....

Schools:

• Public schools opened for the first time today since October 26th.
Gah. This is serious, real people, real life and death situation, and help being brought by Occupy Wall Street and 350.org, YUS!!
In the aftermath of the worst climate change disaster in New York City history, organizers from Occupy Wall Street and 350.org have teamed up with to coordinate a people-powered reliefeffort for New York's hardest hit neighborhoods. Beginning with the Lower East Side, Red Hook, Astoria and Staten Island, volunteer organizers are using the new site Recovers.org to connect offers of help with places of need. For the most up-to-date info on how to help, go to: http://interoccupy.net/...
Occupy Dead ? HAHAHAHAHAHAHAHA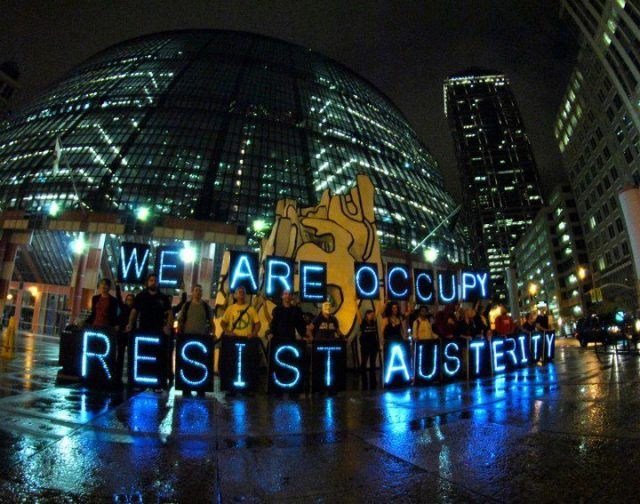 Credit: Occupy Portland N3 Facebook, http://www.facebook.com/...
Those who smugly think that Occupy Wall Street is dead need to keep up, dig a little for daily news, and not depend on traditional media so much. The movement is snowballing, and there's plenty of room for involvement, leadership and support--just have to use that technology and get involved ! :)
Election 2012 Poverty and Debt
In the early 80's I was among of the first high school teachers in Austin, TX to have a computer in my classroom. The program I taught and coordinated was for at risk kids, funded in part through federal funds that were an outgrowth of our Party's greatest accomplishment, the War on Poverty. Talk and plans for helping the poor by our Party have been scarce as hen's teeth during this election cycle. Its as if the 20 plus million of unemployed families are invisible.
And now we have a situation where the number of people in this country needing serious assistance and a strong safety net just got bigger by a factor of ???????
Occupy Santa Fe, Fall, 2011 pic by divineorder
Occupy Wall Street celebrated its 1 year anniversary this year and many adopted Strike Debtand pushing back on austerity as the theme going forward-- Occupy Portland had a big action this past Saturday designed to spur a national movement to push back against austerity.

What Talent Can You Bring To Occupy ?
Coming up is an action that should be a rockin' rollin' way to get involved:
Credit: http://occupywallst.org/...
Help Abolish Debt with The People's Bailout: A Variety Show & Telethon to Benefit the 99%
An Occupy Win As Big As A Hurricane !!!
But the biggest most recent Occupy news may be the hybrid action now taking place in the wake of Hurricane Sandy:
Lucas Kavner
lucas.kavner@huffingtonpost.com

Occupy Sandy Emerges As Relief Organization For 21st Century, Mastering Social Networks

As local leaders and citizens complain of FEMA and the Red Cross and general government absences in their own neighborhoods, independent and local volunteer relief organizations have sprung up in droves, organized almost entirely through word of mouth and extensive social media campaigns.

Last week, The Huffington Post spoke with many crowdfunding and philanthropy experts who warned of the traps of social media (a "retweet" is not the same as real action, suggested Robert Wolfe, the co-founder of social media funding platform Crowdrise). But now, almost week later, social media has largely been the key link between those looking to help and the tangible work to be done.

And Occupy Sandy, an off-shoot of Occupy Wall Street, has undoubtedly been a leader in spreading the word about local volunteer and donation efforts online, and thereby spurring real, tangible responses. Though certainly not a well-oiled machine by any means -- seamless organization is hardly expected, anyway, in a movement that sprang up so quickly -- the group's Twitter and Facebook accounts have posted up-to-date information about exactly what is needed and where. And while the Red Cross doesn't take donations of individual household items and certain bare necessities, these very same needs have become Occupy Sandy's primary focus.
Please do go read the post, great amazing stuff being done by Occupy Sandy!
Let's Roll With Occupy Sandy !
Have you been wanting to support this epic effort but not sure where to begin?
Occupy: Sandy Relief NYC

Occupy: Sandy Relief NYC
Information


Collected
$255,897.00

UPDATE: Donations are now tax-deductible
Occupy Sandy is a coordinated relief effort to help distribute resources & volunteers to help neighborhoods and people affected by Hurricane Sandy. We are a coalition of people & organizations who are dedicated to implementing aid and establishing hubs for neighborhood resource distribution. Members of this coalition are from Occupy Wall Street, 350.org, recovers.org and interoccupy. We have fiscal sponsorship from the Alliance for Global Justice.
Occupy Sandy believes in mutual aid and the community that is formed through in-kind donations. In order to recognize that there is more than one form of capital, the money in this account will be invested in long-term disaster relief rebuilding projects and emergencies. All other needs will be filled through in-kind donations.

The task of rebuilding communities is a marathon and not a sprint. We thank you for your donations and your support.

The hubs we have set up so far are listed here: http://interoccupy.net/...
Photos and volunteer updates are available on our facebook: www.facebook.com/occupysandyreliefnyc
Stories from the ground are available here: http://occupysandystories.tumblr.com/

Checks can be mailed to
Occupy Sandy/AfGJ,
Alliance for Global Justice
1247 E. St, SE
Washington, DC 20003
Great examples of using social media to get sh*t done!

Miserable Weather On The Way ?
I posted a diary earlier todayon the cold weather storm headed to the East Coast which will surely bring more misery to those already left in dire straits by last weeks storm.
kossacks who live in neighboring states can consider going to help with the ongoing recovery efforts, info here:
http://interoccupy.net/...


@OccupySandy
To get regular updates by text message please text @occupysandy to 23559
Contact us at OccupySandy@interoccupy.net.


For Real-time Social Media Updates on Sandy Aid Efforts, Click Here!

URGENT SUPPLIES NEEDED

- JACOBI (5406 4th Ave) AND 520 CLINTON ARE OUT OF FOOD
please bring Meat/Chicken/Ground Beef, Vegetables Non-Perishables (Canned goods, soups, vegetables) Dry goods and ready to eat food (Cereal, power bars, granola, crackers, etc)(Update 11/06 1:30PM)
- box cutters / face masks rated at least N95 / work gloves / adult diapers / and the us- flashlights, batteries, blankets, etc. Lots of places seem to be taking canned food. (Updated 11-06)
Blankets Candles Flashlights Lights Water Food Batteries Diapers and Wipes Gloves and Masks Rubber boots Shovels Cleaning supplies and bleach Trash bags Serving dishes and utensils Anything that produces heat Winter wear (jackets, hats, gloves, warm stuff)
(WE NO LONGER NEED ANY GENERAL CLOTHING SUPPLIES)

IMPORTANT INFO FOR VOLUNTEERS
Clickherefor the latest volunteer information.
Whoa, what an amazing effort, moving at real time making fabulous use of social media to help real people right now!
Occupy Amazon ?
Those who can't and who live further away like we do, can donate to Occupy Sandy via Amazon wedding registry (lol) fist brought to my attention by a commenter in that diary I posted earlier today:
local Nebraska Occupy collecting donations (3+ / 0-)

Yesterday my husband was at the university in Lincoln, Nebr. and saw our local Occupy group at the student union, collecting donations for Occupy Sandy! This was really heartwarming. If groups all over the country mobilize, it could really help.

Also, I was so tickled with the 'wedding registry' at Amazon (this is set up for shipping to Brooklyn) and ordered some supplies for them there a day or so ago. Now I can see that lots and lots more stuff has been ordered! So great to see!

There's another registry for Occupy Sandy New Jersey. I'm sure there's lots of sharing back and forth but sending direct to them probably helps out.

I love it that Obama's channeling Harry Truman: "I don't give 'em hell; I just tell the truth and they think it's hell!"

by sillia on Tue Nov 06, 2012 at 09:43:03 AM MST
[ Reply to This | Recommend Hide ]

Wow, great story, great work! (2+ / 0-)

Had been boycotting Amazon since reading on dkos about the right wing slant but this does sound great !

Move Single Payer Forward? Join 18,000 Doctors of PNHP and 185,000 member National Nurses United

by divineorder on Tue Nov 06, 2012 at 12:35:58 PM MST

[ Parent | Reply to This ]
* [new] I read that amazon's (1+ / 0-)

political donating had evened out and was more purple than red...this was a while ago so I don't know for sure what the current facts are. I started using them again after that.

I love it that Obama's channeling Harry Truman: "I don't give 'em hell; I just tell the truth and they think it's hell!"

by sillia on Tue Nov 06, 2012 at 12:52:23 PM MST

[ Parent | Reply to This | Recommend Hide ]
My wife kossack Jakkalbessie laughed out loud when when she read this on Amazon:
Occupy Sandy NJ and Occupy Sandy NJ's Wedding RegistryNOTE: This couple has requested no gift wrap
.
Is YOUR community ready?
https://recovers.org/
Join Occupy Wall Street--It's Alive And Well, Kickin' Ass, Growing, Saving Lives, And Building Community !!
Comments?
Update 1

First Hurricane Sandy, now Winter Storm Athena for the Eastern U.S.
The decision to name Athena
The Weather Channel announced in October that they would begin naming winter storms this year, in an effort to aid in raising awareness and reduce the risks the public faces. One of the main criteria for naming a storm is its impact on populated areas; the meteorology of the storm may not get it named, if the storm doesn't affect a populated area. If Hurricane Sandy had not devastated the region of coast being affected by today's Winter Storm Athena, it may not have gotten a name. With so many people still under recovery efforts even well inland, the combination of heavy, wet snow and wind prompted the decision to name Athena. The models have been trending towards more cold air getting pulled into this system, so it is possible Athena could drop heavier snows than currently advertised. The National Weather Service will not be referring to today's Nor'easter as "Athena". They put out this internal directive: "The NWS does not use named winter storms in our products. Please refrain from using the term Athena in any of our products."