Yeeha!
This race did not look good early on. Professor Elizabeth Warren was such a 'weak' candidate - right?
She really pulled it together in the last weeks of the campaign, beating Brown handily in her debates.
So, so proud of her. She has never held elected office before, and now goes straight to the Senate.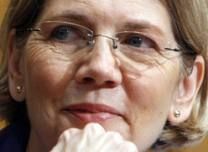 CONGRATULATIONS PROFESSOR!!!!!
Teddy's seat goes back to a Democrat!!!!! Where it belongs.
Couldn't have gone to a worthier person.
I AM SO HAPPY!!!!!
6:43 PM PT: Elizabeth Warren goes to Washington with 54% to 46%. A margin of over 196,00 votes
6:46 PM PT: May the pickup truck be retired to the dustbin of history. Maybe Scott Brown can go back to modeling.
6:47 PM PT: Note to Scott Brown: Being a Native American is NOT a detriment.
Here is a link to the town by town results map.
And here is Brown's concession speech.