Here is a photo-diary of some of Election Day here in my town of Lebanon, New Hampshire - which is on the border of Vermont and near Dartmouth College - after the jump .....
But first: Top Comments appears nightly, as a round-up of the best comments on Daily Kos. Surely you come across comments daily that are perceptive, apropos and .. well, perhaps even humorous. But they are more meaningful if they're well-known ... which is where you come in (especially in diaries/stories receiving little attention).

Send your nominations to TopComments at gmail dot com by 9:30 PM Eastern Time nightly, or by our KosMail message board. Please indicate (a) why you liked the comment, and (b) your Dkos user name (to properly credit you) as well as a link to the comment itself.
Here are some vignettes from Election Day in western New Hampshire: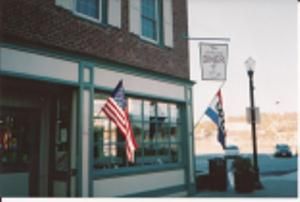 Let's start off with a nice breakfast (near my polling place) at the Lebanon Diner - owned by a Democratic city councilor Karen Liot Hill and her husband Andy.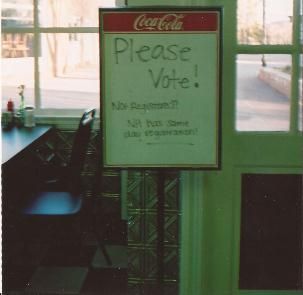 As befits a Democratic-owned shop: the sign points out that New Hampshire has same-day registration. Interestingly, that was instituted during the Clinton Administration by the NH Legislature .... by the Republican majority. Why? When Bill Clinton signed the Motor Voter law, it had an escape-clause: a state that had same-day registration did not have to offer Motor-Voter.
I guess the GOP figured that more Democrats newer voters would be created that way than by allowing same-day registration; hence they chose the escape clause. When the GOP took back control of the Legislature in 2010, they were talking of repeal .... then were advised they would have to adhere to Motor Voter if they did so ... and the plan died.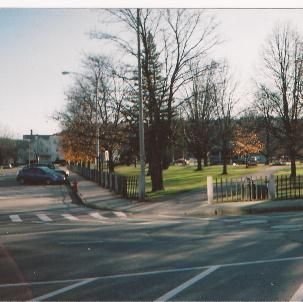 Approaching the Village Green in the center of this town of (approximately) 13,000 residents.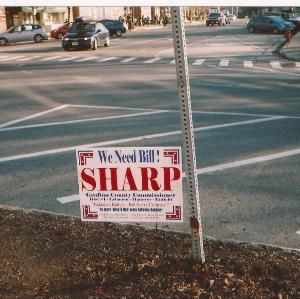 Here is a sign for a former Democrat who won a fluke election for Register of Deeds six years ago ... then wrote me a nasty letter when I commented in a blog about how I wish that sort of office was an appointed one. He lost his post two years ago, now is running for a county commissioner seat ... as a Republican ...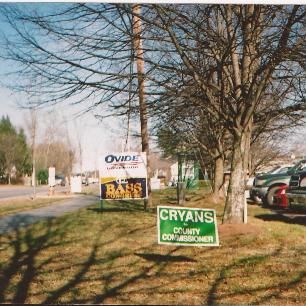 ... and fortunately, Mike Cryans (a friend of my old boss, and a Democrat whom I like very much whenever we meet) was able to win re-election against Bill Sharp. Sweet.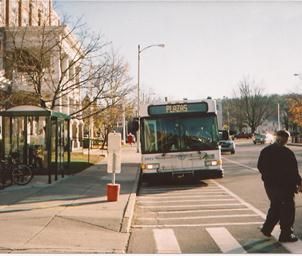 We have a regional bus service called Advance Transit with service that is not extensive (M-F only, from 5:30 AM to 7:30 PM) .... but is free, due to several area towns, Dartmouth College and its medical center, who subsidize costs (due to traffic and especially parking problems). They do solicit funds from riders by mail, but no fare is collected.
City Hall itself - getting close to my polling place. After an exceptionally mild autumn (I didn't have to turn on the heat once until Election Day) you can see the warm coats.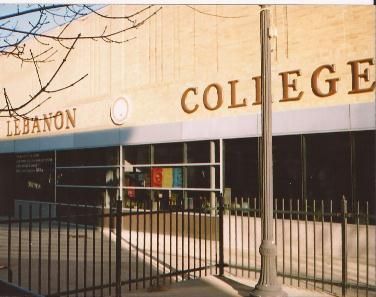 Lebanon College - a community college - is the place to vote.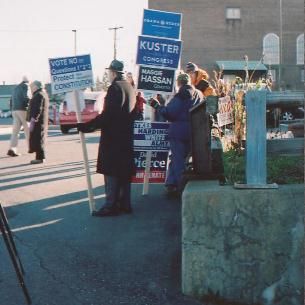 The hallmark of elections - political signs.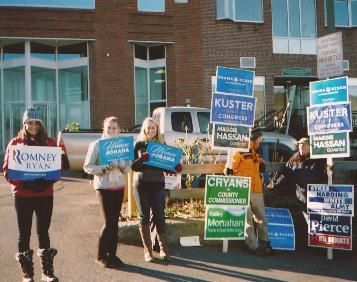 Romney sign-holders next to Obama ones .... that's bi-partisanship I can endorse.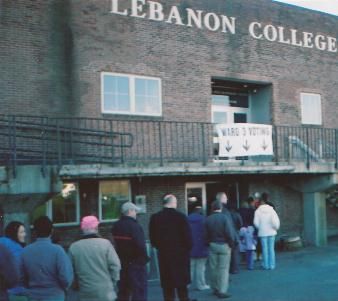 Never seen a line like this out the door before .... encouraging.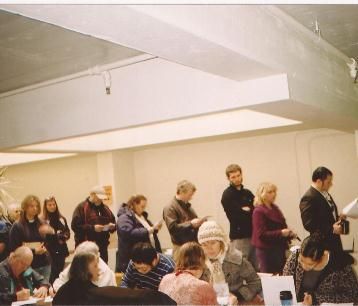 People signing in .... the GOP in 2010 instituted a loose voter ID law, where someone would come up to the registration table and be greeted with "Hello, Mark - may I see some ID?" In a place like this, it shows how foolish this is.
Felt good voting ..... then off to work ... and later on, that night: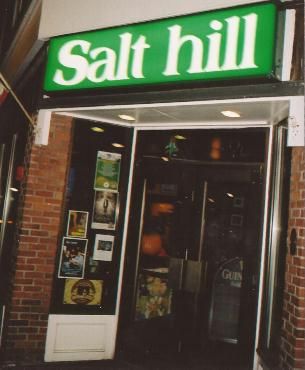 An informal session of our chapter of Drinking Liberally is to take place ..... at our local Irish pub chain.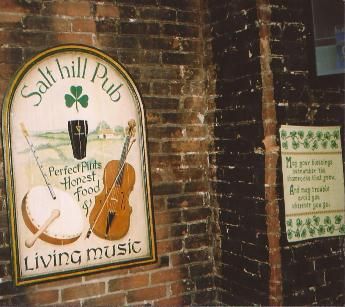 Tuesday night has traditional Irish music, but they wrapped-up early to watch the returns ...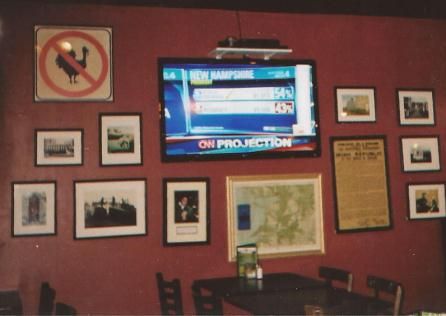 New Hampshire called for Obama ....... some definite hand-clapping. President Obama eventually won 70% of the vote in Lebanon.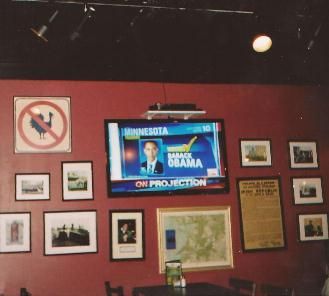 Minnesota called .... this is getting good ......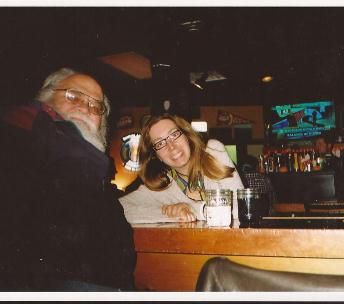 Michael and Jennifer, two of our Drinking Liberally friends.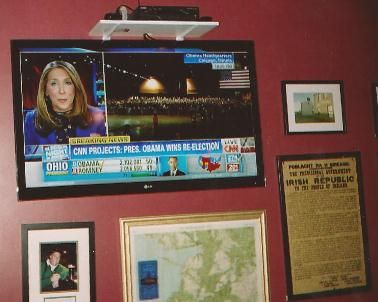 And that said it all .... we left to go home and see the rest of the returns.
A good day for us in the Granite State: the disastrous 2010 election gains by the GOP were wiped out, with Democrats re-taking the lower house of the Legislature, down only 13-11 in the Senate and with Maggie Hassan elected governor.
With victories by Carol Shea-Porter and my new congresswoman Ann Kuster winning a race she narrowly lost two years ago - we have an all-female governor/congressional delegation today. That's good ... but truth-be-told, I'd rather that Paul Hodes had been able to defeat Kelly Ayotte two years ago for the U.S. Senate. (Next time).
Now, on to Top Comments:
-------------------------------------
From blueoregon:
In the diary by therehastobeaway about how the Obama for America infrastructure can't be transferred to another campaign - I'm nominating the comment by Bob Johnson calling for a return of the 50 State Strategy - if only the party leaders would listen to us.
From
Melanie in IA:
In the diary by kirbybruno about how she feels proud to have Voted for Democrats - Mets102 reflects on us and how the vote outcome reflects us!
From
Stwriley:
In the front-page 2012 Polling Hall of Shame story, Obama Amabo likes palindromes - and has one about a venerable polling organization which may be the most apt palindrome I've ever seen, and which we should add to our lexicons.
From
bronte17
:
From Dallasdoc... see the sig line... that says it all. David and Goliath. From the diary post, POPCORN TIME!! The billionaire donors are livid by Brainwrap.

~~

And following that vein of thought of David's and Goliath's, translatorpro had an excellent comment on social responsibility in the post Take those tired memes and shove 'em by Denise Oliver Velez. It contained a link to an excellent Der Spiegel article on that topic.
From
Noddy:
Notthemayor gave the perfect short answer on why Romney lost on badkitties diary.
From
Dave in Northridge
:
Battling Maxo coins a new word to go with the new word in the title of Puddytat's diary.
From
Seneca Doane:
In Horace Boothroyd III's diary, in which a link to a story reads this way -- "Aides taking cabs home late that night got rude awakenings when they found the credit cards linked to the campaign no longer worked" -- quaoar beats everyone else to the perfect observation.
And from
Ed Tracey
, your faithful correspondent this evening ........
In the front-page-story about how Mitt Romney was shellshocked - because he was living in the bubble that is what I call Planet Starboard - distributorcap faults Karl Rove who stuck with spending billionaires' money on TV ads, not realizing "That is so Barbara Billingsley".
TOP PHOTOS
November 7, 2012
Next - enjoy jotter's wonderful PictureQuilt™ below. Just click on the picture and it will magically take you to the comment that features that photo.



(NOTE: Any missing images in the Quilt were removed because (a) they were from an unapproved source that somehow snuck through in the comments, or (b) it was an image from the DailyKos Image Library which didn't have permissions set to allow others to use it.)
And lastly: yesterday's Top Mojo - mega-mojo to the intrepid mik ...... who rescued this feature from oblivion:

1) Appreciation of justice by Dallasdoc — 548
2) What universal element of human nature causes us by HoundDog — 360
3) What ? by indycam — 345
4) Agree 100%!! by davidkc — 329
5) WTF? Top of Rec List??? by Seneca Doane — 300
6) Explanations given to Republicans by Troubadour — 294
7) Analyzing like a boss by blue aardvark — 286
8) A friend of mine posted this on her facebook page: by ruleoflaw — 267
9) But look what we stopped from happening!! by nocynicism — 243
10) Right on. by One Pissed Off Liberal — 238
11) Rove gave them hope and pocketed by Ellen Columbo — 229
12) ^This. by stunzeed — 212
13) I turned over to Fox about 9 pm by Kevvboy — 211
14) whoa by Laurence Lewis — 208
15) My reply: by xomnow — 200
16) Lost my race by 37 votes. by hazzcon — 194
17) We need to reform it anyways by Brian A — 186
18) So by kaleidescope — 180
19) Rove was a scumbag until the last minute. by Voodoo king — 178
20) He left out the most important reason by quaoar — 178
21) I know. Their defenses are down by ruscle — 177
22) ..... by InsultComicDog — 176
23) Congratulations, Mr. President! by gchaucer2 — 172
24) Hope people notice by side pocket — 171
25) After Ohio put Obama over the top in projections by concernedamerican — 166
26) The victory was gritty by Farugia — 165
27) Mitch McConnell's by A Siegel — 163
28) So, the moral of the story is this: by sunnyr — 152
29) A national group that matters... by Meteor Blades — 152
30) Actually, we owe Peggy a debt of gratitude. by tomjones — 150