Tonight as we sit in our warm little place with the wind roaring outside and snow predicted I am thinking of all those affected by Sandy.
Occupy Sandy Recovery

Occupy Sandy is a coordinated relief effort to help distribute resources & volunteers to help neighborhoods and people affected by Hurricane Sandy. We are a coalition of people & organizations who are dedicated to implementing aid and establishing hubs for neighborhood resource distribution. Members of this coalition are from Occupy Wall Street, 350.org, recovers.org, InterOccupy.net and many individual volunteers.
Thousands Homeless and More Still In Need
Its estimated that 40,000 remain homeless, thousands are without power and its cold in NYC and elsewhere in the Sandy stricken areas.
Check out this vimeo from #OWS web site.

We Got This (Occupy Sandy) from Alex Mallis on Vimeo.
What can be done?
In the short term, we kossacks can either go help out if we live close or go make donations from afar.
Great place to find info about both is

http://interoccupy.net/...
Here's a sampling of current needs:
This is our official registry for people who want to help from out of town.

Thank you! ♥

Amazon.com: Occupy Sandy and Occupy Sandy: Wedding Registry

www.amazon.com

36 minutes ago →

RT @RealtyCollectiv: Saunas and showers are open to all flood victims at the prospect park YMCA. 357 9th Street (btwn 5th and 6th Ave) i …

41 minutes ago →

Want to volunteer doing #SandyRelief in NYC? Start by filling our volunteer form: http://t.co/...

44 minutes ago →

@jenniferlstrom @NobodiesHelping @nycsandyneeds @rockawayhelp list here: http://t.co/...

46 minutes ago →

RT @claytoncubitt: A little @voltaicsystems solar unit installed at an @OccupySandy location in the Rockaways. Powers LED light at night …

55 minutes ago →

@steven_navarra can they call our hotline so we can get them what they need? 646-580-7473

56 minutes ago →

Bluegrass Second Line in Red Hook Tmrw, Sun. Nov.11 — Restore Red Hook

restoreredhook.org

Bluegrass Second Line in Red Hook Tmrw, Sun. Nov.11November 10, 2012/Jen WatsonMusic is a better noise!Put on your bluegrass shoes and grab your banjo –we'll be playing good times musics and taking to the streets to bring some happiness to our Red Hook friends and neighbors (and hopefully rai$e some…

57 minutes ago →

@tonymorabito fill out this form before you come: http://t.co/...

58 minutes ago →

@taniakaras nope you don't need a car. Fill out a volunteer form here: http://t.co/...

An hour ago →

Party of volunteers preparing care packages of food for those affected by #Sandy at the St. Jacobi hub. http://t.co/...

An hour ago →

What About Climate Change ?
It the long term we can participate in the350.org Do the Math Tour which began Nov 7 and will continue on across the USA !
Time To Join The Climate Action Cloud !
Next Friday my wife Jakkalbessie and I are taking our folding bikes on the NM Railrunner down to Albuquerque to the University of New Mexico and join the streaming party for the tour. Would love to see Naomi Klein and others in person but this will be fun as well as getting to meet other activists and help plan divestiture locally.
Climate Change Storms Hit Home And Home Hits Back
For the first time, McKibben is pushing climate-change action that identifies fossil fuel companies as the primary agents of the problem and hits them where it hurts: access to investors. Twenty-one years ago, South Africa's apartheid regime was toppled, in part because over 155 colleges and 90 U.S. cities committed to economic sanctions against the country. Looking to that model, McKibben believes that students and alumni will be able to pressure their universities into dumping their shares in fossil fuel companies, and investing their endowment money in other sectors.

On November 8, Unity College in Maine became the first to join 350.org in pledging to erase dirty energy from its portfolio.

If every student to hear McKibben helps push their university to divest, millions of dollars could quickly disappear from the coffers of dirty energy.

McKibben is addressing Americans, because, he says, the global asymmetry of climate change leaves Americans in the hot seat. Poor people worldwide are suffering from climate changes wrought by energy companies on the strength of American investments and laws. He cited the deadly cholera outbreak that has been sweeping across Haiti in the wake of Hurricane Sandy, which itself killed dozens of Haitians who, said McKibben, "have done nothing to cause this."
Bill says its serious, and he's a serious kind of guy.
"I'm a mild-mannered guy, a Methodist Sunday school teacher. Not quick to anger. So what I want to say is: This is fucked up. The time has come to get mad, and then to get busy."

Music, great speakers, ideas are all part of the Do The Math Tour
Its a great little planet for human habitation, and we should do our part to keep it that way ! Let's party, shall we!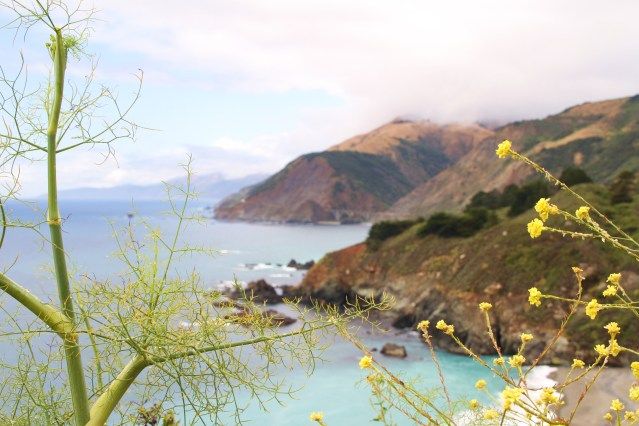 Big Sur, Spring 2012, by divineorder
5:19 PM PT: A NASA-funded climate study released Thursday said climate models that more accurately project relative humidity and cloud cover are more reliable in predicting the overall rate of change — a revelation that, disturbingly, means the planet's changing climate is fulfilling scientists' most dire predictions.
Raw Story (http://s.tt/...)

5:44 PM PT: rec up http://www.dailykos.com/...
Sat Nov 10, 2012 at 06:27 PM MST
Occupy Sandy petition to Bloomberg+*
by ActivistGuyFollow