For two Sundays in a row last month, Kossacks were treated to a front-paged review of this book and a subsequent front-paged interview with the author, who said things like this:

"Are all Southerners racist? Or ignorant? Or backward-looking? Or anti-progress? Of course not. But enough of them are, and their influence is so strong, that they are a threat to the rest of America's well-being."
So I bookmarked both diaries with the thought of revisiting them after Election Day, with the help of
The New York Times
'
election maps
.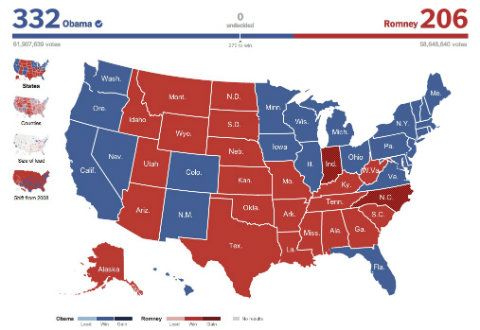 Damn. That's some red South. But follow me under the curlicue and let's get granular.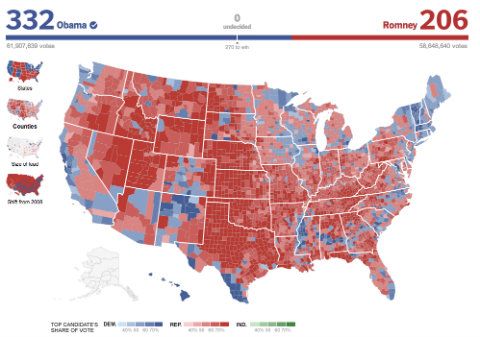 That's the same states' map, broken down this time not by binary red-blue electoral vote, but by county.
Three things leapt out at me right away:
1. The "blue" West Coast becomes a coastal sliver of blue with a red interior (the lone exception being California);
2. The South becomes awfully purplish, with a lot of light blue and light red;
3. The Midwest -- from mid-central Texas north through Oklahoma, Kansas, Nebraska, and west through Wyoming, Utah and Nevada -- damn, now that's the deep red in America 2012.
(I'm not going to suggest anything as stupid as a plan to "kick out" the Midwestern states or have them "secede" in order to fulfill some progressive fantasy -- one, because we're all in this together, and two, because I hope I'm not a douche like Chuck Thompson.)
Oh, and a fourth thing. When the author of this bilge said:

99.99 percent of southerners want nothing to do with a real secession. They just like to wave their slave state flags and talk about rising again and accuse the president of being a Muslim radical.
... he was pulling statistics straight of his ass in a most Limbaughian fashion.
Does he really think Southern African-Americans "like to wave their slave state flags"? Does he just does not see them as residents of the South?
Or does he not give a shit about tossing African-American Democrats under the bus?
Let's go further into The New York Times' map. Check out these major Southern cities and how they voted for Obama versus some of the country's most liberal cities:
Clayton County (metro Atlanta) - 84.8%
Manhattan County (Manhattan) - 84.2%
San Francisco County (San Francisco) - 83.3%
Orleans Parish (New Orleans) - 80.3%
DeKalb County (~10% Atlanta) - 77.9%
Suffolk County (Boston) - 77.6%
Multnomah County (Portland) - 75.8%
Cook County (Chicago) - 74.0%
Denver County (Denver) - 73.5%
Hinds County (Jackson, Miss.) - 72.2%
Los Angeles County (Los Angeles) 68.9%
King County (Seattle) - 68.8%
Fulton County (~90% Atlanta) - 64.2%
Travis County (Austin) - 60.2%
Harris County (Houston) - 49.4%
Some interesting anecdotal numbers there.
• The metro Atlanta suburbs and New Orleans went far more for Obama than did either Portland or Seattle.
• Clayton County, which is about 38% white, voted for Obama in percentages greater than either Manhattan or San Francisco.
• Austin, which is seen by many progressives as a bulwark of blue in the South, voted for Obama in fewer percentages -- 12%! -- than did Jackson, Mississippi.
Oh, I know, I know: But those are just the big cities! Yeah, and that's where most of the people live that Thompson is denigrating.
So: Does this mean that much of the racism, homophobia and just plain bassackwardsism that this author found in the South is just made up, or doesn't exist any more? Hell no. Take a look at this stat if you want to be depressed. And this, if you want even more depression fodder. Pile on top of that the fact that the GOP has control over many of the Southern statehouses, and it becomes as sad as one of Bobby Jindal's dinosaur evolution textbooks.
But The New York Times has one more map, and I found it the most remarkable of all: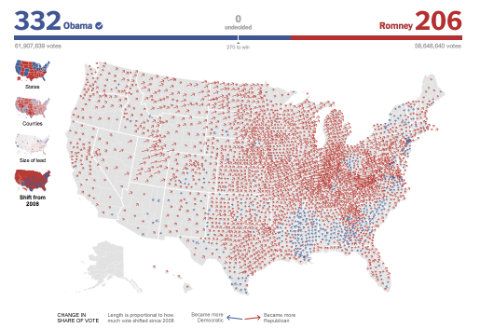 That's a graphical depiction of the demographic voting changes since the 2008 election -- which parts of the country are turning red and which ones are turning blue.
The potential should be obvious.
I'll quote the original author one more time:

"If the people presented in this book look to you like chery-picked morons, I'd say that just makes my case for me, because they represent mainstream southerners with all but two or three exceptions."
I'd suggest that the Democratic party go back to Howard Dean's 50-state strategy and start reaching out more to these non "cherry-picked morons" ... because where our smug leftist little version of Ann Coulter saw idiocy, a more canny political strategist might see opportunity to turn a red(dish) state into, at the very least, a swing state in 2016 and beyond.
--
For extra reading: I found this essay on The Root, "Is The Southern Strategy Dead?," to be fascinating, particularly the conclusion:

Old-school efforts to deny African Americans the franchise won't go unchallenged again and are by and large a failed experiment in the Obama era. Likewise, attempts to spark division and resentment among blue-collar whites is slowly proving ineffective in the key places that matter in Election 2012.



If Mitt Romney loses, it could spell the end of Jim Crow-style politics. And that may be the change we hoped for to begin with.