Portraying Nina Simone
Commentray by Black Kos Editor Denise Oliver Velez
While most of us have been caught up in the elections, and post-election news, the Afro-sphere has been caught up in a continuing controversy about blackness, cultural icons, and white control of screen casting decisions, and fuel was added to the fire when pictures were released of skin-darkened, prosthetic nose wearing Zoe Saldana who was cast to play the starring role in an un-authorizsed biopic about Nina Simone.
I am a long time fan of Nina Simone. I met her while she was still living, was inspired by her music, saw her perform live more times than I can count, have all of her recordings and use one of her songs, Four Women, in the classroom, to illustrate the oppression black women of different skintones and phenotypes have faced since the beginning of the new world slave trade.
I have nothing against Zoe Saldana (photo below). I've been happy to see her get work-many Latinas (she is Dominican-Puerto Rican) that get major roles are of the blonde blue-eyed variety. She isn't, and as an afro-latina isn't first in line for many casting decisions.
I would not accept Gloria Esteban, or Jennifer Lopez being cast as Celia Cruz. I would not accept Halle Berry cast as Sojourner Truth, Barbara Jordan or Mrs. Fannie Lou Hamer.
I didn't accept this either. There was no need to cast Nina Simone and have someone play her in "blacker-face". Where do I place the blame? Squarely in the lap of Cynthia Mort.
Nina Simone was proud to be black, with a deep lush dark skintone and curvacious figure.
India Arie Criticizes Zoe Saldana Being Cast As Nina Simone
In a message posted on NinaSimone.com, she writes, "I saw the images of Zoe Saldana as Nina Simone… and I think they are ridiculous! Yes there should be a movie made, and yes they should have chosen someone who LOOKS like Nina Simone, especially since her race played such a pivotal role in who, what and why, she was.

"That aside for a second, this just looks WEIRD, it looks like a person in Black(er) face with a fake nose… REALLY?!!!! Does not the one Nina Simone's (sic) legacy deserve better than this?…
Zoe Saldana as Nina Simone controversy intensifies
Hate Zoe as Nina Simone? Do This Instead
Pictures of Zoe Saldana transformed to resemble Nina Simone spark new discussions of coming biopic
Nina Simone's daughter speaks out on casting of Zoe Saldana in mother's biopic: 'We were ignored'
(Mis)Casting Call: The Erasure of Nina Simone's Image
Akiba Solomon, wrote this for Colorlines:
Nina Simone Biopic Casting Woes: A Personal Take

The Simone biopic's director, Cynthia Mort, is best known for writing for and producing the sitcoms Rosanne and Will & Grace and for co-writing the underwhelming 2007 Jodie Foster revenge film The Brave One. Interscope Records founder Jimmy Iovine, who co-produced the melodramatic Eminem vehicle 8 Mile and the cheesetastic 50 Cent tale Get Rich or Die Tryin', will serve as executive producer.

Mort originally cast Mary J. Blige, a popular singer with medium brown skin, narrow eyes, an aquiline nose—and limited acting skills—to play Simone. When Blige left the production due to scheduling conflicts, Mort tapped Saldana, a serviceable actress who also looks nothing like the title character.

It is not Zoe Saldana's fault that Hollywood and mass media prize light skin, straight hair, very thin female bodies and keen facial features. Nor is it Mary J. Blige's fault that filmmakers continually give movie roles to singers, rappers and television hosts who aren't strong actors. I get it: Hollywood is about maximum profits and minimum risks.

But this is Nina Simone we're talking about! Hollywood wouldn't hire Joey Fatone to play Mick Jagger. It wouldn't cast Octavia Spencer in the role of Lena Horne. But somehow Zoe Saldana gets to play Nina Simone. It's an erasure and it's unforgivable.
There is a petition at change.org:
Jimmy Iovine & Cynthia Mort: Replace Zoe Saldana with an actress who actually looks like Nina Simone
The controversy goes beyond color. It's also been about content.
Scathing Open Letter Laments Casting and Covert Tactics for Nina Simone Film

The script, written by Latin American writer and first time director Cynthia Mort, is based in a series of lies. That is our starting point. Cynthia calls this her "artistic license." Under that umbrella what Cynthia is implying is that she can pretty much do whatever the hell she wants and she doesn't have to listen to anyone. Cynthia has focused her story on Nina's relationship with her personal assistant, Clifton Henderson, himself a controversial person in Nina's life. Well before Nina's death, before talks about a movie, there were issues expressed about Clifton's intentions regarding Nina and his efforts to seemingly keep her isolated. He was around Nina for the last few years of her life. He can be seen with her in a filming of Nina's concert in Brazil in 2000, during shots of Nina being interviewed in a boat (http://vimeo.com/...).

After Nina's death, Clifton sold his story to Cynthia and that became the basis for the movie. So, a (controversial) personal assistant's relationship with Nina Simone for the very last few years of her life somehow became the focal point of the first ever Nina Simone movie. Moreover, that controversial relationship became fictionalized by Cynthia Mort by her writing the relationship as a romantic one (putting Nina in the role as sexual aggressor and as emotionally needy).

As has been stated before but is worth repeating: Clifton Henderson was a gay man. He was an out gay man. I met him at the Abyssinian Baptist Church in Harlem during Nina's memorial service. He was neither a heterosexual male nor a man that Nina Simone had any kind of romantic relationship with. This might be a forgivable "fiction" for Cynthia to slip in if not for how many other fictions and whitewashings are built around this tale. Would Cynthia Mort be pleased with someone rewriting her own history to the point where her sexuality becomes a trivialized inconvenience? It is also the first instance of Cynthia's script exploiting a marginalized identity by essentially putting "straightface" on an out gay man. This is rather curious since Mort herself is a lesbian and you'd wonder how she'd feel being rewritten as a heterosexual woman under the guise of someone else's "artistic license." Would Cynthia Mort be pleased with someone rewriting her own history to the point where her sexuality becomes a trivialized inconvenience? I guess someone would have to ask her that. I won't bother.
The power of Nina Simone went beyond jazz and vocal style.
No one who ever heard Mississippi Goddamn can ever forget it.
Nina deserves more.
And so do we.
~~~~~~~~~~~~~~~~~~~~~~~~~~~~~~~~~~~~~~~~~~~~~~~~~~~



~~~~~~~~~~~~~~~~~~~~~~~~~~~~~~~~~~~~~~~~~~~~~~~~~~~
Data-mapping experts from the Floating Sheep blog mapped geo-located Tweets that contained hate speech and were made after President Barack Obama was re-elected late Tuesday night. ColorLines: Map Shows You Where Those Racists Tweeting After Obama Election Live.
~~~~~~~~~~~~~~~~~~~~~~~~~~~~~~~~~~~~~~~~~~~~~~~~~~~
The analysis collected tweets that contained the text "monkey" or "nigger" AND also contain the text "Obama" OR "reelected" OR "won".
So what state had the most racist tweets? Mississippi and Alabama came in first place. Georgia, Louisiana, and Tennessee trailing them behind.
Rhode Island had no hate tweets that Floating Sheep could identify.
Here's an excerpt from a Floating Sheep post that explains the methodology:

Using DOLLY we collected all the geocoded tweets from the last week (beginning November 1) with racist terms that also reference the election in order to understand how these everyday acts of explicit racism are spatially distributed. Given the nature of these search terms, we've buried the details at the bottom of this post in a footnote [1].

Given our interest in the geography of information we wanted to see how this type of hate speech overlaid on physical space. To do this we aggregated the 395 hate tweets to the state level and then normalized them by comparing them to the total number of geocoded tweets coming out of that state in the same time period [2]. We used a location quotient inspired measure (LQ) that indicates each state's share of election hate speech tweet relative to its total number of tweets.[3] A score of 1.0 indicates that a state has relatively the same number of hate speech tweets as its total number of tweets. Scores above 1.0 indicate that hate speech is more prevalent than all tweets, suggesting that the state's "twitterspace" contains more racists post-election tweets than the norm.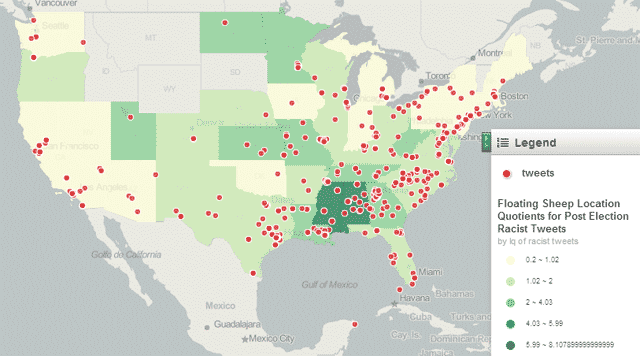 (Floatingsheep.org)
~~~~~~~~~~~~~~~~~~~~~~~~~~~~~~~~~~~~~~~~~~~~~~~~
The big question the 2012 election poses. Colorlines: Is This the End of the Southern Strategy, or Its Entrenchment?
~~~~~~~~~~~~~~~~~~~~~~~~~~~~~~~~~~~~~~~~~~~~~~~~
Republicans are feeling kind of bad about being white. Not in the white guilt sort of way, but because they're realizing that being so white ushered in a loss against a candidate with a broad multiracial majority. Liberal pundits are declaring Mitt Romney's failure the final nail in the coffin of the Southern Strategy, the Republican Party's 40-year effort to use anti-black and more recently anti-brown racism to gather enough white votes to win. There's a seeming consensus that it's less and less possible to win an election when, as Slate's Tom Scocca calculated, 88 percent of your candidate's votes come from a population that's a rapidly shrinking as a proportion of the electorate.
But there's a different story worth telling about the Southern Strategy that's not about its immediate death. Though the strategy of appealing to white voters' fears of federal intrusion into their local power failed to get Romney elected to the White House—no number of thinly veiled welfare slanders or comments about self-deportation could garner the pure mass of white votes he needed—in the states below the Mason-Dixon line, the old Southern Strategy still worked just as it was conceived. In as much as the strategy is still about coalescing the region that stretches from Baltimore to El Paso, Republicans on Tuesday may have logged historic wins, victories that even four years ago seemed out of reach.
In the South, Republicans swept state legislatures and governors mansions on Nov. 6 and provided Romney with his strongest base of support. In two Southern states in particular, Arkansas and North Carolina, the GOP secured wins that a couple years ago were firmly in Democratic hands.
Arkansas has long been something of a southern outlier. At the state legislative level, Arkansas has consistently bucked regional trends, voting for solid Democratic majorities for nearly all its history. But recently, that's begun to change. In 2010, Republicans made massive gains in the legislature. And on Tuesday, for the first time since Reconstruction, the GOP wrestled control of the Arkansas House and Senate. After never breaking more than 30 percent of the legislature before 2010, Arkansas Republicans now control 21 of 35 Senate seats and 51 of 100 seats in the House.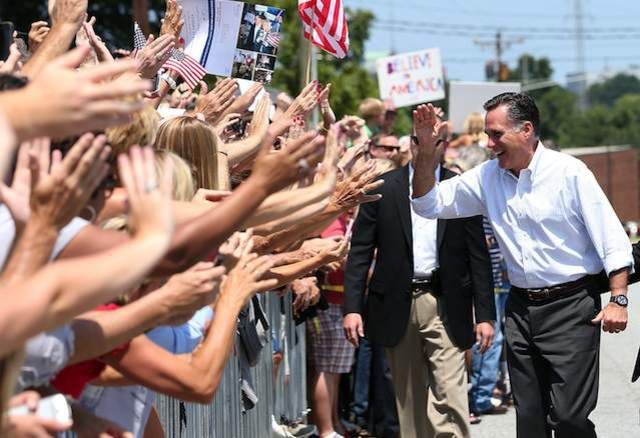 GOP presidential candidate Mitt Romney greets supporters at an August 2012 rally in High Point, North Carolina. Photo: Justin Sullivan/Getty Images


~~~~~~~~~~~~~~~~~~~~~~~~~~~~~~~~~~~~~~~~~~~~~~~~~~~



~~~~~~~~~~~~~~~~~~~~~~~~~~~~~~~~~~~~~~~~~~~~~~~~~~~
The usual story about African development over the last few decades is, simply, that it hasn't developed. BusinessWeek: What Rising TV Ownership Reveals About Africa's Future.
~~~~~~~~~~~~~~~~~~~~~~~~~~~~~~~~~~~~~~~~~~~~~~~~~~
The usual story about African development over the last few decades is, simply, that it hasn't developed. It is a region mired in permanent poverty—destined by geography or disease burden or corruption or ethnic division to everlasting misery. That story should be placed in the fiction aisle. Quality-of-life measures have been improving for decades across the continent, more recently followed by official measures of economic output in a number of countries. And recent analysis of survey evidence suggests that households across the region have become far wealthier than even those improving official output statistics would suggest.
It is true that some parts of Africa—Liberia and the Democratic Republic of the Congo—remain as poor as Gaul in the time of Caesar, according to official statistics. But quality of life has been improving in leaps and bounds: Senegal cut its child mortality rate from 12.1 percent to 7.2 percent in the five years leading up to 2010, for example. Across the region, countries are edging toward 100 percent primary school enrollment rates. More and more boys and girls alike are getting access to basic literacy and numeracy. Perhaps connected to these trends, more African countries are at last starting to report rapid gross domestic product growth. Six out of the 10 fastest-growing countries in the world at this moment are in Africa.
Even those statistics may underplay dramatic improvements in economic well-being across the continent. Alwyn Young of the London School of Economics looks at evidence on consumption from household surveys across Africa over the past 20 years, measuring ownership of such goods as radios, televisions, refrigerators, cars, and telephones, alongside schooling and the division of women's time between child rearing and income-earning and health outcomes. He concludes that household consumption in the region has been growing from 3.4 percent to 3.7 percent per annum over the last couple of decades, compared to the 0.9 percent to 1.1 percent suggested by income statistics. He finds a very similar level of growth of consumption goods in non Sub-Saharan countries–but of course, these countries by and large have grown faster, according to traditional GDP-per capita measures.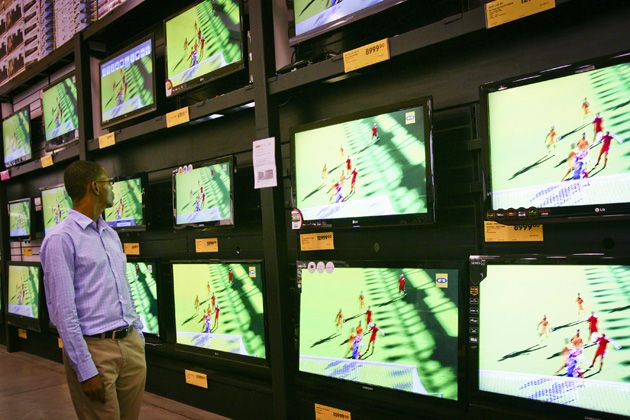 Photograph by Nadine Hutton/Bloomberg
A shopper views televisions for sale at a Makro store in Johannesburg


~~~~~~~~~~~~~~~~~~~~~~~~~~~~~~~~~~~~~~~~~~~~~~~~~~~


~~~~~~~~~~~~~~~~~~~~~~~~~~~~~~~~~~~~~~~~~~~~~~~~~~~
Deliberate and Afraid of Nothing. Clutch: How Black LGBT Women Become Visible.
~~~~~~~~~~~~~~~~~~~~~~~~~~~~~~~~~~~~~~~~~~~~~~~~~~
Imagine having two homes and not being welcomed in either one. That is undoubtedly how Black LGBT ( lesbian, gay, bisexual, and transgendered) women feel in American society. The Black community calls them sinners. The gay community ignores Black women except when they're funny like Wanda Sykes. Black women have always found a way to overcome racism, sexism, and homophobia to be their authentic selves.
Black lesbians have been a part of America since its founding, from Black women who fought as men in the civil war to Congresswomen like Barbara Jordan. Poets such as Audre Lorde and Nikki Giovanni have proudly written about their identities and poet Stacyann Chin continues in that tradition. Chin bravely speaks out for gay rights in America and her native Jamaica, where homosexuality is against the law. Chin speaks about the narrow definitions of gender and the traps that put Black women in throughout her poem, " Feminist or Womanist'' : "Girls who are only straight at night, hardcore butches be sporting dresses between 9 & 6 every day. Sometimes she is a he, trapped by the limitations of our imaginations''. In her poetry and through her activism, Chin gives voice to ignored Black LGBT women.
Black trans women have also become more visible despite heavy criticism. Magazine editor Janet Mock came out as trans this year and detailed the pain of being different in a conservative family that disapproved. She noted that she always felt different and her outside now finally matches how she felt inside. Mock also felt the need to come out to counter the stories of gay teens who killed themselves. Transgriot blogger Monica Roberts also speaks out for trans rights. She fights against the " transploitation'' of Black trans women often shown on trashy talk shows like Jerry Springer.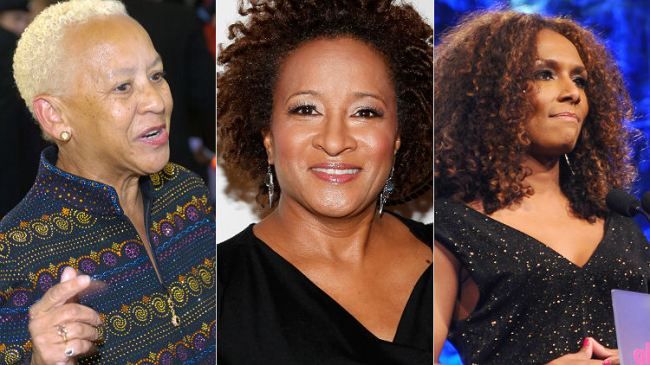 Nikki Giovani, Wanda Sykes and Janet Mock. (Photos: Getty Images)


~~~~~~~~~~~~~~~~~~~~~~~~~~~~~~~~~~~~~~~~~~~~~~~~~~~~~~~~~~
Voices and Soul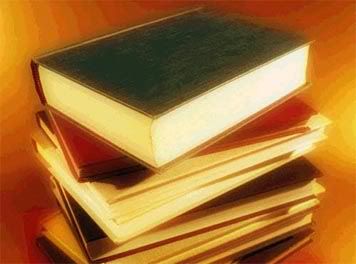 by Justice Putnam
Black Kos Poetry Editor
Much has been written about Gwendolyn Brooks' poem, The Ballad of Rudolph Reed. It has been speculated that Brooks was condemning the reaction Reed took to the injury of his daughter by racists in his new neighborhood; that he was at fault for moving into a white enclave he should have been wise enough to avoid. Others have speculated that she was advocating his reaction and that he was justified in spite of the tragedies that followed.
Still others state that she was simply recording the facts.
I say it is none of these. I say that Brooks is showing that reactions never arise out of a vacuum; that for every action, there is indeed, a reaction. Whether the actions and/ or reactions are justified, is up for the reader to conclude.
What is certain is that a man and woman have a breaking point, no matter how oaken they may be; that a man and woman can only be pushed so far.
What is certain is that tragedy upon tragedy has been perpetuated on the Black in America; and any reaction, whether rioting in the streets or taking vengeance on the perpetrators of hate, arises not out of one instance that set the world ablaze; but many instances. What is certain is that few will remember or care what caused the reaction, save for those who reacted; and no bandage after the fact will lessen the pain of the tragedies that occurred; and are sadly, bound to occur later.
The Ballad of Rudolph Reed

Rudolph Reed was oaken.
His wife was oaken too.
And his two good girls and his good little man
Oakened as they grew.

"I am not hungry for berries.
I am not hungry for bread.
But hungry hungry for a house
Where at night a man in bed

"May never hear the plaster
Stir as if in pain.
May never hear the roaches
Falling like fat rain.

"Where never wife and children need
Go blinking through the gloom.
Where every room of many rooms
Will be full of room.

"Oh my home may have its east or west
Or north or south behind it.
All I know is I shall know it,
And fight for it when I find it."

The agent's steep and steady stare
Corroded to a grin.
Why you black old, tough old hell of a man,
Move your family in!

Nary a grin grinned Rudolph Reed,
Nary a curse cursed he,
But moved in his House. With his dark little wife,
And his dark little children three.

A neighbor would look, with a yawning eye
That squeezed into a slit.
But the Rudolph Reeds and children three
Were too joyous to notice it.

For were they not firm in a home of their own
With windows everywhere
And a beautiful banistered stair
And a front yard for flowers and a back for grass?

The first night, a rock, big as two fists.
The second, a rock big as three.
But nary a curse cursed Rudolph Reed.
(Though oaken as man could be.)

The third night, a silvery ring of glass.
Patience arched to endure,
But he looked, and lo! small Mabel's blood
Was staining her gaze so pure.

Then up did rise our Rudolph Reed
And pressed the hand of his wife,
And went to the door with a thirty-four
And a beastly butcher knife.

He ran like a mad thing into the night
And the words in his mouth were stinking.
By the time he had hurt his first white man
He was no longer thinking.

By the time he had hurt his fourth white man
Rudolph Reed was dead.
His neighbors gathered and kicked his corpse.
"Nigger--" his neighbors said.

Small Mabel whimpered all night long,
For calling herself the cause.
Her oak-eyed mother did no thing
But change the bloody gauze.

-- Gwendolyn Brooks
~~~~~~~~~~~~~~~~~~~~~~~~~~~~~~~~~~~~~~~~~~~~~~~~~~~~~~~~~~
Welcome to the Front Porch