Whew, what a ride this election season was, steeped high with much fear and loathing about our Dem Party values .....
Look, even kos was worried about Social Security after the first debate:
You see, Republicans want to destroy Social Security, and Democrats want to ... destroy it a little less? God, I hope not. But that's the Obama people got last week.
The election is over, thank god, and Democrats won big. Yeah we did not take back the House and are unlikely to be able to for the forseeable future because of redistricting, especially if we don't transform
redistricting,
stay third way and don't get back to our New Deal roots.

Fiscal Cliff? Nah
As Krugman and others argue there is really nothing to get that excited about, their really is no fiscal cliff. Still, many have been worried that corporatist leaders in our Party would use it as screen to cut the safety net.
Huffpo
The Fiscal Cliff and America's Schizophrenia

SNIP
The Fiscal Cliff and America's Schizophrenia
Of course, the truth is that while most economists (though not all), including Krugman, believe that deficits are a long-term issue, there is no coherent way to argue that we urgently needed a deficit-reduction deal last year but now face a catastrophe if deficit reduction actually kicks in. Yes, we can argue about the shape of deficit reduction -- whether the mix of spending cuts and tax increases should be different from that which now prevails. But those sorts of fine-grained analyses do not plausibly explain why so many of the same people now panicking about the fiscal cliff were adamantly in favor of substantial deficit reduction 15 months ago. The truth is that, as every Republican president in the modern era has acknowledged de facto, when times are tough, it's better for the government to engage in deficit spending than to choke off a recovery. In other words, ideology aside, when it comes to governing, the famous Milton Friedman phrase attributed to President Nixon 40 years ago remains true -- 'we're all Keynesians now.'

The Raiders of Our Lost Retirement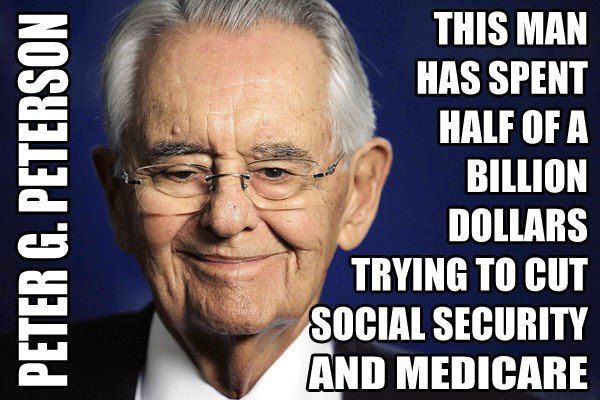 But here the 1%ers go again, still after our retirement, trying to put more of us in poverty, raise the age, limit cost of living for the elderly, cut Medicare benefits. And they have apparently convinced some in Congress who call themselves Democrats to take part in the raid. Peterson, Catfooders and others are out for blood, our blood, and they have a pr campaign funding with millions to make that so.
How Can We Fight That? Will We?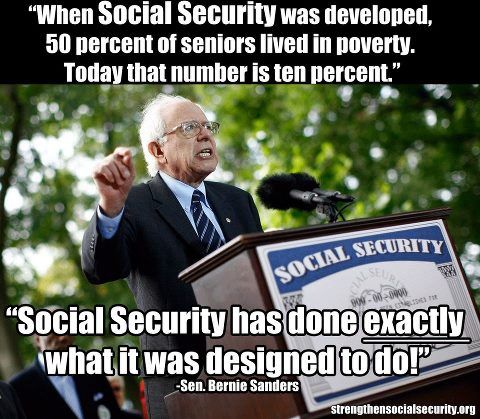 Facebook
People. Grassroots Action. Calls. Letters to Editors. Netroots Action.
Together We Can ?
Reassuring words today from labor leaders after their meeting with the Pres:
Labor heads say Obama backs them on 'fiscal cliff'
KEN THOMAS, Associated Press
Updated 12:06 p.m., Tuesday, November 13, 2012

Read more: http://www.sfgate.com/...
SNIP
The heads of several labor unions and Democratic-leaning interest groups emerged from an hour-long meeting with Obama saying they were united with the president on how to avert the so-called "fiscal cliff" and prevent more financial hardships next year.

"We are very, very committed to making sure that the middle class and workers don't end up paying the tab for a party that we didn't get to go to and the president is committed to that as well," said AFL-CIO president Richard Trumka.

Labor leaders said they plan to mobilize their members in the coming weeks to press Republicans to support the extension of tax cuts for middle income families. Mary Kay Henry, president of the Service Employees International Union, said labor needs to remain "as engaged as we were in the election throughout the rest of this year to make sure we get the Republican House to say yes to tax cuts for the middle class."

According to participants, White House aides said the president intends to hold campaign-style events across the country after Thanksgiving to drum up support for his proposed solution to the fiscal cliff. It would build upon more than 100 rallies organized by labor unions last week urging members of Congress to avoid cuts to entitlement programs.

Obama was kicking off a series of meetings this week with labor officials, business executives and congressional leaders aimed at finding consensus on the fiscal cliff. The week will include a tone-setting news conference Wednesday that will give the president the chance to frame his outlook on the year-ending lame duck session.

Read more: http://www.sfgate.com/...
In 2008 many sat back and waited for change. What about this new term?

Will we prevail on saving our safety net?
Will we get the jobs we need, get the changes required by climate change, end the wars and the extra judicial killing fail?
Saw this morning, via Truthout, that Chris Hedges says no:
The Presidential Election Exposed, Again, the Death of the Liberal Class
Monday, 12 November 2012 11:00 By Chris Hedges, Truthdig | Op-Ed
SNIP
Liberals have assured us that after the election they will build a movement to hold the president accountable—although how or when or what this movement will look like they cannot say. They didn't hold him accountable during his first term. They won't during his second. They have played their appointed roles in the bankrupt political theater that passes for electoral politics. They have wrung their hands, sung like a Greek chorus about the evils of the perfidious opponent, assured us that there is no other viable option, and now they will exit the stage. They will carp and whine in the wings until they are trotted out again to assume their role in the next political propaganda campaign of disempowerment and fear. They will, in the meantime, become the butt of ridicule and derision by the very politicians they supported.
Though I share some of that assessment, I am more optimistic than Hedges. Especially after seeing that organized labor has decided to kick butt and take names with the 100 city action: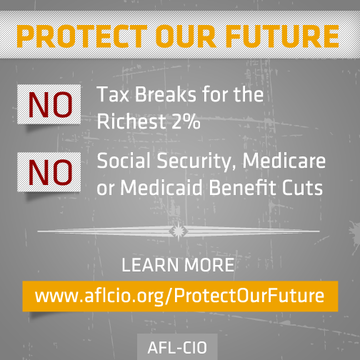 AFL-CIO Now

We Have Eight Weeks to Protect Social Security, Medicare and Medicaid
http://www.aflcio.org/...
What should Congress do? The most important two things are:

1. Congress should let the Bush tax cuts expire for the wealthiest 2% of Americans.

2. Congress must make no cuts to Social Security, Medicare or Medicaid benefits.

Sign the petition: http://act.aflcio.org/...

Across the country Nov. 8, working people are joining events to spread this message. Find one near you:

http://local.americawantstowork.org/....

We need to send a clear message why we must protect the promise of Social Security, Medicare and Medicaid.

Share your story why Social Security, Medicare and Medicaid are important to you.
Sounds like a plan. Some, like organized labor, will fight through traditional channels .
Others, like Hedges have given up on the current political process and will work outside the system for a better way.
Just LOVE how #OWS and 350.org are doing just this: Strike Debt, Occupy Sandy,Do The Math Tour.......
For me its all good, and I am doing both. My 83 year old mother depends on SS and Medicare. My brother and his son and daughter in law don't have insurance. Millions don't have jobs. In his acceptance speech Obama said we all must stay involved, make things happen.....

What ideas to do you have?
Have you given up?
If not, what action will you take?
Comments appreciated!