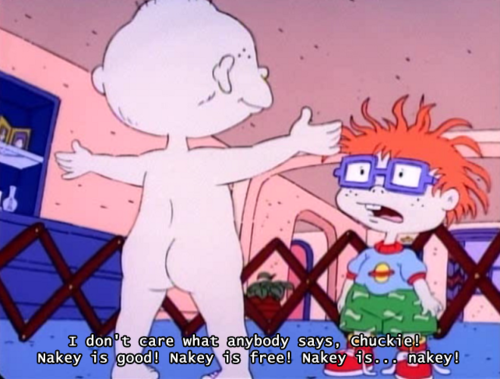 KosAbility is a community diary series posted at 5 PM ET every Sunday and Wednesday by volunteer diarists. This is a gathering place for people who are living with disabilities, who love someone with a disability, or who want to know more about the issues surrounding this topic. There are two parts to each diary. First, a volunteer diarist will offer their specific knowledge and insight about a topic they know intimately. Then, readers are invited to comment on what they've read and/or ask general questions about disabilities share something they've learned, tell bad jokes, post photos, or rage about the unfairness of their situation. Our only rule is to be kind; trolls will be spayed or neutered.
[chuckle]
I'll admit that right now, for many the thought of me "nakey" makes them shudder.
It's been a couple decades, 6 pregnancies, 4 children, and many chronic illnesses (some debilitating) since I could pull that look off. ---->
That's me at 18 or 19 at a local Science Fiction "convention" (more a gathering) in a Star Trek type costume. It's supposed to be a sexy assassin/body guard, the kind Capt. James Tiberius Kirk would find irresistible and want to ravish.
[sigh]
Along time ago. ;-)
I'm working on getting somewhat back there now, dieting. Putting pics of dresses I'd like to wear one day on the refrigerator. Gawd look at my knees! This must have been before I wrecked the right one on the slopes at Keystone. And part of that costume is from my "war" costume for the figure skating show I had been in. Look at those legs and the waist -- jeebus I had a waist!

WARNING: Daily limit of tangential musings has been reached.
[sigh]
I didn't start out being a part time "nudist." No, really I didn't, that honor goes to my sister. Who as a pre-kindergartner would wait until our Mom's back was turned when was getting the bath ready and bolt out of the front door in all her glory.
LOL, I'm not sure that in 1968 the old folks on our block were more amused than shocked.
But she paled in comparison to one of my own sons, who did the exact same thing (a couple times). I'd remove his clothes, turn to check the temp of the water in the bath and he'd be out the front door and down the block and around the corner in no time flat. (I sent his siblings out after him)




OVERLOAD WARNING:
Daily limit of tangential musings EXCEEDED.
.
I didn't start out with fibromyalagia either. And because of that things like clothes can cause me pain.
Allodynia: Skin Sensitivity from Fibromyalgia
"Ouch, My Clothes Are Attacking Me!"

Allodynia, skin sensitivity is one more pain trigger that contributes to the vast cluster of Fibromyalgia Syndrome. The first time I told my husband, "Ouch, my clothes are attacking me," he got that confused look on his face.

To the observer, Fibromyalgia is a confusing disease because while the person experiences no visual signs of suffering, they exist in chronic pain. And, yes even our clothes can hurt us.

- barbara, Fibroetc.freeforums.org
I alluded to some of this in my diary,
KosAbility: I should be freaking Wonder Woman by now
. . .Then my hands began to hurt, my hands and feet tingled, my skin would "hurt" all over (I call it "skin exhaustion" because that's the closest I can come to explaining the sensation to others; how one feels when totally exhausted, except applied solely to the skin). . .
Skin is the largest organ of your body. It covers you, in your entirety. Now imagine it hurts. That means you hurt, in your entirety.
Many of us who have fibromyalgia also have allodynia.

Allodynia (Ancient Greek άλλος állos "other" and οδύνη odúnē "pain") is a pain due to a stimulus which does not normally provoke pain.[1] Temperature or physical stimuli can provoke allodynia, and it often occurs after injury to a site. Allodynia is different from hyperalgesia, an extreme, exaggerated reaction to a stimulus which is normally painful.
-wikipedia
Clothing can hurt, especially if it's tight. Even the waistband of your pants or skirt. Which is probably why I so love the looseness of a shelwar kameez from my husband's country.
Shelwar ('shil-var") = pants. Kameez = long tunic/shirt.
It's loose, comfortable and still really looks nice
.
There are days when the first thing you want to do is come home and rip off all your clothes. Not because there is someone nice waiting for you, but because every single thread seems to be causing you pain.
This was the case last Sunday after the New England Kossack Meet Up. As I getting to the highway to go home, my skin let me know it was at it's limit with my socks and that time was UP! I couldn't get out of them fast enough.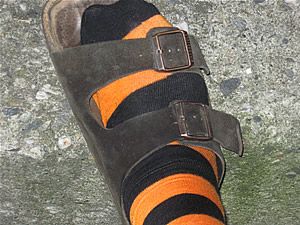 By the end of the 2 hour drive home, my skin wanted EVERYTHING off. But my socks and my bra were the only things I could do. Plus I didn't want to have to explain to my husband why I was arriving home from the meet up, happy, sans clothes.

Much of a woman's wardrobe can be painful for those with allodynia. Bras can become painful in seconds, forget 18 hours.
Nylons? Forgeddaaboutit. It you need them for a look, consider getting a spray tan.
Cotton and silk, soft natural, breathable fibers are sought out.
But it is also different between suffers. Where barbara at Fibroetc.freeforums.org suggests cotton granny panties, I find that the elastic on legs is too binding and pain causing. But I live in cotton/lycra spandex bike shorts (plus they also keep my pants from rubbing on my tighs, creating even more pain).
Often on the heals of the allodynia comes miliaria rubra also known as "prickly heat" (heat rash). So even after you get the offending piece of clothing off your body, it may have been irritated enough to produce a burning rash to keep you company for a while.
Clothing tags can be a catalyst to the string of events, especially the stiff ones or the ones that feel like paper. They are often removed upon purchase.
The worst or best way (depending on how you look at this) of allodynia manifesting itself is at night, when one would like to sleep.
One of the neat things about social media is learning that you are not alone. I thought it was "strange" that I really hated wearing anything (nighty, pajamas) to bed. It was more than a personal choice to/for me. Wearing any clothing was(is) something I actively avoided and hated because it meant that sometime during the night it would become so unbearably painful, especially if it twisted, that I would wake anxious and in pain. And I couldn't get the offending shirt/nighty/etc. off fast enough.
So, in my own bedroom, I generally don't put myself through the exercise that will end horribly.
I learned through discussions on social media that I am not the only one. Many of us avoid clothing in bed, but not only that, we all have been on quests to find the best, softest sheets.
While the highest thread count is often the best (though not always, I have a high thread count sheet that is stiff and rough), and egyptian cotton "wonderful," my happy place is a step further. I purchase only cotton sateen sheets for my bed.

Sateen

Sateen, not to be confused with satin,[1][2] is a type of fabric often found in bed sheets.

Sateen is a term usually applied to cotton, or sometimes rayon. Better qualities are mercerized to give a higher sheen. Some are only calendered to produce the sheen but this disappears with washing and is not considered genuine sateen. Sateen may be bleached, dyed, or printed. It is difficult to make good bound buttonholes on it as it has a tendency to slip at the seams.

Sateen produces the sheen and softer feel through the use of a different structure in the weaving process. The sateen structure is four over, one under, placing the most threads on the surface, making it extremely soft, though slightly less durable than other weaves. Standard non-sateen weaves use a one-over, one-under structure. Satin also uses this structure; however, materials such as silk, polyester, etc., are used instead of cotton. Sateen was also used for Vintage dress shirts and other Vintage type clothes.
-wikipedia
The nice thing about sateen is that if you are on a budget, you can still get soft sateen sheets without having to go to the extremely expensive sheets.
There is nothing like the calming effect to the pain I feel than to lie nakey on a cool sateen sheet.