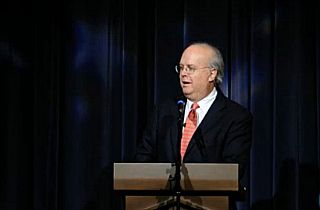 Karl Rove just doesn't know when to stop digging holes for himself. In his marathon of trying to blame anyone but himself, a poor candidate, or regressive Republican policies, he is now blaming "butt-ugly" Republican primaries for Mitt Romney's loss. The first of three reports I found about Karl Rove's Speech at the Northwest Pennsylvania Collegiate Academy, in Erie Pennsylvania, Wednesday night, comes from USA Today, where Rove described the first of five stages of this election as an excessively long GOP primary:

"Mitt Romney had what I scientifically call a butt-ugly primary," ... One example: "Way too many debates," he said about the 20 televised faceoffs during the GOP primaries. The primary season focused a lot on differences among the candidates on social issues and not enough on the economy, Rove said.

"That was absolutely nuts, it opened us up to gaffes and to material that could be used against us in the general, and we were fighting these debates for a year, and the incumbent just sat back and laughed," Romney said, according to ABC News.

John Guerriero, of the Erie Times-News
reports on how Rove views the remaining stages:
Another key moment was the Obama campaign's decision to spend 20 percent of its total budget on television ads from May 15-Aug. 31, and then into the fall, to try to disqualify Romney for the presidency. ...

The Republican convention was another important moment. "The Republicans had a good convention, and we needed a great convention,'' Rove said. The Democrats, meanwhile, had a great convention in large part due to former President Bill Clinton's speech, he said.
Rove sees Romney's performance in the first debate as the start of the forth stage allowing him to gain the lead, which was broken, in Rove's view by the "October" surprise of Hurricane Sandy, which started the fifth stage, giving President Obama a chance to look "presidential and bipartisan," a situation "made worse" by unfortunate comments by Republican Governor Chris Christie.
Rove is quoted saying that having the conventions in August may have made sense long ago, but now hold up Federal matching funds so predicts future conventions as early as June.

Karl Rove has learned some valuable lessons:

In the era of Twitter, YouTube and cable, a candidate must respond to attacks, Rove said. "You need to respond, set the record straight and bend the argument back to your narrative,'' he said.

Republicans also need to improve their ground game everywhere because safe states can become swing states, and register more voters, he said.

Mediate reports different "parts" of the same speech, both literally, and figuratively:

Rove's use of the phrase "butt-ugly" is one of a slew of recent scatological and/or gluteal phrases major Republicans have used while describing Romney's defeat. On Monday, Grover Norquist told CBS that Obama won by successfully painting Romney as a "poopy head." This morning, former Mississippi Gov. Haley Barbour said the GOP needs to undergo a "proctology exam."

Continuing the post-election Republican streak of using buttocks-related phrases to describe the party's electoral defeat, GOP strategist and Fox News analyst Karl Rove said Wednesday night that Mitt Romney lost thanks in part to a "butt-ugly" GOP primary campaign that helped paint him in an "unfavorable light" for the actual presidential campaign season.

John Guerriero, the same reporter from the Erie Times-News just reported what is advertised as the refutation of Rove speech by Norman Ornstein, which I have not had time to read, but I have a car full of people waiting so I have to run. I'll be back in an hour to better organize what it in here. Ornstein tells why Obama won in Erie speech

His latest political book, written with Thomas Mann, is called "It's Even Worse Than It Looks.''

He said Republicans face a gender gap with women who make up more of the electorate than men, an age gap with more younger voters supporting Obama, and a marriage gap with a growing number of people being single -- whether by choice or not. ...

Many Asian Americans are professionals and "upwardly mobile,'' he said, which sounds like a natural fit for the Republican Party. But most Asian Americans are not Christian, so a Christian-leaning message about America from the GOP did not resonate well with them, he said.

Exit polls showed that Democrats won at least 71 percent of the Hispanic vote, and even more troubling for the GOP is that Cuban Americans are "moving in a Democratic direction,'' he said. Cuban Americans have historically voted Republican.

Sorry to run, but I'll be back.