Good Morning all, this is the Saturday Morning Home Repair Blog, where the Daily Kos community comes together to discuss our building projects, ask questions and just generally shoot the shit.
Our experienced staff of experts stands ready to answer questions, ask the right ones and generally help you out in any way.
OK, folks, its time for the monthly Whats exlrrp Up to NOW?! blog.
When last I left you I was working on the stairs in the atrium.
now this atrium I speak of could also be called a iarge hall. All the bedrooms on the 2d floor open on to it (except mrs exlrrps bedroom but she has her own wing.) I call it an atrium because I don't know what else to call it. Don't confuse it with an aviary.
So I put together a little cabinet under the stairs, nothing spectacular, just some alcoves for the micro wave and minifridge. This is exlrrps wing and we are settling in after almost 8 years here.
It went from this:


to this: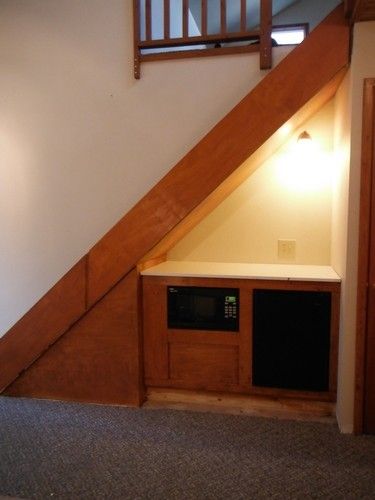 So then I started putting in the baseboard. This was a challenge because I had to cut the carpet and pull up the tack strip as I went long so as not to continue tha Stupid.
It was good unstupiding some of the more HaHaHa of things like this: I hate it when people come into my house and start laughing. Things like this are how you KNOW this guy had never done this before. (You know, people, you can learn a lot just by looking at your house or other people's houses and seeing how its SPOZED to be)
changing it to the more skilled looking form: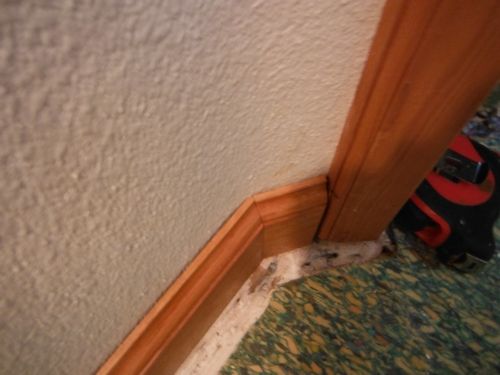 some of the new baseboard showing how I had to cut away the rug and take the tack strip out. You install the new baseboard a fat 1/2" up (use spacers_ so the carpet installers can slide the edge of the carpet underneath;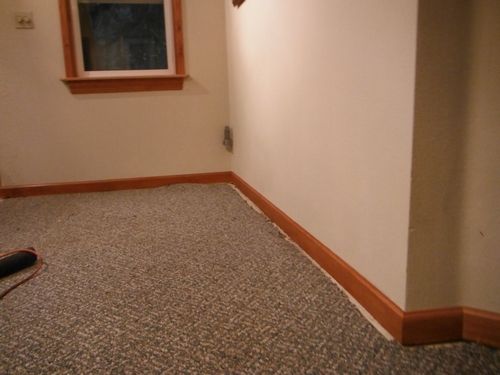 here's that window in the back of the last picture. I'm re=doing all the windows, a Sisyphean task. (i can see you scrambling to look that up)

Now I wish I had got more done this last---what?--month? but I was so fretted and worried up over the 'lection, I could hardly hold a sawzall. And I NEEDED to hold a sawzall, as usual, and a catspaw too because I had to start remodeling before I finished the project. I originally was going to just have this space have cabinet doors there on the bottom but that inset bookshelf concept worked so good in the other room, this space was just begging it. This bookshelf is for the BIG art books I have. there will be a futon in front of it.
From this:

to this:

Didn't quite finish the baseboard there. its the only place left lacking baseboard in the atrium. Oh well, more to do later.
This shot shows the other window I rebuilt. this means that all the doors and windows opening into the atrium have been redone with completely new trim, some of it homemade. there's still 6 windows to do up in the two lofts and all new baseboard to do in all the bedrooms. And plenty more windows in the bedrooms. And then there's the first floor.. ( when I say Sisyphean I MEAN Sisyphean, dammit!)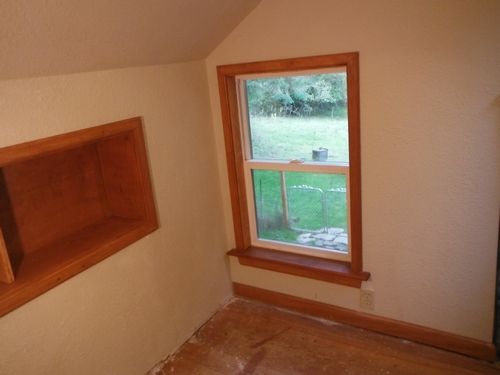 So, what are YOU working on?? Trot it on out, the rest of us want to see.