DK Quilt Guild: A place for quilters to gather, share ideas, projects, and to make the world a better place, one quilt at a time. Join us and share your thoughts, projects, questions, and tips. Quilters here are at many different levels of skill. Beginners and non-quilters are welcome, too!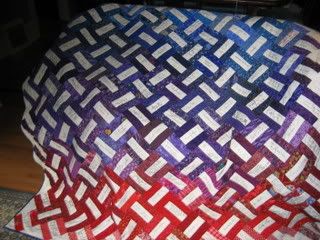 "From Red to Blue", designed by Aunt Arctic, constructed by me and my sister
Do you label your finished quilts? Mine are not usually as fancy like this. Most often, I write information about the quilt with a Micron pen on a simple square of muslin. I heat set it an and applique it to the lower right corner of the back of a quilt. I generally put:
Title
If it was commissioned by someone for someone, their names
The name of the maker (me, sometimes with Ann), completed in Portland, OR, date
Contents (cotton fabric, type of batting)
Care instructions
And sometimes I put a little personal message under all that.
How do you make your labels and what do you put on them? There's a million ways to label a quilt! Some of them are as decorative as the quilt, itself.
On another topic, is anyone interested in getting together with one another for a sewing party (the old fashioned Quilting Bee)? Ann and I would be happy to host a get together at our house for those quilters in the Portland, OR area. We have enough room on our dining room table for a couple of sewing machines -- and there is plenty of room for people to sit for hand sewing or for tying quilts. This might be a fun way to knock out a few wheelchair quilts for the Palo Alto VA. We can have snacks and coffee or tea, and just hang out together while we stitch.
Non-sewers could be put to work with quilt tying or basting or just visiting -- and they might just catch the quilting bug. It's been known to happen!
I'm thinking a weekend day sometime after Christmas would be good -- if there is any interest, please let me know.
If there is interest in meeting in other locales, all the better!
The DK Quilt Guild has several cool quilt service projects that support our Veterans, Okiciyap Food Pantry, and NFTT Community. Each project will be promoted within Daily Kos Quilt Guild Diaries. If anyone is interested & need more info please contact either SaraR (Veteran Wheelchair Quilts), glorificus or Melanie in IA (Okiciyap Block & NFTT Community Block).
Would you like to write a future DK Quilt Guild diary? Please join in!

The schedule:

11/25 -- Melanie in IA
12/02 -- leu2500
12/09 -- Open
12/16 -- Open
12/23 -- mayim
12/30 -- Open