Cross-posted in Immizen.com
The National Journal has an excellent interactive feature that introduces all the new members of the 113th congress. It allows sorting by a variety of criteria including the amount of money spent on the campaign and filtering by gender, by party affiliation, etc. The image below shows the 21 new minority members sorted in ascending order by the percentage of the vote they received. Pete Gallego received 50%, while Hakeem Jeffries received 90%.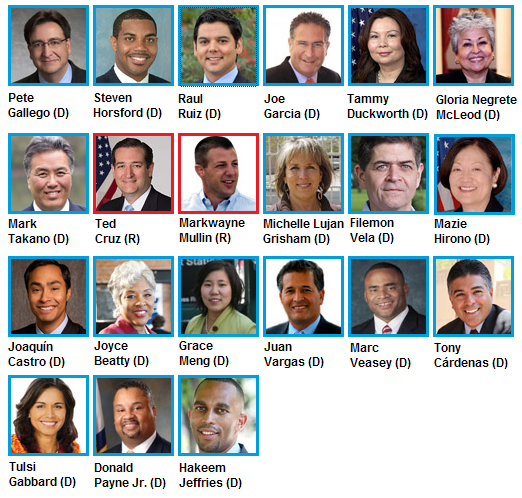 A majority, or 19 of the 21 new minority members are Democrats, 2 are Republicans. Of the 2 Republicans, one is a Cherokee Native American, but Democrat Elizabeth Warren, who has a Native American ancestry, was not included in this list.
The Democratic members have fascinating, often uplifting biographies and I recommend you read them. I would like to focus on the biography of Raul Ruiz, a doctor from California.

The son of farmworkers, Ruiz was born and raised in the Coachella Valley. He dreamed of being a doctor from a very young age.

Ruiz went door-to-door in his hometown of Coachella with a handmade contract, asking neighbors and local businesses to contribute to his college fund in exchange for his future medical service to the community.

After graduating from UCLA, Ruiz went to Harvard Medical School. As a student, he spent almost a year in Chiapas, Mexico, through a health and social justice organization, Partners in Health. The experience influenced Ruiz's views on health care. "I came out of there realizing the tremendous nature of poverty and how real policies can actually affect human lives," he later told The Desert Sun newspaper. After graduating from Harvard with three degrees, Ruiz returned to the Coachella Valley and served in the emergency room of a nonprofit hospital.
They say politics corrupts people, but there is a greater chance of electing compassionate candidates who care about helping others by looking at their background and what they did when they were not running for office. We know Raul Ruiz priorities were with the poor, sick and underprivileged. It is these people, as well as the middle class and small businesses who most need the help of government. We are happy to see Raul Ruiz and others like him join congress.