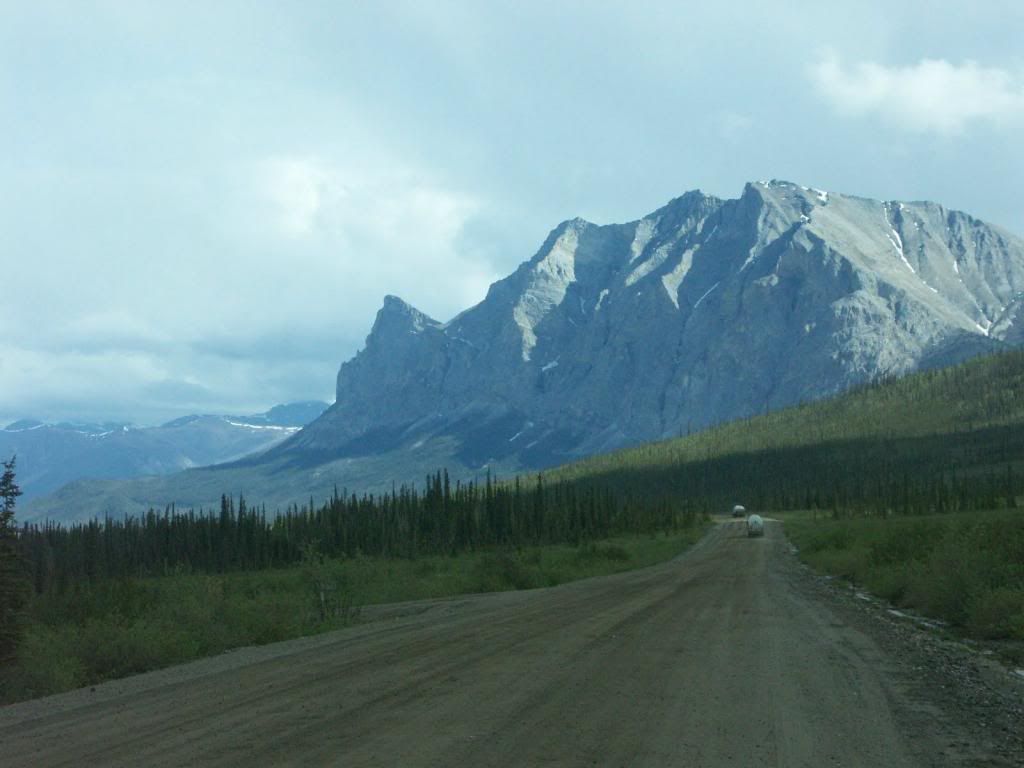 Along the 500 mile highway from Fairbanks, across the arctic circle, to Alaska's northern shore at Deadhorse in the North Slope Borough. Maybe the loneliest road in the America.
The largest swing I could find towards Barack Obama in the contiguous states was in St. Bernard Parish, Louisiana, southeast of New Orleans, where he got 36% of the vote against Mitt Romney, a sizable improvement over his 26% against John McCain in 2008. However, I came across some Alaska election data today, and discovered some even more astonishing, massive improvements for President Obama from 2008 to 2012. Take a look at these maps:
(Note: these are results from Alaska's state house districts, not it's counties (boroughs). I could not find borough results anywhere. The state house districts are not exactly the same shapes from 2008 to 2012, as there was redistricting, but you can pretty much see what was going on....)
2008:
Alaska, of course, a typical red state. A few tiny Democratic districts around city centers in Fairbanks, Anchorage, and Juneau, with the rural areas of the state going heavily Republican. Right?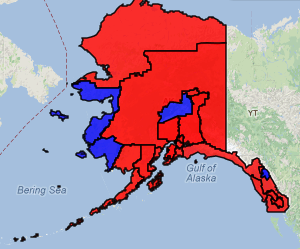 But then look at 2012...
a marked improvement for Obama. With that much blue, he must have carried Alaska by a larger margin than he carried Vermont...?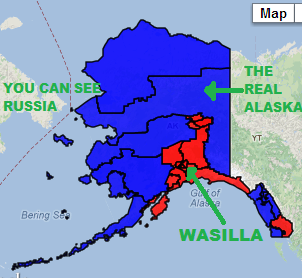 But no. Alaska was heavily Republican again, with strong Republican results concentrated in the Anchorage suburbs and the Matanuska-Susitna borough... also known as Wasilla, Sarah Palin's home town.
Wasilla House District (part of Matanuska-Susitna Borough)
2008: 77-20 McCain/Palin
2012: 73-22 Romney/Ryan
So that's a swing of about 6 points. Romney held his own in the conservative Anchorage suburbs. Romney held his own in Anchorage proper, too, with Obama winning a few house districts around downtown Anchorage, but Romney carrying most of the districts within Anchorage city limits by large margins.
Where you really start to see big changes towards Obama are in what I like to call "The Real Alaska"... where glaciers are crashing into the ocean, bear populations are thinning, permafrost is melting, the land is being raped for oil, and the native populations are "47%-ers".
House District 40, which includes all of the North Slope Borough and Northwest Arctic Borough. The North Slope Borough alone covers an expanse the size of the U.S. State of Michigan (and yes, that includes the lakes that are within Michigan's borders), however there are less than 10,000 people who live there permanently. The population is 68% American Indian. The North Slope's largest town is Barrow, on the northernmost tip of Alaska. The North Slope also includes the ANWR.
2008: 54-44 McCain/Palin (R+10)
2012: 67-29 Obama/Biden (D+38)
A swing of 48 points. There are some other boroughs in the real Alaska that may have even bigger swings...
The House district that covers the Aleutian peninsula and islands, which stretch from southwest of Anchorage almost to North Korea...
2008: 57-40 McCain/Palin (R+17)
2012: 62-34 Obama/Biden (D+28)
A swing of 45 points. These swings towards Obama in Alaska, if the results hold true when they are certified, may be even bigger than some of the swings towards Romney in Appalachia.
Why was the swing so large? These areas of Alaska are Democratic by nature. But you can see why, being as isolated and forgotten as they are (except when it comes to $$$OIL$$$), they might want an Alaskan looking out for them in Washington. Obama admitted that he had never even been to Alaska until he made a quick stop at an Anchorage military base to refuel on his way to China in 2010. So Palin may know/understand more about remote little Alaskan villages than Obama. But... Romney cares more about poor Alaskan villages than Obama? Hell no.
Sources:
http://www.ourcampaigns.com/...
http://www.ourcampaigns.com/...
http://www.elections.alaska.gov/...