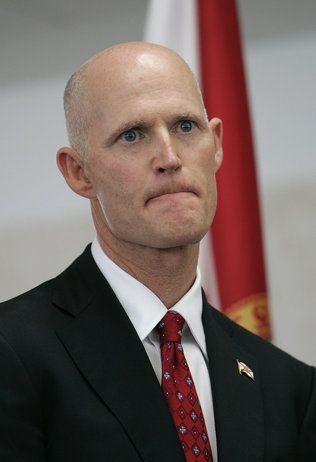 During the last week a number of Republican Governors have declared their refusal to cooperate with the establishment of health insurance exchanges, and expansion of federally subsidized state Medicaid which are components of the implementation of the Affordable Care Act, but Florida Governor, Rick Scott (R) reversed his previous opposition and said he will cooperate, probably in anticipation of a tough election challenge in 2014 form former Governor Charlie Christ. But, now, the Koch Brother's Americans For Prosperity is 'Extremely Disappointed' In Rick Scott After Obamacare Shift, and accusing him of working against his states inteests, reports Nick Wing.

"AFP is extremely disappointed in leaders in Florida suggesting that the Sunshine State should create a health insurance exchange" said Slade O'Brien, AFP's Florida State Director. "An exchange will increase insurance premiums on consumers and taxes on hardworking families. Florida's best intentions will be masked by the federal government's onerous requirements."

Scott had stood as one of the most stubborn adversaries of Obamacare, even in the wake of the president's reelection, which effectively secured the law's existence. But after first vowing to reject moves to set up a state-run health insurance exchange and expand Medicaid rolls under the Affordable Care Act, Scott said last week that he was ready to "have a conversation." Leaders in the state legislature have also signalled a willingness to take steps toward implementation.

The AFP's state policy manager Nicole Kaeding suggested that Gov. Scott and his administration "being bought off by the prospect of federal funds."
The AFP's willingness to retaliate so quickly, and so intensely for Governor Scott merely saying he was ready to "have a conversation," shows their willingness to use intimidation to influence other governors to resist implementation of the ACA.

People will go to the exchanges to learn whether they qualify for the health insurance tax credits available to anyone earning up to four times the federal poverty level, which amounts to $44,680 this year. Those earning up to 133 percent of the poverty level, or $14,856 this year, will be entitled to Medicaid if they live in a state that doesn't refuse to expand the program. Through the exchanges, 9 million people will obtain private health insurance for 2014 and 11 million will enter the Medicaid program or the Children's Health Insurance Program that first year, according to the Congressional Budget Office.

Friday was the original deadline for Governors to inform the federal government if they intended to cooperate by having their state set up the subsidized insurance exchanges required by the ACA, but Health and Human Services Secretary Kathleen Sebelius extended the deadline to December 14. If a state does not set up the insurance exchanges, the federal government is then required to intervene and set them up instead as they must be up and running by October 1, 2013.
Governors who refuse to cooperate and also refuse subsidized expansion of state Medicaid to insure those who can not afford to purchase themselves will be taking a big political risk in denying free coverage to their poorest citizens.
It is quite sad to see how far right-wing ideologues are willing to go to fight against health care coverage for our poorest citizens.