Data from the Franklin County, Ohio board of elections in Columbus shows how effectively the Obama GOTV effort capitalized on early voting in the blue, urban counties. In Ohio early voting is done both by mail and in person at early voting centers in each of Ohio's 88 counties.
Here's a scatter plot of Franklin County's 802 precincts, with the % of in-person early voting plotted against the Obama support in the precinct:
By the time you get to 90% Obama support (i.e., the predominantly black precincts), 25% of the vote on the average was cast in person at the early voting center on Morse Rd. in Columbus. By contrast the heavily Republican precincts averaged less than 10% turnout at the early voting center.
more...
The situation with mail-in early voting shows somewhat the opposite effect, although not as strongly. That is, more Republican precincts tended to vote early by mail more than Democratic precincts: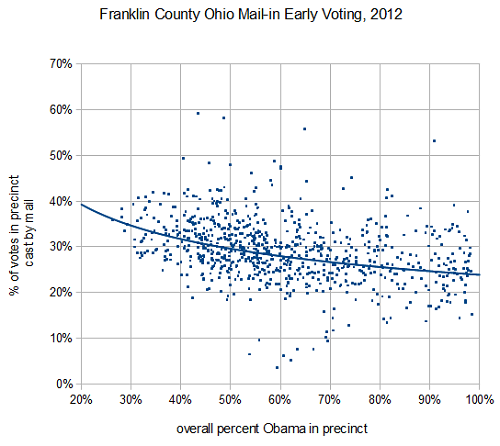 This explains why Republican Sec. of State John Husted was gung-ho to send vote-by-mail applications to all registered voters in Ohio back in September, while working tirelessly to suppress in-person early voting.
A timeline of events:

July 17 Obama campaign sues Husted in federal court over early voting restrictions

Aug. 19 Franklin County GOP Chair Doug Preisse quoted by the Columbus Dispatch: "I guess I really actually feel we shouldn't contort the voting process to accommodate the urban--read African-American—-voter-turnout machine."

Aug. 28 Husted fires two Montgomery County Board of Election members for voting to expand early voting hours

Aug. 30 US District Court rules that shutting down early voting after Nov. 2 for non-military voters is unconstitutional

Aug. 30 Husted issues directive telling boards of election to ignore court order

Sept. 1 Husted sends vote-by-mail applications to all of Ohio's 6 million registered voters

Sept. 4 Husted ordered to appear before judge on Sept. 16 to explain why he was defying the court order

Sept. 5 Husted rescinds the directive rather than appear before the court, asks for stay of ruling

Oct. 5 6th Circuit Court of Appeals returns discretion on early voting hours to local boards of election

Oct. 9 Husted appeals to US Supreme Court

Oct. 16 US Supreme Court rejects appeal

Nov. 2 Husted issues rules making it less likely provisional ballots will be counted
A graph of the daily in-person voting shows the problem that the weekend before the election posed for the Republican Party:
Unofficial results so far show 545,022 votes cast in the county, with 241,584 (44%) being cast early. Of the early votes, 172,863 were cast by mail and 68,721 were cast in-person. The 2012 in-person total of 68,721 beat the 2008 total of 52,147.
Obama beat Romney in the county 60%-38%.
Here's a video of the line at the Franklin County early voting center on the Sunday afternoon before the election:
This is what the Democratic Party looks like!