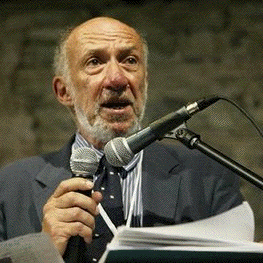 Richard Falk
This comes from Richard Falk's OpEd on Al Jazeera:

The latest Gaza catastrophe
Many aspects of the current assault on Gaza pass under the radar screens of world conscience.

...This spectacle of one-sided war in which Israel decides how much violence to unleash, and Gaza waits to be struck, firing off militarily meaningless salvos of rockets as a gesture of resistance, represents a shameful breakdown of civilization values. These rockets do spread fear and cause trauma among Israeli civilians even when no targets are struck, and represent an unacceptable tactic. Yet such unacceptability must be weighed against the unacceptable tactics of an Israel that holds all the cards in the conflict.

It is truly alarming that now even the holiest of cities, Jerusalem, is threatened with attacks, but the continuation of oppressive conditions for the people of Gaza, inevitably leads to increasing levels of frustration, in effect, cries of help that world has ignored at its peril for decades. These are survival screams! To realise this is not to exaggerate! To gain perspective, it is only necessary to read a recent UN Report that concludes that the deterioration of services and conditions will make Gaza uninhabitable by 2020.

Completely aside from the merits of the grievances on the two sides, one side is militarily omnipotent and the other side crouches helplessly in fear. Such a grotesque reality passes under the radar screens of world conscience because of the geopolitical shield behind which Israel is given a free pass to do whatever it wishes. Such a circumstance is morally unendurable, and should be politically unacceptable. It needs to be actively opposed globally by every person, government, and institution of good will.

Richard Falk is the United Nations Special Rapporteur on Palestinian human rights.
emphasis added
Following Israel's 2009 assault on Gaza Secretary of State Hillary Clinton pressed Israeli leaders to loosen the blockade: Hillary Warns Israel to Relax its Blockade of Gaza.
Had Israeli leaders taken Secretary Clinton's 2009 concerns seriously the parties involved might well have avoided this latest round of rocket attacks on Israel and the IDF's extensive assault on Gaza.
If Israel is agreeing to open up Gaza's borders more, that gives me hope that Israeli leaders have finally come to the realization that their past policy towards Gaza has been an utter failure. Israel's right wing governments' enforced depravation through its blockade to punish Gazans into toppling Hamas has been unsuccessful.
Blockading Gaza HAS been successful in creating a hopeless siltation for the people of Gaza making periodic lashing out at their Israeli oppressors almost inevitable. That punitive approach hasn't produced Israali leaders' hoped for regime change in the five and a half years of collective punishment of 1.6 million Gazans. That can't be sustained and it I hope Netanyhau now realizes that.
At a minimum Israel must let building materials into Gaza instead of forcing the people of Gaza to continue to live in the rubble from 2009 not to mention all the new destruction the IDF left behind.
Please also see: Noam Chomsky: The Soul-Crushing Cruelties Perpetrated by America's Number 1 Ally
International law, the Gaza war, and Palestine's state of exception